There are many day or or week of celebrations that seem to only fit a small niche of people, but this is National Ag Week and even if we don't work in agriculture, that's what produces the food that eventually lands in our grocery stores, restaurants and homes.
This week as spring starts, many farmers are entering the busy season or making final preparations for it. With that in mind, we checked in with a dozen farmers — nine of whom farm is different states coast to coast and north, south and in the middle. And a few of our past international guests as well! We asked them what they would be doing on the farm and to share a bit more of what is happening with them.
An AI generated transcript for episode 311 is available.
National Ag Week & A Presidential Proclamation
The week (March 20-26, 2022) is National Ag Week, and Tuesday is a day of focus on agriculture in Washington, DC. In fact, since the 1970s, this Tuesday has been National Ag Day. This year's proclamation of ag day by President Joe Biden reads in part:
On National Agriculture Day, we recognize the invaluable contributions of American farmers, farmworkers, ranchers, fishers, foresters, and other agricultural workers, who have practiced their craft for generations and touch the lives of Americans every day. Their tireless efforts growing crops, raising livestock, and distributing food, fuel, and fiber sustain America and the entire world. They put meals on our plates, clothes on our backs, and roofs over our heads. Along the way, America's agricultural workers serve as stewards of the land; ensure the safety and health of animals, plants, and people; and strengthen our rural communities with economic opportunities. (continue reading here.)
Farmers We Hear From For National Ag Week
We heard from a diverse range of farmers, growing different crops in different conditions. Several have been on the show previously (we will link back to those episodes) but several haven't yet. We decided to put together a short video showing where each of them is from & the crops they grow. If there is someone you really want to hear more from, be sure to let us know!
We put the audio in as we got each report so we do a bit of zig zagging around the country! Here's who all is featured.
Rebecca Larson Talks Sugarbeet Processing & More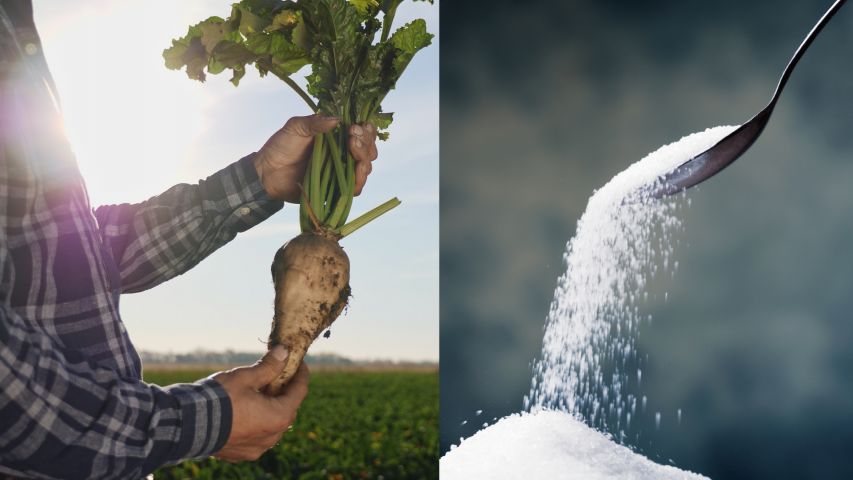 Some of you may remember Colorado's Rebecca Larson from our episode on growing & enjoying sugar. I still want some of those fun cookies she makes! She's getting ready for Easter but also updates us on last year's crop & the prep for this year!
Watermelons Going in the Ground
Rachel Syngo with Melon 1 in Florida tells us her family farm is planted. Now they are working with their network of farmers to move up the East Coast through Georgia, the Carolinas and further up and west! She says they will begin harvesting US-grown watermelons in early April and keep going through Labor Day and I am ready for it!
It Isn't National Ag Week in England, But Flower Farming is Still Going Strong
The sun has been shining on Ben Cross' part of the English coastline and that means he has lots of alstroemeria growing in the greenhouses! He says they don't have an ag week, but he shares the story of sustainably grown flowers we discussed throughout the year.
You Will Hear the Peeps!
Chicken farmer Lauren Arbogast in Virginia decided to update us on her farm from the chicken house. She was checking on all the chickens and you can hear the peeps & chirps (or cheeps?) in the background. Lauren also works off farm as a teacher and looks forward to class projects for ag week. She's excited for spring but like lots of us, dealing with rising prices.
A Lesson in English History & A Farming Update
We talked about a cheese-a-day with Farmer Tom, I knew he was cut from a different cloth. So in this update it doesn't surprise me at all that he shows us his farm and gives us a history lesson. He's got a community garden underway too!
Growing Grass Seed in the Pacific Northwest
We haven't had Marie Bowers on the show yet, but love that we were able to get an update on what's happening in Oregon and growing grass seed — the grass for pastures, lawns, etc. Marie talks with us about some of the challenges weather and rising fertilizer prices are giving farmers this year.
Things are Poppin' in Indiana with TheFarmersLife
Growing almost every kind of corn there is (including popcorn & waxy corn) soybeans Brian Scott is still selling some of last years crop as he gets ready for the 2022 planting season. Weather for him has been fairly typical but he knows some folks not too far away have been dry. Although he hasn't bee on the podcast before, he's also a regular with videos (check out TheFarmersLife on Youtube) from time with his son to a tour at a new-to-their-farm 18 wheeler.

Priyanka is Moving Countries & Crops
Priyanka Gupta talked to us about the humble grasspea and the potential it has in a shifting climate previously. At the time she was in Morocco, but she's recently moved to Canada where she will be working with wheat. She gives us an update on how things are going with both important food crops.
Cleaning Up After Storms in Tennessee
Farming with his brothers in West Tennessee, Bob Walker grows cotton, corn, soybeans and has some cattle. They are working in the fields getting ready for planting, making sure the fields will drain well, and more. They are still feeding cows as they wait for pastures to green up and still looking for some calves to be born. He's like family, so eventually I'll drag him on the podcast. LOL.
Selling Hay, Straw & Teaching about National Ag Day
New Jersey farmer Caroline Etsch says they are keeping busy selling hay & straw to some of their neighbors in the Garden State. They also have some corn go out each week to feed chickens — so she says she helps with our chicken nuggets! Like Lauren, Caroline plans to spend some time talking with schools about ag week.
Working with Cameras for Live Feeds
Cattle rancher Derek Klingenberg goes by Farmer Derek on YouTube and it sounds like that is keeping him busier than the farming side of things this week. He's got a series of live cameras on the Kansas farm, some of them allow for people to feed either the cows or wildlife! Sometimes there isn't much going on and then you see something dramatic. Lots of us had been checking in on the live owl feed as there was a precious egg in the nest but sadly nature (and at least a raccoon) had other ideas. He also has a bunch of fun videos — playing trombone for cows, doing parodies of pop songs, etc.
Lots of Challenges But It's Spring & that Brings Potential
Several farmers have mentioned price increases and John Peterson echoed that saying that since their family farm sells directly to folks (remember the episode about turkey farming?), they are having that conversation with people one-on-one. He also mentioned the anxiety that poultry farmers around the country are feeling with the avian flu threatening flocks. Biosecurity efforts are tight as they seek to keep the turkeys in top health. But spring also gives John a lot of reason to have a positive outlook, and he looks forward to getting the birds outside and to start working toward our Thanksgiving dinners!
Wrapping Up Produce Season in Arizona
With his farm in Yuma, Arizona, Jon Dinsmore's busy season is winter when he and others are busy growing all the types of lettuce and other greens! He's getting crops on the group to provide cover through the summer — he grows wheat, sudangrass (wonder if Marie grows that seed?) and more. He also mentioned schools sharing info with his kids.
Want to learn a little something more?
I wish I had thought about making this offer in the audio, but it didn't occur to me until everything was finished. If you would like to share more of the learning experience with a young person in your world, please choose one of the lesson plans we have available on our food and farm education page (or in our TPT Grounded by the Farm store). Just let us know via the Contact Us page which one you would like before midnight April 1 and we will email it to you at no cost!