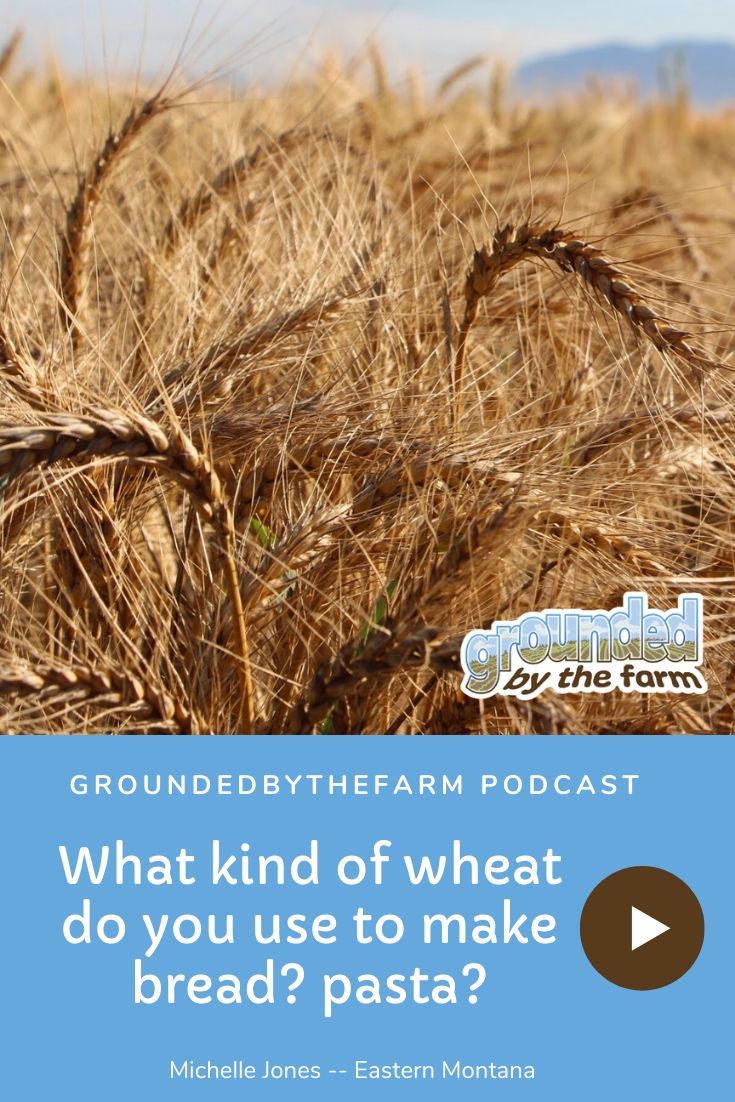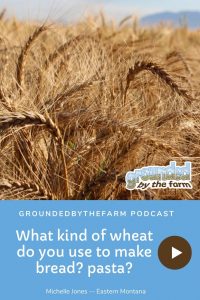 Wheat is one of those basic building blocks of diets for many of us and yet, it's not something we get to know well from the farm perspective. I realized that recently as friends have been baking so much and some were wondering about what kind of wheat the bread flour was from. It led me to this conversation with Montana wheat farmer Michelle Jones.
We talk through the various kinds of wheat, and the foods the various kinds of what are used for, where in the US things are grown and more.
Getting to Know Michelle Jones
Michelle is a fourth generation farmer who farms with her husband and family in south central Montana near Billings. She and her husband Travis also work his family's ranch and are busy raising their two ADORABLE sons. I mean, just look at them.
She shares photos of her part of the world regularly via her @BigSkyFarmHer profile on Instagram. You can spend a long time looking at her photography and if you love beautiful scenery, wildlife, and the world of , you may find you want to buy some of her pictures. Seriously, her shop has amazing photos.
Michelle has a deep passion for farming and took a unique path off farm for several years. But that time in supply chain management for Amazon and UPS both has more connections to the farm than one may think. Understanding the delivery to consumers, especially working on Amazon Fresh, provides a background that makes understanding various trade and policy topics easier.
And it also piques her curiosity about where wheat from her farm and others go and how it ultimately ends up on the table for people across the US and overseas. With that she's toured a lot of mills, checked out stores, restaurants and more here and abroad. She loves comparing notes with other farmers and crops too.
Where U.S. Wheat is Grown
Wheat is one of the most common crops in the U.S. and is grown in most of the states going from the border with Mexico up to the Canadian border. This map from US Wheat (I found it thanks to Michelle's Wheat 101 post) helps you see whether wheat is grown near you and if so, what kind of wheat it is.
One of the biggest differentiators in wheat is simply based on the growing season. Winter wheat is planted in late fall and harvested late spring or early summer. Spring wheat is planted in spring and harvested in the fall. The other factors are for hard or soft and red or white. Finally there is durum — and I mentioned semolina in the interview cause that's what my local chef Gerard Craft likes for the pastas he makes.
Different Kinds of Wheat, Lead to Different Foods
Getting the lowdown on six different kinds of wheat, is a bit confusing for sure and I love that Michelle gives me a break admitting some times farmers get it confused too. But the various individuals and companies who are focused on wheat-based foods get it. So we'll walk through these using info from USwheat.org.
Hard Red Winter (HRW) Wheat
Versatile, with excellent milling and baking characteristics for wheat foods like hearth breads, hard rolls, croissants and flat breads. Hard red winter wheat is a kind of wheat that is an ideal choice for some types of Asian noodles, general purpose flour and as an improver for blending.
Hard Red Spring (HRS) Wheat
The aristocrat of wheat when it comes to "designer" wheat foods like hearth breads, rolls, croissants, bagels and pizza crust. Hard red spring is also a valued improver in flour blends.
Soft Red Winter (SRW) Wheat
Soft red winter is a profitable choice for producing a wide range of confectionary products like cookies, crackers and cakes, and for blending for baguettes and other bread products.
Soft White (SW) Wheat
Low moisture wheat with excellent milling results, soft white provides a whiter and brighter product for Asian-style noodles and is ideal for exquisite cakes, pastries and other confectionary products.
Hard White
Hard white wheat receives enthusiastic reviews when used for Asian noodles, whole wheat or high extraction applications, pan breads or flat breads.
Durum
Hardest of all wheats, durum has a rich amber color and high gluten content. Hard amber durum (HAD) sets the "gold standard for premium pasta products, couscous and some Mediterranean breads.
Storing Grain On-Farm & Off
We talked briefly about how wheat and other grain crops are stored. Michelle's family has enough grain bins on the farm to store their crop. That is becoming more common. Grain bins are the silver "silo type" of metal building shown in front of an elevator I used to have a view of often. It's in Enid, Oklahoma.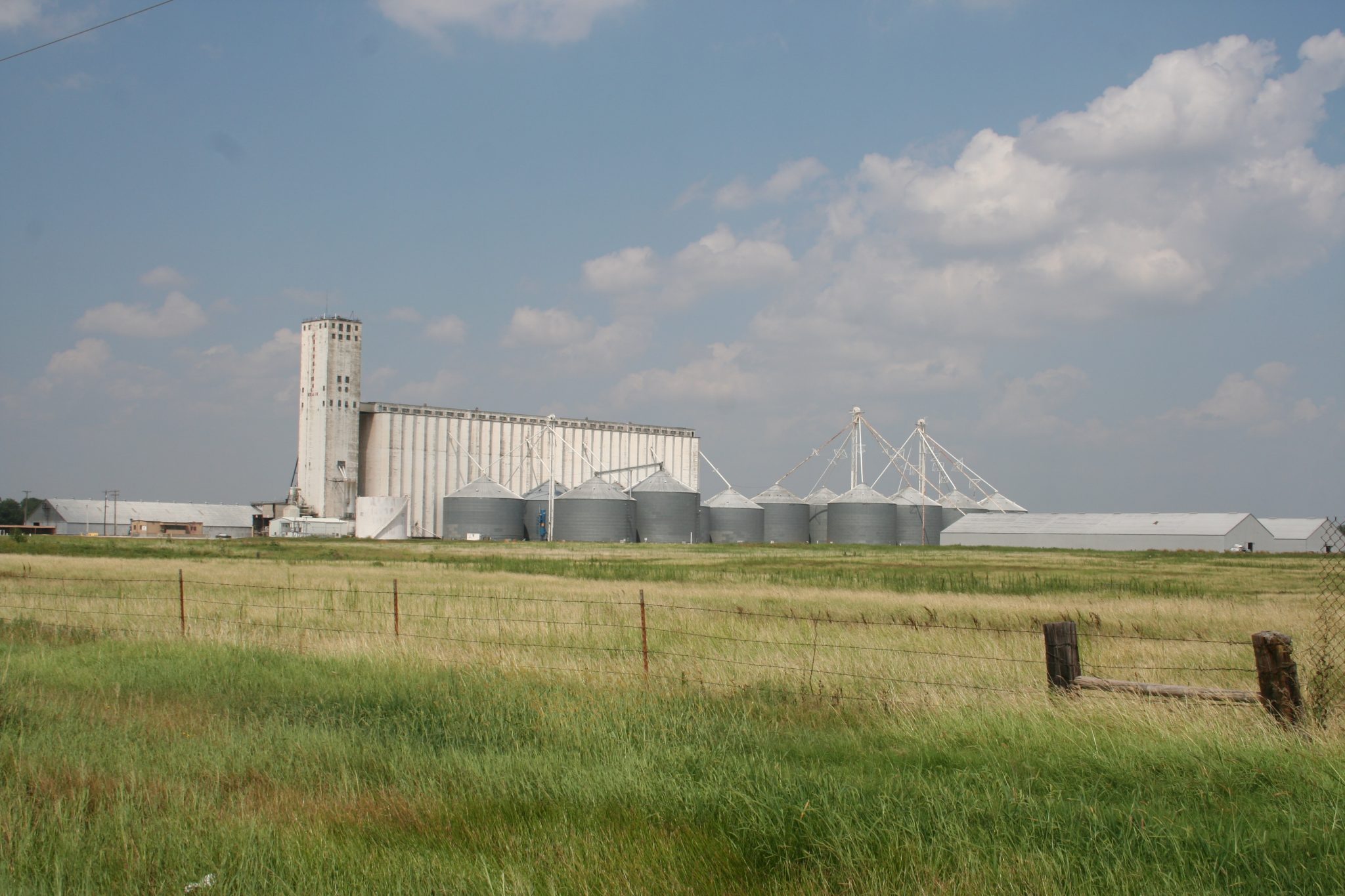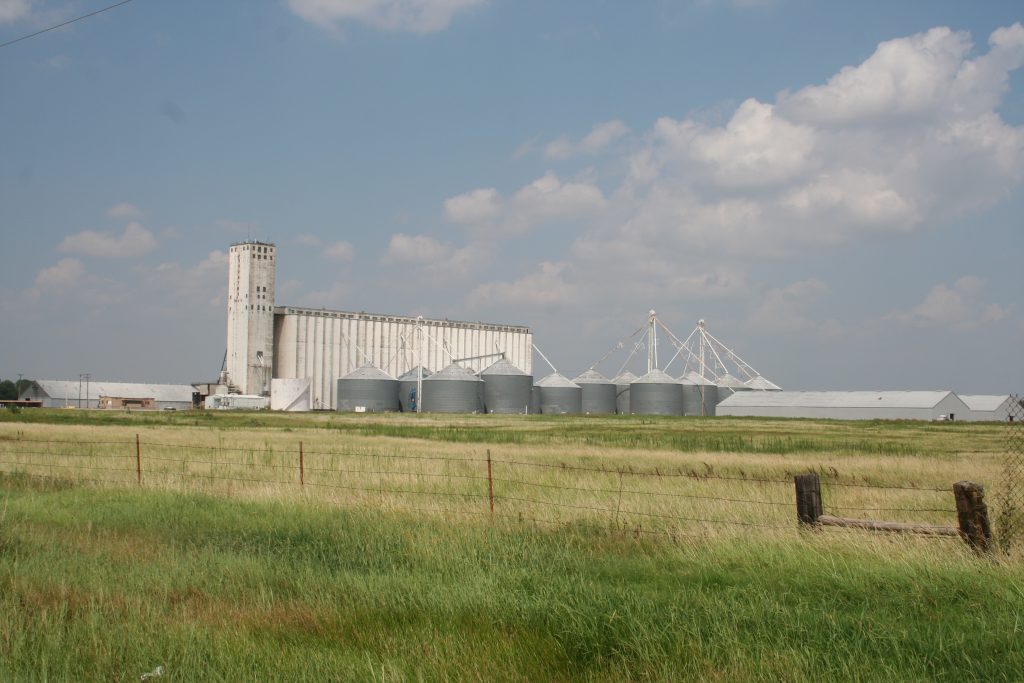 You May Also Enjoy
We have a post of wheat-based recipes going up on the site today. Hope there are lots of ideas you will enjoy. And you may find it especially interesting my friend Jennifer and her son took wheat from their farm to grind flour and make bread.
Michelle and her family also grow barley which you may remember was featured on the show a few months ago.
Not only did we do an interview with a barley farmer and the companion interview with a Nashville brewery called Tennessee Brew Works. Like a lot of restaurants and microbreweries, they have had a really tough time recently…. if you are in the area, pick up some beer from them, order something, etc.
Don't Miss Any of the Grounded Posts!
We are regularly posting content here and the podcast has a new episode every other week. With all that coming together you don't want to miss out. There are a couple of key ways to stay up to date:
Subscribe to the Grounded by the Farm email list — There is a subscribe option in the sidebar that you should be able to access and you may see a pop-up.
Subscribe in your favorite podcast app — We make it easy! We are (hopefully) everywhere you listen. Apple Podcasts, Spotify, Google Podcasts and lots more!