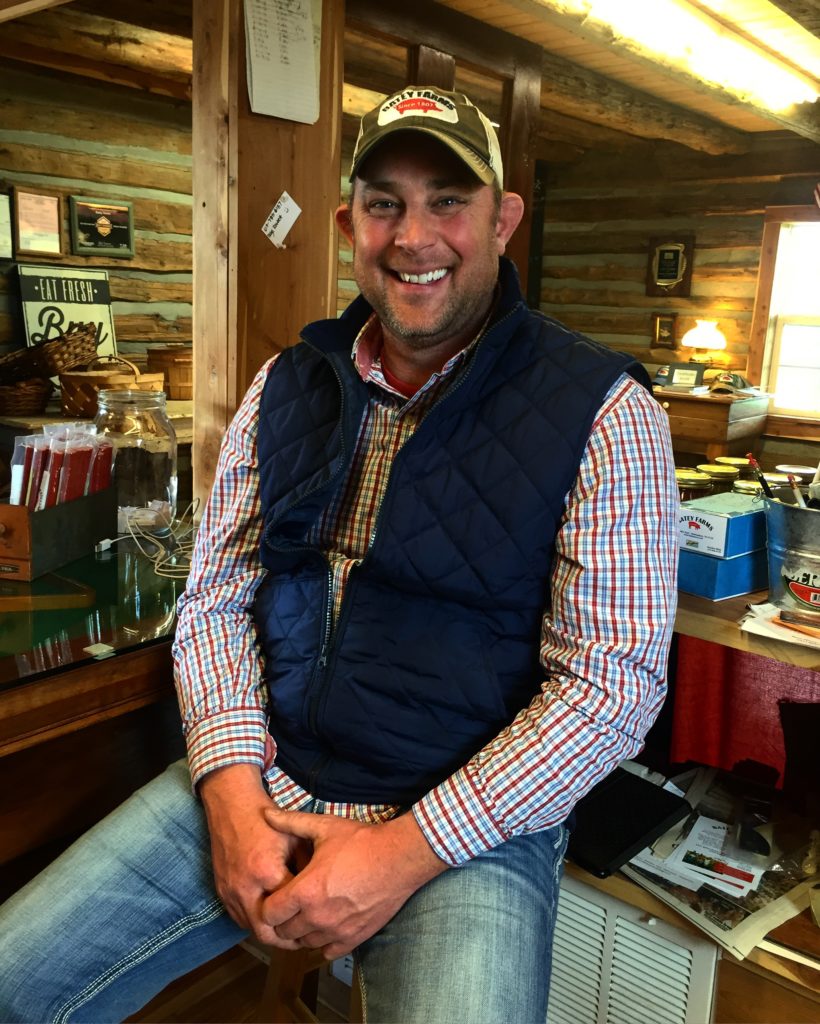 He never thought he'd be a beer farmer but Brandon Whitt says Batey Farms welcomed the new spin on the centuries old farm. He says the motto is "preserving the past and embracing the future" and the two really come together at the Nashville area farm. That's how he ended up providing malted barley to a local brewery.
Murfreesboro, TN is among the top five, fastest growing counties in the country and this eight generation farm is trying to remain viable. They have seen change and honoring the past is a big part of it.
Growing Malted Barley
Batey Farms does a lot of small grain work — focusing on malt quality barley as wheat production is well-established. Still working on rye to get quality where they want it but the barley has really been coming along. He says wheat has been grown in the area for decades and so has the knowledge farmers have.
In the past Batey Farms grew cotton, had a dairy, etc. and it remains diverse but has evolved. Whereas the small grains used to go to the dairy, small grains were fed to the dairy cows (used as a forage crop). Now those small grains go to various customers.
Locals Love Batey Farms
Brandon discusses how farmers like him try to stay on top of what people in their area want while also bringing a knowledge of the local environment. Being able to keep your crops moving into the market is important.
What really drives Brandon is seeing customers with smiles on their faces. It is a true working farm but also has areas of agri-tourism like a retail shop for pork products, a u-pick berry patch and more. It is so picturesque it even has that grain silo made into a gazebo that rocks Pinterest feeds. His father-in-law John L Batey says farmers are always repurposing things.
Thinking about making the most of things and extending the lives of things, shifting the farm is different. Batey produces pork products which were being considered for the kitchen but as he toured the brewery, seeing all those bags of grain… Brandon also wanted to see if that could be supplied locally.
Brandon pointed out that moving to new crops is investing and taking risks, risks that need to be taken to build into the future. Getting wheat into the Southern Wit blonde beer was the first step. Malted barley meant more changes on his farm and in the area so it took longer.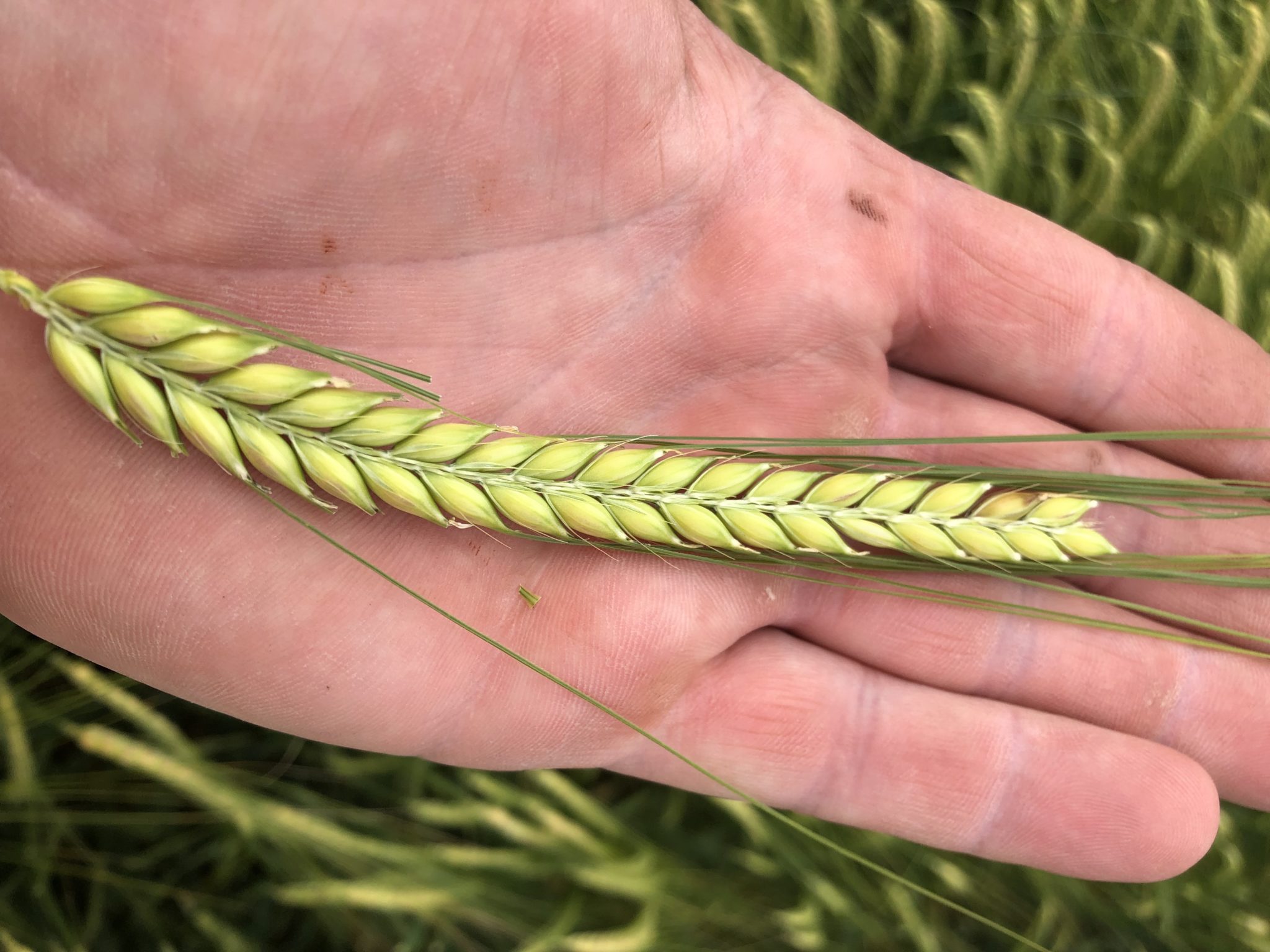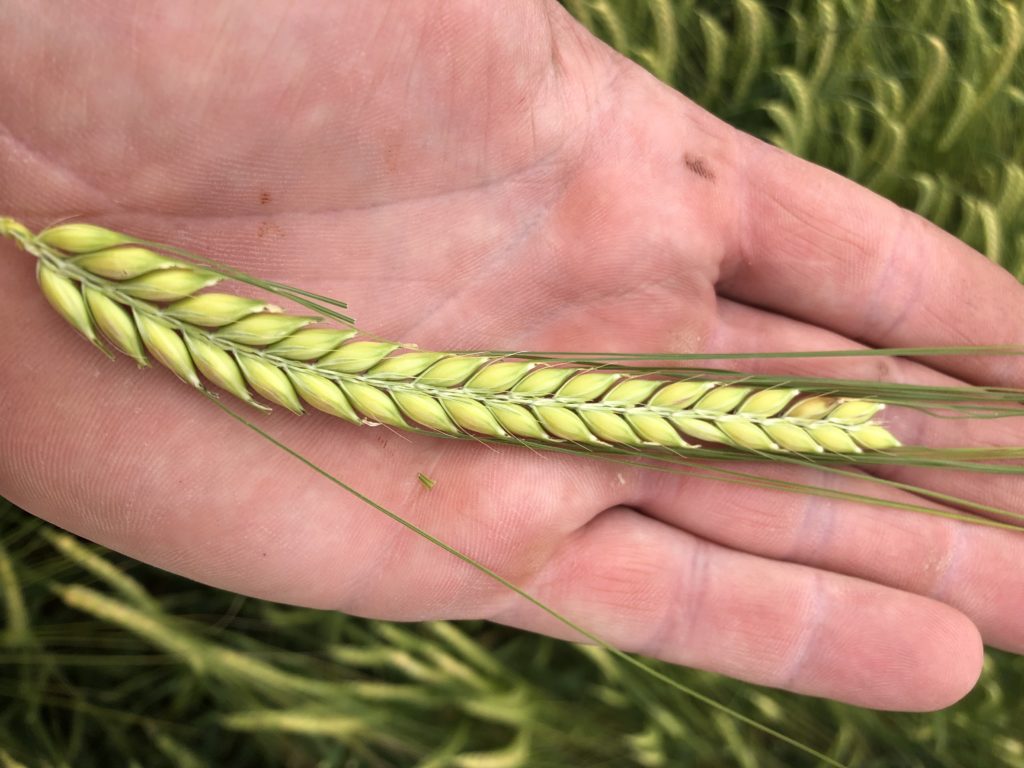 What Barley Looks Like
Barley looks a bit like wheat or beautiful grass. The stem that produces the grain in barley can be a two-row barley or a six-row barley. We have a photo of two row barley on the website as well as this snippet in the video we shared. The difference in size of grain matters when you start talking about beer production and getting into the scientific of sugar production and details of chemistry of malting.
Malting involves letting the crop grow through it's green stage to begin drying down for harvest. Looking at freshly harvested barley seed, you have complex sugars in it. And those sugars are bonded and tied up in the seed. It would take a lot of enzymes to break that down. Instead, we let the seed rest for two months and then run it through a malting facility.The seed is soaked in water, raising the moisture back up to 45-50% after making sure it had been dry for harvest. In this steeping tank with water for 48 hours or so, the water is drained and seed is laid out so it starts to grow. The root sprout emerges and you will then dry it back down, like roasting it in the oven. What that process does is convert complex sugars to simple sugars which is useful in making beer, spirits (Tennessee whiskey), etc. That malted barley is what is used in the range of alcohol products.
The Seasonality of Barley
Growing barley is a winter crop for Brandon — that means it is planted in late September – October. It is planted after you harvest soybeans or something. That seed germinates and gets started before winter makes it dormant (stop growing) for a few months. The crop stays 4-5 inches tall all winter. Then around Valentine's Day fertilizer provides the nutrients to wake it up and it starts growing. In late March they check again with fertilizer to insure they get a big seed as the malting process will take it from a moist grain to a dried product — like drying grapes to raisins. So bigger seeds make a difference.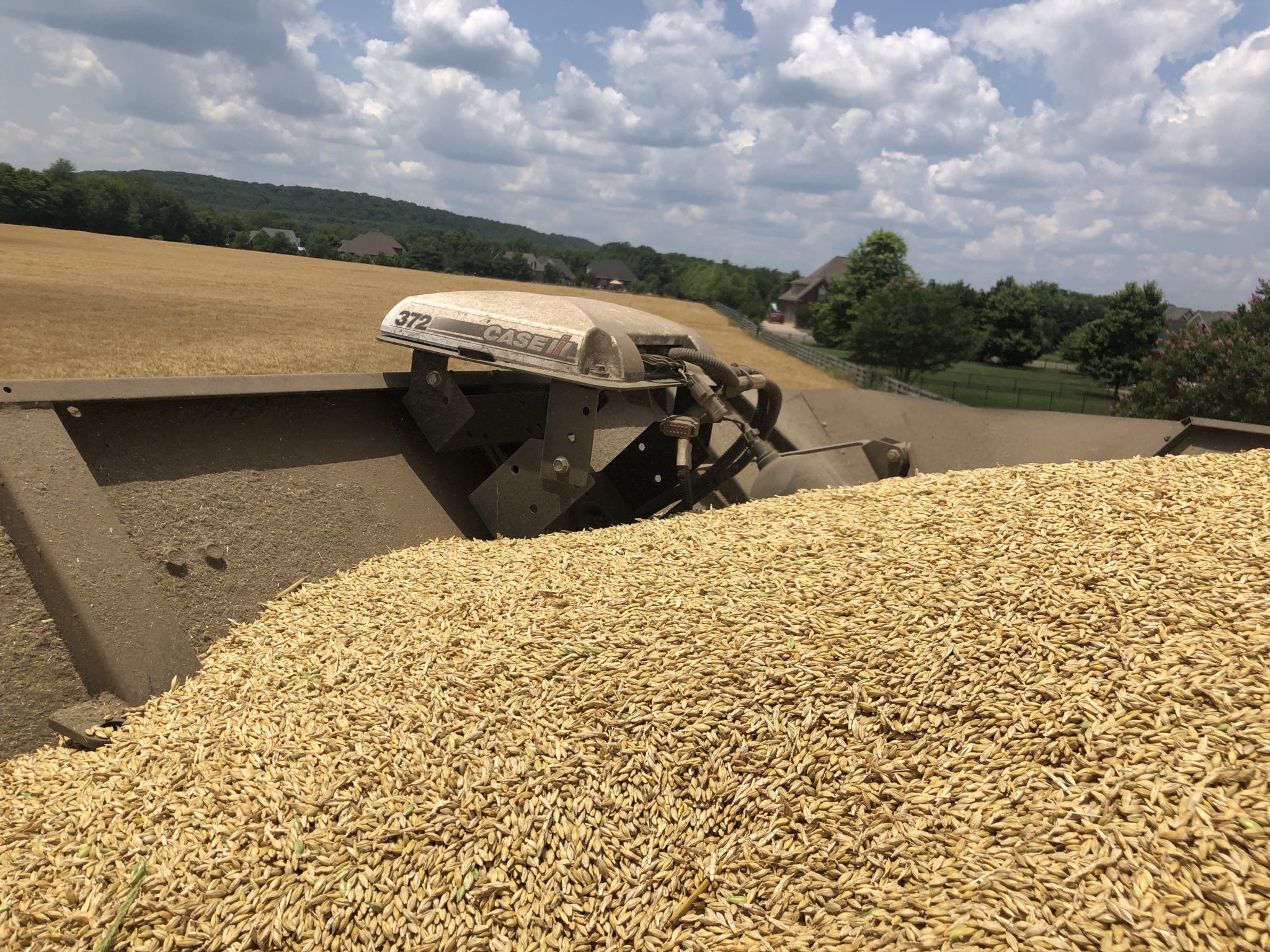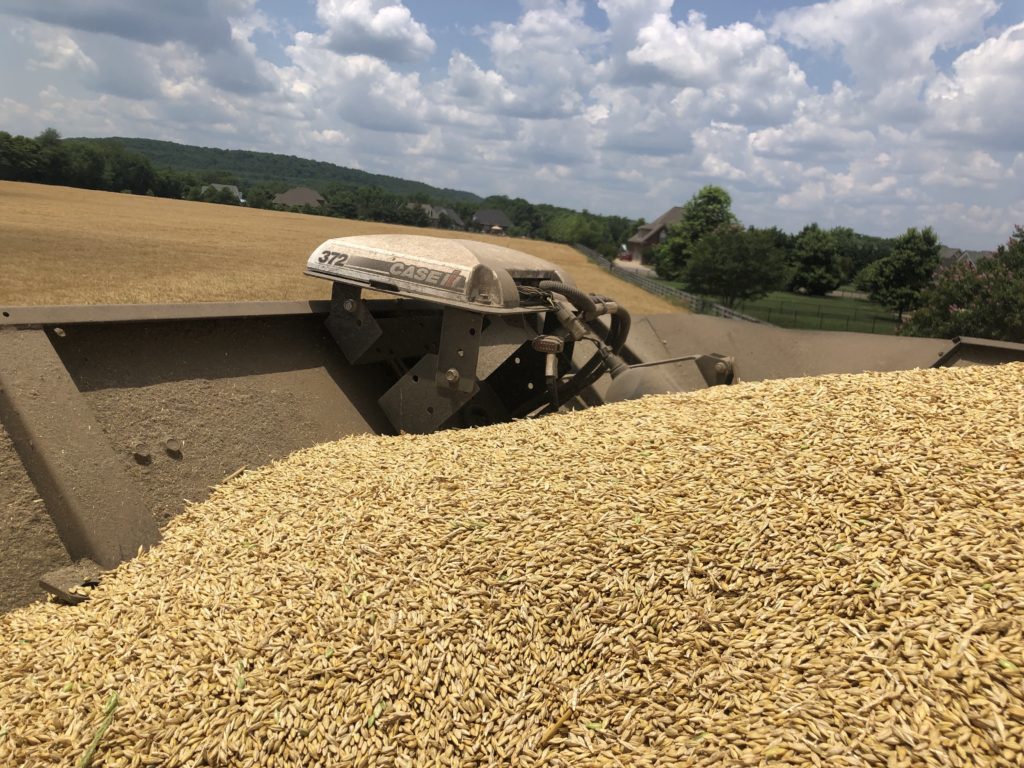 Quality comes first for Brandon as he looks at harvest. He wants as many quality bushels as he can get. Last year he had to harvest around some low areas where water flooding delayed the crop, there were potential fungus issues, etc so they need to use care in choosing what to harvest.
Barley is used extensively in beer production — it's the number 1 ingredients. Tennessee has a long history of distilled products, but there it is used for energy, not flavor. Barley in distilled products doesn't add to the flavor but acts as an enzyme to help break down corn, rye and other grains. In beer it provides the flavor profile. Traditional Tennessee style products use malted barley.
Looking beyond Beer for Growth
Brandon says they are looking at the potential to introduce their grains to food products like the Pillsbury products made nearby. In that, malted barley is used in pastries to provide a bonding agent.
He discusses the issues facing dairy farms, perhaps grains like this can help. And people like Christian like knowing they can help their neighbors. The complexities of local, loving it for a range of reasons and yet also liking some of the diversity of foods that have come to plates over the past few decades.
Selling pork products locally is great, but Brandon also appreciates the role that major companies like Tyson have. As a farmer who works across direct, commodities and more. You will have trouble getting locally grown popcorn in some regions of the US. (shout out to the Ella & Ollie popcorn episode!)
The Batey Farms retail store is open two days a week. In summer, there are strawberries, blackberries and blueberries to pick as well as fields of sunflowers. You really should check it out if you get to the Nashville area!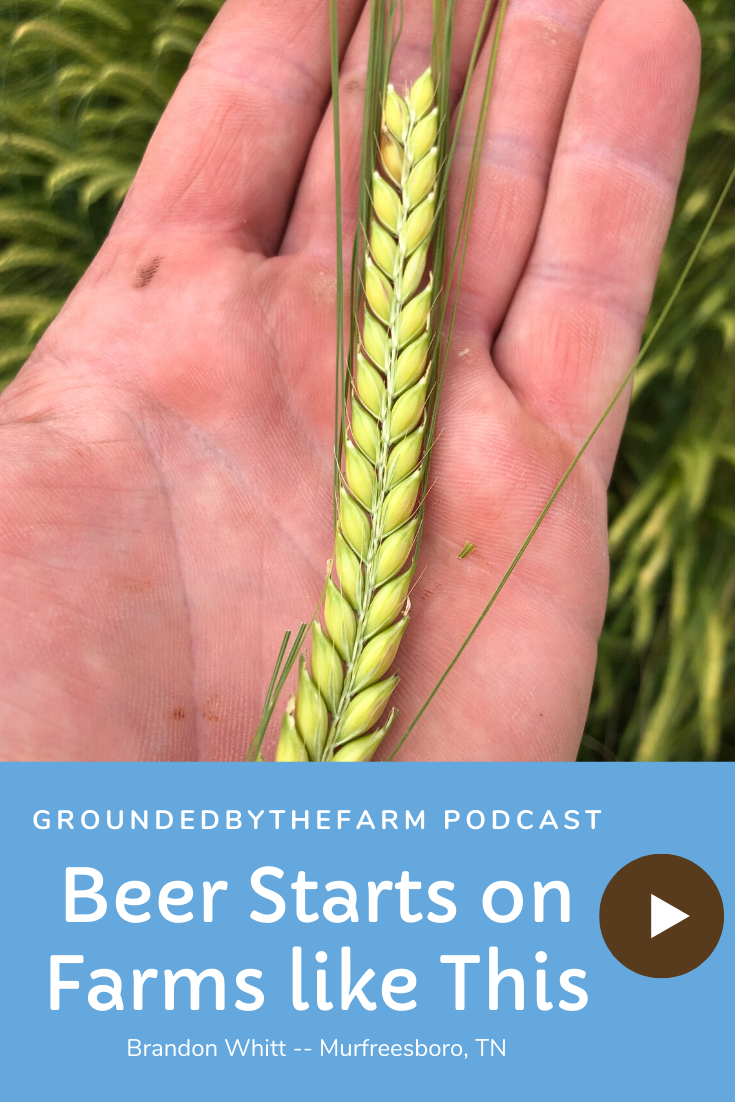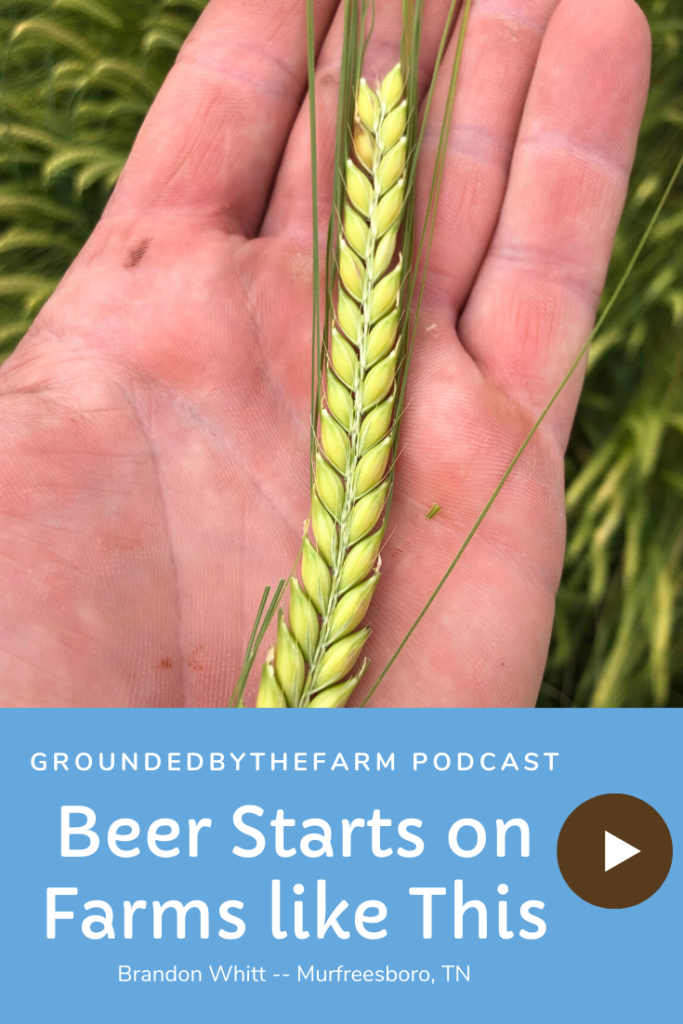 Resources Mentioned in this Episode
Interview with Christian Spears (episode 107 issued at the same time as a bonus episode)
Video from inside the brewery & on the farm
Popcorn episode (Grounded by the Farm #102)
Finding Batey Farms online:
Suscribe to the podcast so you don't miss anything!
And if you love it share with friends and drop us a rating/review.