Peppers are a food that spark a lot of passion and nowhere is that more clear than with Bailey Farms. Randy Bailey started the farm in Oxford, NC as a young adult knowing how much he enjoyed the spicy foods a friend's mom cooked. That was in the 1980s and American food culture has certainly embraced the various Latin foods and the specialty peppers category has grown with grocery stores and farms like the Baileys'. They grow a beautiful range of peppers as you can see in the video tour of their facility.
I first met Randy, Debbie and their young son Ryan on the family's Bonita Springs, Florida farm that enables them to get multiple growing seasons in a year. My memory is strong because I smelled the poblanos and almost immediately craved a chili relleno! In fact, the memory of that alone made me go to a nearby taqueria the day I was editing this episode of the podcast!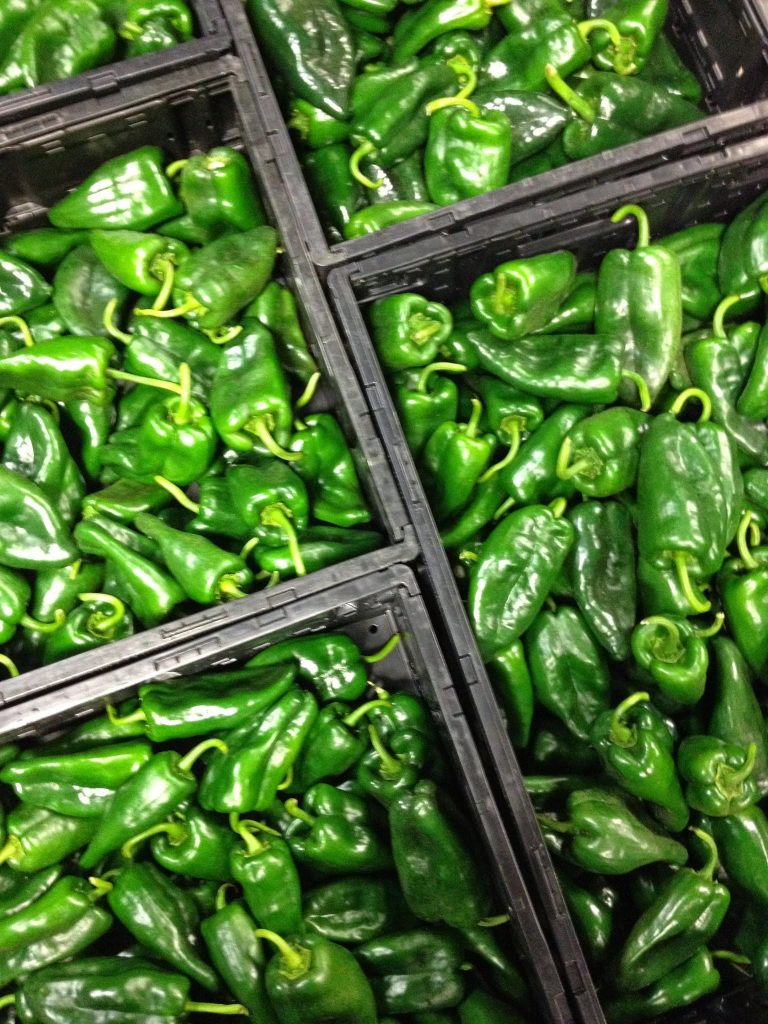 To me it was a physical sensation and while I feel certain it was a natural high, Randy said it was probably the combination of memory and the fragrance of poblanos. While that strikes a note for me and Randy agrees there is nothing bad about a poblano — meat, cheese and a pepper, what's not to like? He keeps serrano peppers in his pocket frequently just to add a bit of flavor to a burger or whatever.
How Bailey Farms Started Growing Peppers
When they first started, they would grow the 3-4 months the North Carolina farm let them grow. And they wanted to grow so they started contracting with other farmers. Eventually they also bought farms in Florida. The Baileys grow, pack and distribute peppers to get them to retailers and more.
Randy's dad loved farming although he worked professionally as a chemist. But his passion for agriculture and Randy's love of the spicy foods a friend's mom made, led them to specializing in peppers. His best friend growing up had parent's who immigrated from Mexico and it wasn't as common in the eastern US.
As the US demographics shifted in the 90s, Bailey Farms grew with it, selling more peppers and a wider range of specialty peppers. More recently, a diverse flavor palate and some of the impacts of social media have fueled more growth.
Fresh Market & Reducing Food Waste
While the Baileys are focused on fresh market peppers — the kind we all buy in the produce section of our local grocery — they also look for innovative ways to reduce food waste.
They have secondary markets that take some of the peppers with stress marks on the fruit and with some of the damaged peppers, they have been making hot sauce. He laughs and points out that is a crowded segment but it is a ways to cook up some of the peppers that would otherwise not be used. They also do some dried peppers with a cooperator.
And at times, when they have more inventory than the market needs, product gets donated to the local food banks, providing residents in need with fresh produce. I actually spent time in a Feeding America site in Florida to cull damaged product a few years ago.
A Range of Specialty Peppers
Randy laughs and says he and Debbie go in phases with how they use peppers at home. Right now they are eating low carb so they stuff a lot of peppers. They do a cheese steak stuffed, cheeseburger stuffed, Mexican stuffed… all kinds of things. They have more than 4,000 recipes on how to use specialty peppers on their website BaileyFarmsInc.com so they always have ideas!
Specialty peppers include a range of flavors and heat and Randy points out the Baileys do a number of sweet peppers as well as the hotter ones.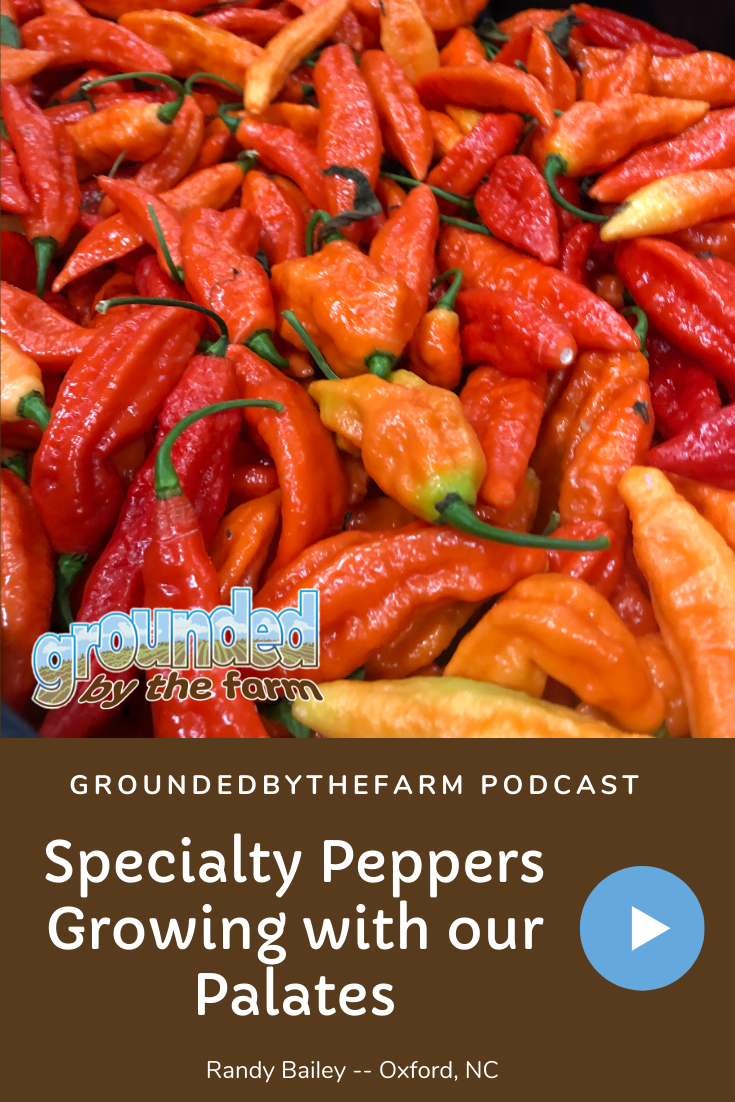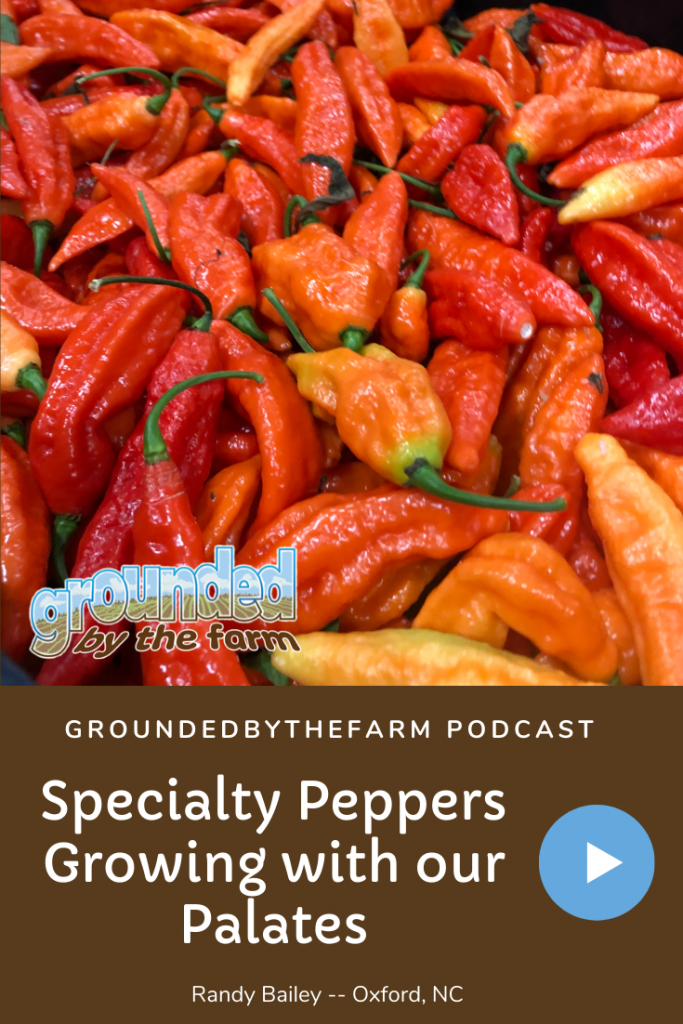 The Scoville scale was introduced about a hundred years ago to help people understand the spicy heat peppers have. Since the 1980s, lab testing has brought a depth of scientific knowledge to the scale. Jalapeños are 2,000-8,000 units on the scale. Habaneros are 100,000 to 300,000 but there are some hybrids that have lower heat and yet the flavor. The ghost peppers and Carolina Reapers really leave those in the dust.
Peppers is a growing category. Green peppers are high in vitamin c. And the red and yellows are high in vitamin a which is good for eyesight.
And the Baileys are always looking for the next thing. He says they currently have close to 200 varieties/hybrids they are looking at in the field. There is a lot of breeding in peppers — more than ever before. They look for product taste, productivity, flavor and more. He is excited to have a new sweet pepper with habanero background in it. It's only a single color and the color diversity is so nice. Has a great crunch!
Universities and private companies are really moving things along to develop new peppers faster. For home gardeners, the All-America Selections typically are widely adapted for a variety of growing regions. (One of my favorites to grow at home is the Sweet Sunset.)
Lots of Logistics when Growing Peppers in Multiple States
Having farms in multiple states presents a few challenges Randy says — the biggest come as you transition working from one state to another. He can find his farm work wrapping up at one place, going full steam at another and just beginning in a third location.
They begin harvesting specialty peppers in October on some farms and keep transitioning through late spring. They plant 22 weeks straight at the farm in South Florida to keep harvest rolling in. The supply chain is hard, but mother nature also throws a wrench or two into it now and then. They don't ever want to find a customer order they can't meet.
They ship to around 10,000 grocery stores throughout the southeast, northeast and midwest.
Using Integrated Methods to Control Pests
Growing peppers by acres rather than plants presents farmers with some different challenges than home gardeners, Randy says. They do what they can to keep the beneficial insects by planting other things like sunflowers that can attract the damaging pests away from the peppers or can help provide hosts for the good bugs.
There are a lot of diseases, insects and more that will eat plants… Randy points out that even deer can present issues in the field. They try to find the least invasive ways to control all pests and have even gone to trying air cannons and erecting fences!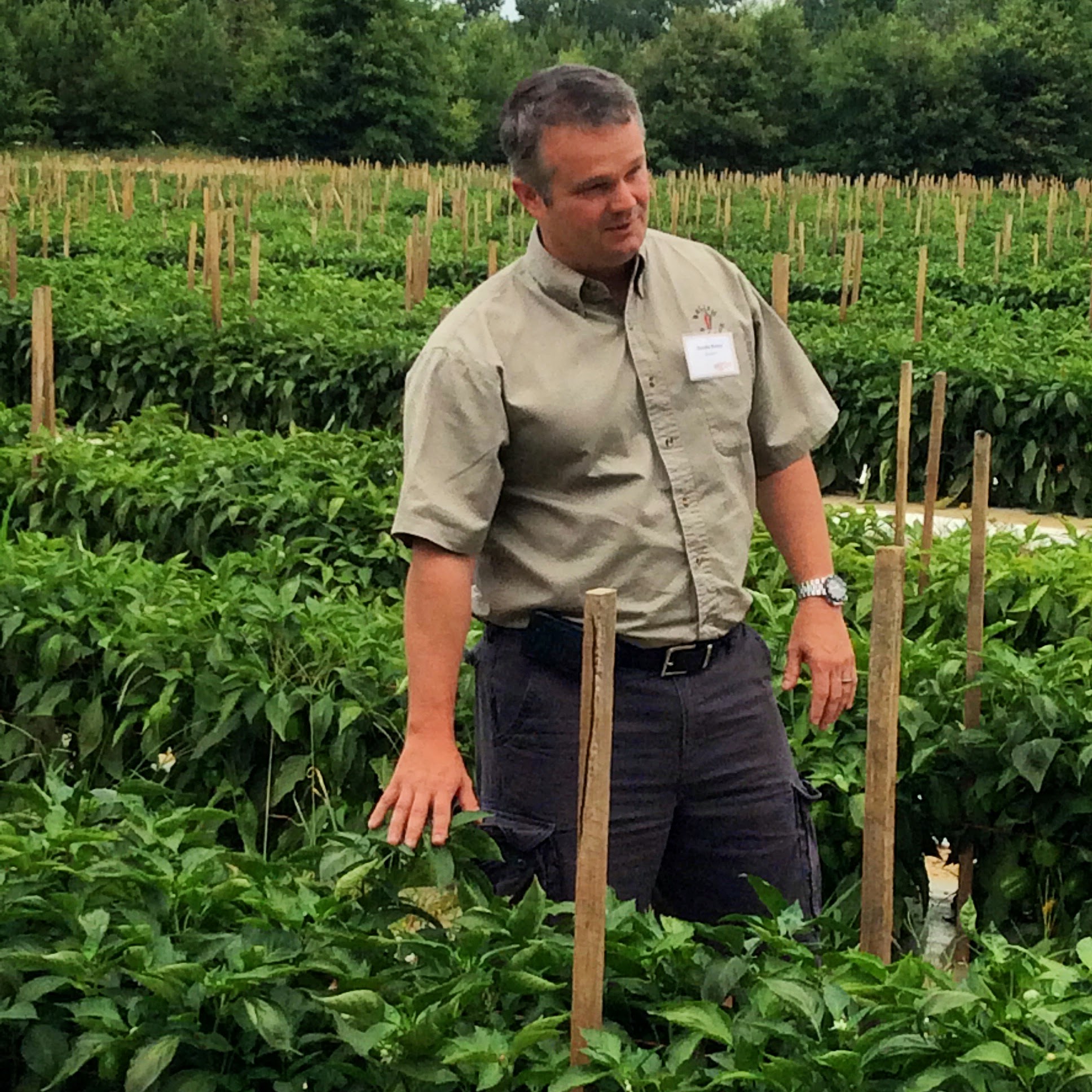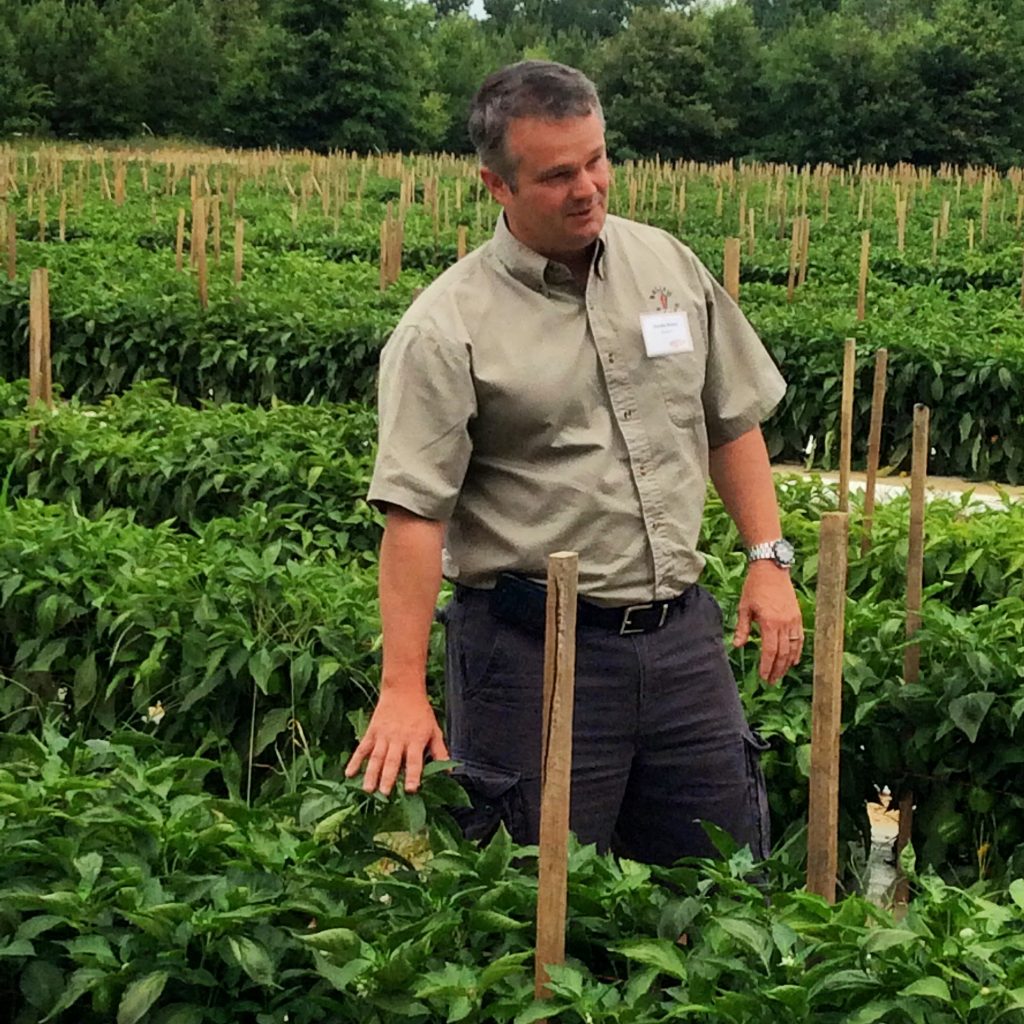 With all of that, weather and labor are two of the biggest challenges vegetable farmers like Randy face. Weather has always been weather but labor is the worst it has ever been he says.
Some local help works with the Baileys but the seasonality means recruiting workers and sponsoring H2A visas for them. The hand harvesting comes with red tape and costs. The cost of doing that and competing on a global market with farmers in places that don't pay US wage rates.
If Florida gets cold or a hurricane takes out some of the market, the Baileys import product to cover orders.
Links to Learn More about Specialty Peppers
Video of Bailey Farms peppers on farm, packing and shipping
Scoville scale: https://en.wikipedia.org/wiki/Scoville_scale
Bailey Farms website: baileyfarmsinc.com