Sitting down to talk with This Farm Wife Meredith Bernard was pretty much like sitting down with someone I had known forever. In some ways, we have known each other for years via social media even before she had a YouTube channel really. But since that and Instagram really got going for This Farm Wife, I have this immediate connection to her farm, and her family.
Here's our episode with Meredith:

A transcript generated with AI technology can be accessed here Meredith Bernard Talks About Farming & Her "This Farm Wife" YouTube Channel
Getting to Know Bernard Farms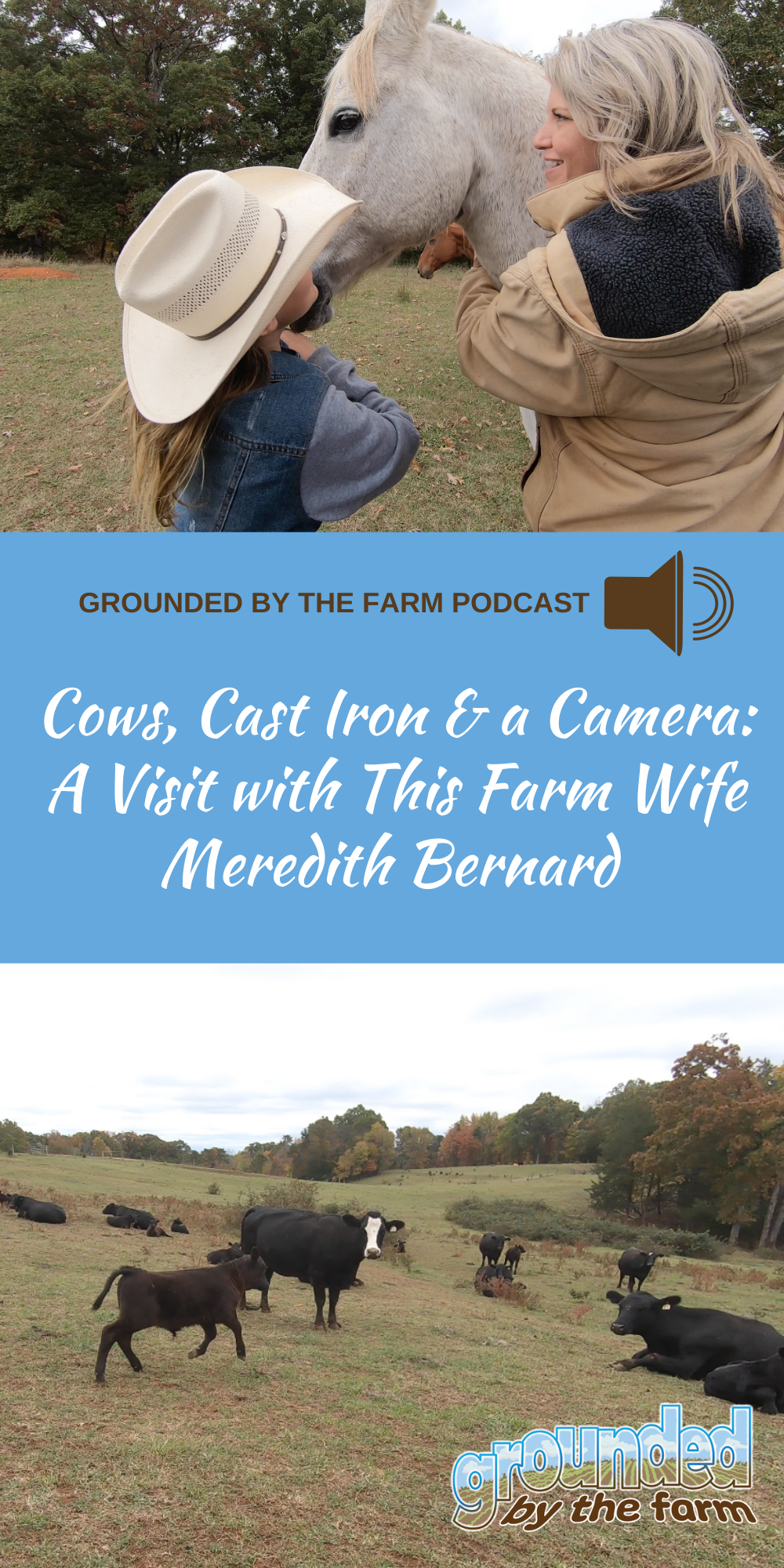 Although towns are close by, with fences, woods & hills, it's easy to feel far away from everything on Bernard Farms. Meredith laughs and says all her neighbors have four legs — mostly cattle, a few farm dogs and a couple of sheep the kids wanted. They plant a range of crops that are mostly used for the livestock — hay, barley, corn, corn for silage (harvest the whole plant, not just the grain), etc. but sell some into the markets too. In fact, just this week the family was seeding a barley field — highlights shared online of course.
(You may also like to give this episode on growing barley for beer & the bonus episode talking with the Tennessee brewery that sources directly from farmers when possible. They've even won at the Great American Beer Festival this year!)
Meredith worked in sales traveling and working in town for a while but as the family grew, she wanted to stay close to home a lot more. Her husband Lawrence had always run the farm solo and while they both knew she could be helpful, she also wanted to bring in an income so she started a photography business. Over time, that evolved into writing and eventually, she tried video as friends kept suggesting. She laughs saying she didn't like it at all, but after going to a FarmHer conference in Iowa, she thought more about it and decided to see if she could make it work.
Now, YouTube and the things that have come with sharing her story online are contributing to the family's budget. And they are capturing parts of their own farm story and letting others gain understanding on how things work. It's just them on the farm, no hired hands and Meredith laughs thinking she may not have been really handy early on. But she's learned lots and now the kids are able to lend a hand too. And with that, the family's increasing willingness to participate, and all she's learned, she's been able to share stories that show the day
Don't tell Lawrence, but meeting him was a highlight. He was almost an illusion in the early videos — you didn't see him much but she was talking about what happened on the farm. He has been seen more often (sometimes looking like my family members who roll their eyes at the camera) and this fall there was an accident and seriously, it did my heart good to see him even if it was a brief visit while he and Wesley had lunch before getting back to Saturday chores.
While They Chored, We Toured
Since I got there midday, we visited a bit. I stuck to a couple of yummy sweet potato muffins (watch the video "Failed Tricks & Sweet Treats" below if you want the details & you may want to catch up on this Grounded by the Farm episode all about sweet potatoes!). And then we hopped in the four-wheeler and Austin and Meredith gave me a tour. Austin loved driving and happily let her mom hop out for gates.
I didn't think about the sound of the engine being such a problem… should have mic'd Meredith! But I think you can get a feel for the place.
After the tour was when we sat down at the kitchen table to record the podcast and I sat in awe of the collection of cast iron pans. Once you watch a few of This Farm Wife videos, you find cast iron has a recurring role, so I shouldn't have been surprised to see several, but I lost count! She gave me the tips to cook the perfect steak!
This Farm Wife on YouTube
Lots of folks spend hours watching YouTube, and some of those folks like the escape from their house to check in on a farm. That's where Meredith and her vlog come in. She gives subscribers a little slice of the "ordinarily extraordinary life" life lived in their family farm. Here's the vlog post from the week I stopped by. You'll see there had been an awful lot happening and around 12:47 into the video, she tells folks she's wanted some fall muffins & a friend is coming. But really you should watch the whole video.

In the podcast, I asked her about some of the other YouTubers that share farm stories that she loves. First to mind for me was Sandi Brock of Sheepishly Me in Canada, but Meredith gave a full list that includes Tara Coronado who talks wine grapes in California and like me enjoys seeing other farms and Terryn in Nebraska with Faith, Family and Beef. You can catch them and others on this list of farm YouTubers she has on her channel. I'd also add my friend Brian Scott of The Farmer's Life on YouTube.
Follow Meredith aka "This Farm Wife" Online
Here are the links we mentioned for Meredith's online presence.