I frequently hear people talk about the goal of being self-sufficient with their food production. Ask yourself though, do you see people do it? Well, for two decades I've had a front row to watch as my brother Ray Person, sister-in-law Elizabeth Kelly & a group of friends created a farm co-op that does just that. And they live in northwest Ohio, not exactly the geography that first comes to mind.
(AI generated transcript available for those with hearing difficulties.)
They are producing food the way many think is near dream-like. Thinking about how they have been able to make this work, not just what it looks like, leads to a great conversation and some discoveries.
Our latest episode comes from us sitting down in late May to talk about how this co-op was formed, how it works and as always, we took a look around capturing video too! Since it was cool & damp late, I want to share a photo was from a couple of years ago as we checked out what the garden had coming along. It's pretty amazing!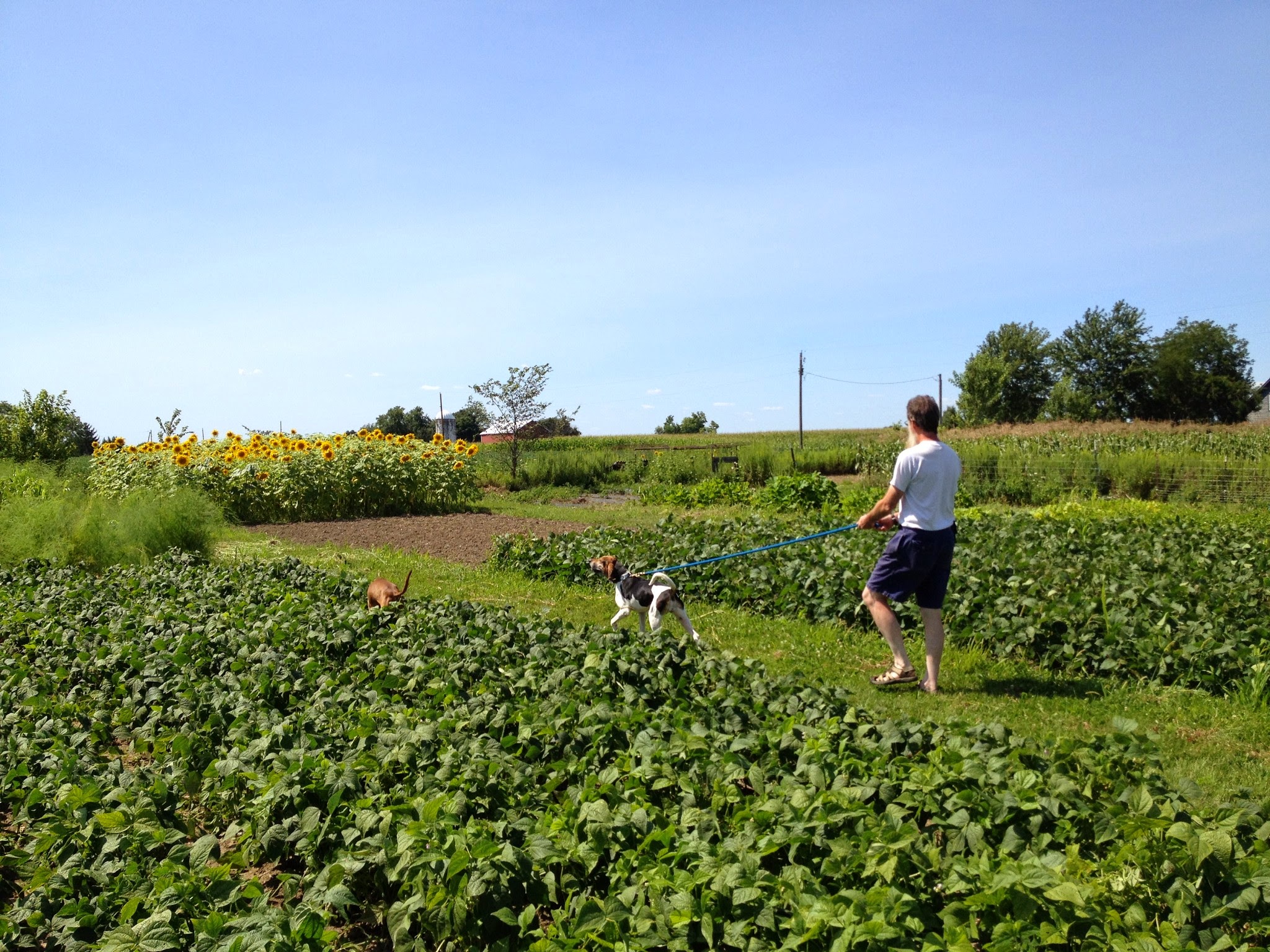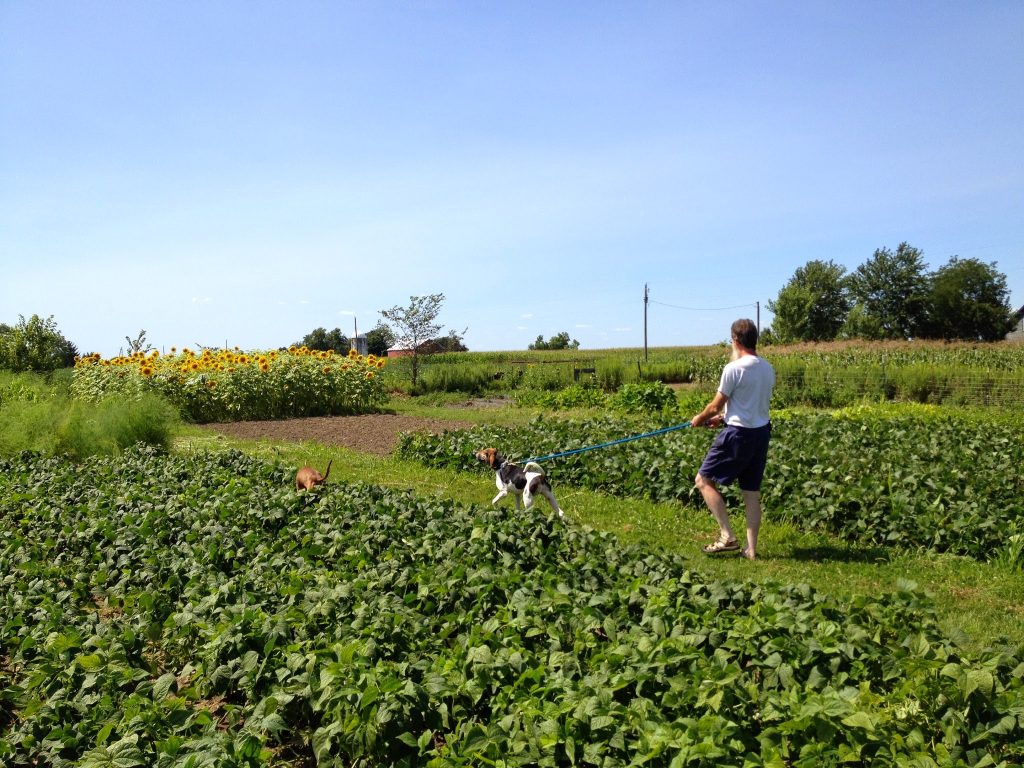 Creating a Co-op
Ray & Elizabeth purchased the farm two decades ago knowing the community they were part of was interested in coming together to produce their own food. They went with the co-op model as this was a way to distribute workload so all the members have real sweat equity. And they each get to enjoy harvesting fresh produce as well as doing the planting, weeding, etc. It started with five families and now there are two dozen families! That's as big as they plan to get though.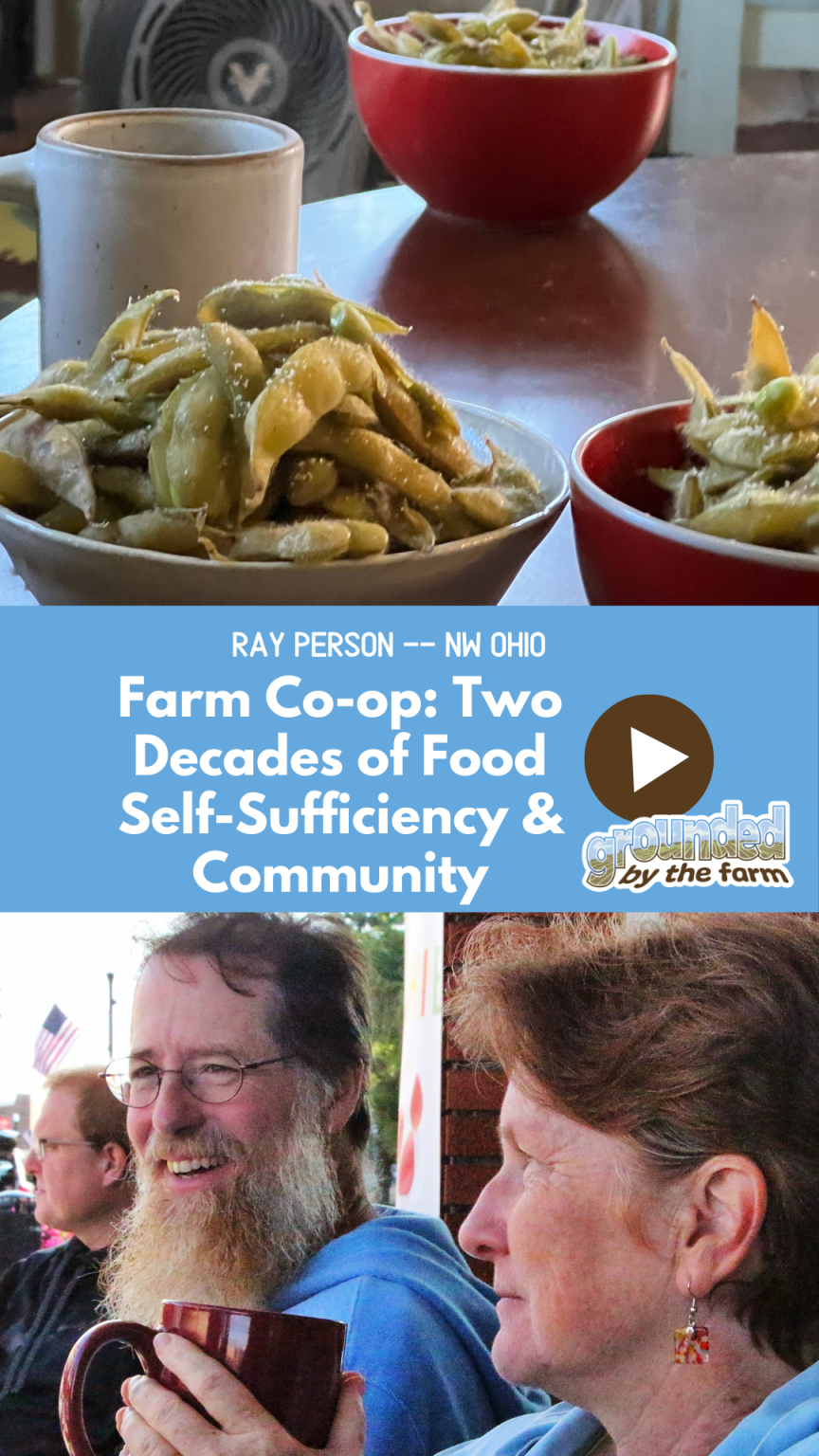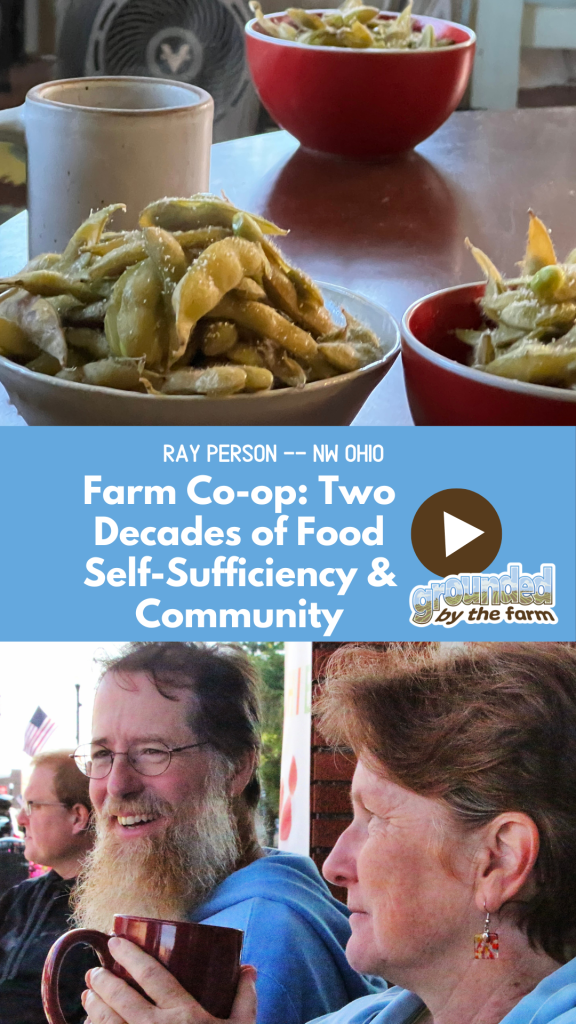 They started with a few goals in mind:
Providing quality food for themselves (was five families, now a dozen or so)
Improve wildlife habitat
Build community
We talk about the food side quite a bit in the episode. They are largely self-sufficient with the exceptions of grain and things that don't grow well there (coffee, sugar, etc.) Some families participate in the meat part while others do produce only. He has a lot of spreadsheets to work through on costs, etc and those are distributed equitably too. And I can tell you, he always brings plenty of eggs to go with the bacon I take for holiday breakfasts and has perfected his deviled egg game! The garden is big and gets turned over during the season so they grow an acre's worth of food. It's a lot to be thankful for and Ray wrote a blog post for me a decade ago sharing some of his thanks.
Ray says there have been a range of things tried. Sometimes they found foods they weren't as familiar with did really well so sharing recipes helped. And they can, freeze and put things in the root cellar for safe keeping through the hard Ohio winter. The weekend I was there recently, we enjoyed edamame as we waited for others to arrive for the dinner that we would have soon.
Improving wildlife habitat is one thing that he says happened without the focus he expected it would need. But that probably speaks to the variety of things that are being done on the pasture and hayfields. The environmental aspects are clear… you can even see the barn swallows in the video.
The co-op community has continued to develop over the years, with some members staying throughout the decades and others coming and going. The same community is likely to gather at the local coffee shop on Saturday mornings to catch up, that's when I got a photo of Elizabeth & Ray a few years ago.
A Look Around the Farmstead
The farm includes a pasture for all the animals to share, a large hayfield, a garden (about half an acre in size) and a historic barn that was built in 1868. (That's easier to remember since one summer when I was there they were putting the date back up after having the barn painted.)
Working in the garden is something everyone participates in. There are cool season crops like broccoli, onions, etc. and later tomatoes, peppers and squash go in the ground. On the header of the page, you can see early spring planting of onions and garlic. These are planted every year. They get dried down, distributed to members and used year round!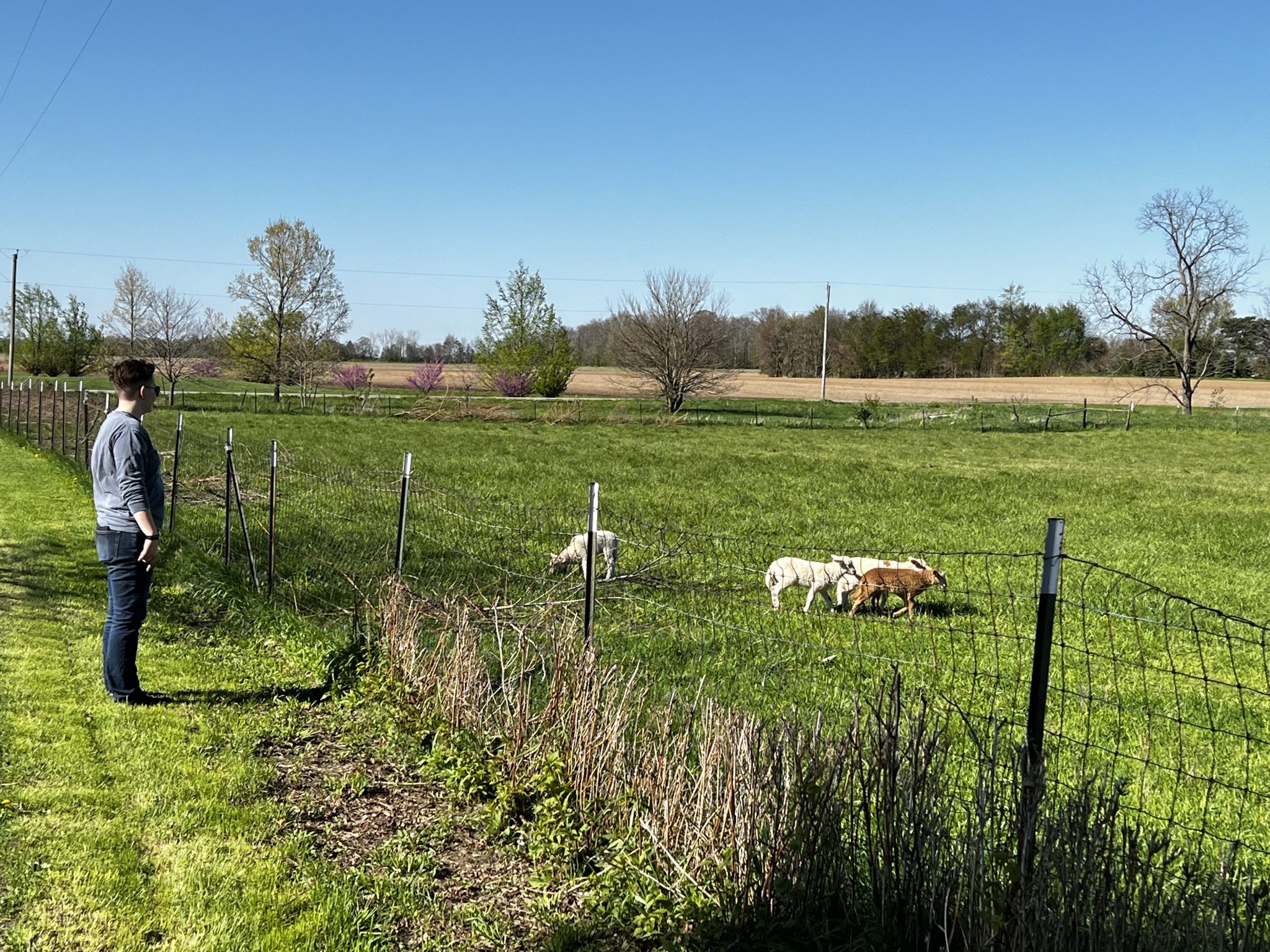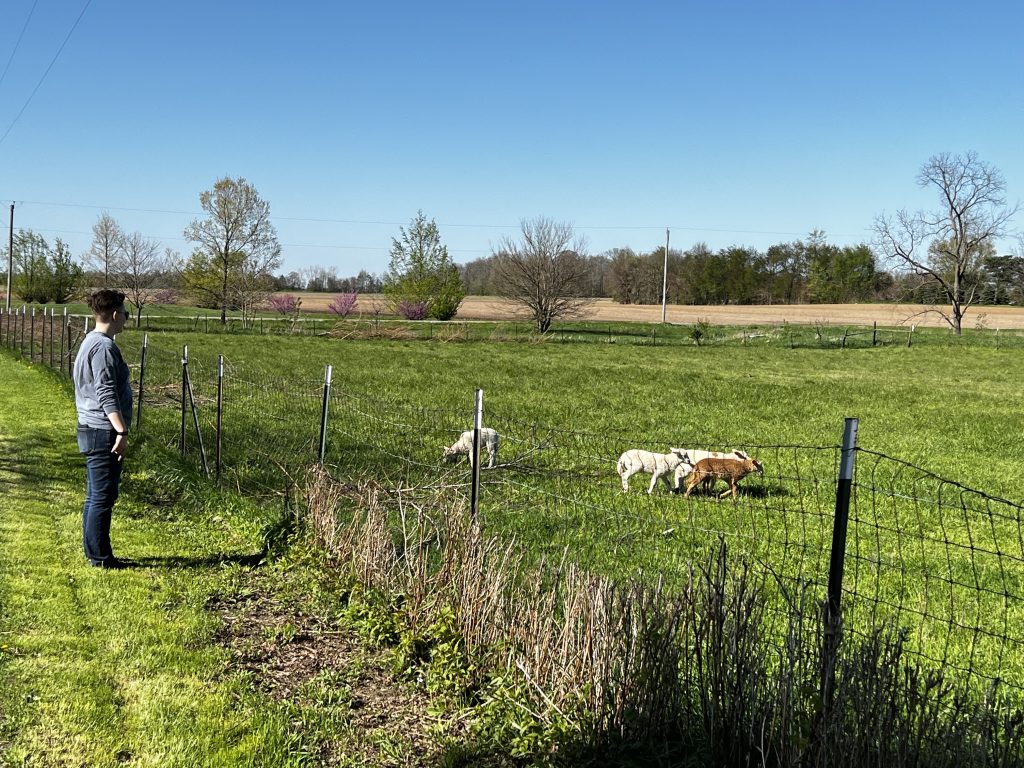 The pasture is where you are most likely to find animals during the day. Sheep, chickens and their dog protectors are out there a lot, going from shade to sun and looking for things to eat. They also get some feed in the barn. Ray showed me around the barn, its a casual check-in on what's going on with the pigs, chicken and sheep.
Bottle Feeding Lamb Triplets This Year
If you watched the video around the barn, you met Sage and Socks. They are two ewes who were orphaned as lambs. My niece was visiting that spring and she had a lot of fun bottle feeding them and learning all about sheep.
This year Ray has triplets that lost their mom so he has three to get through the early days. That means mixing up a milk replacement that will give them much needed nutrition until their digestive tracts have fully developed. After we recorded the podcast he took me out there and you'll hear, I wasn't sure what I was getting into. I THOUGHT I'd be shooting video, but that stopped so I could feed one of the lambs.
Ray got to finish up with the sweet lamb with a few spots, including on its knees. No doubt the excitement of doing this wears on a person day-after-day, but that's part of the reality with the farm co-op. It takes a lot of time in addition to everyone's day jobs.
Since our most recent episode was talking to Kristin Root Patterson about lamb, you may want to catch up on that if you missed it because we talked cooking, rams, and more!
Please Subscribe and Follow

Every two weeks we put out a new episode. Learning more about how foods are produced and the people doing that. If you are new here, you can probably find a favorite food in our previous episodes or maybe you'd just like the . You can subscribe to get emails on future episodes from the website, listen to the podcast in your favorite app (links below) and connect with us online (links below). In fact, if you find a platform we aren't on, please let us know so we can add it!
Most weeks I tell you how to find the farmer online, but I'm guessing you can tell, my brother really doesn't have time for all of that! LOL! He does Facebook with friends and family, but doesn't have public social media channels.
Our Website
Subscribe in Podcast Apps
There are a lot of these so I'll list them alphabetically.
And Libysn is where we host so we can also be found there groundedbythefarm.libsyn.com/
Follow Us on Social Media