Maybe it started with PBS as a kid, but I love to compare and contrast things. So when the team at Midwest Dairy recently asked if I would like to see two different dairy farms and interview them, I jumped at the opportunity. Next thing I knew the podcast had it's first sponsor and I was in northeastern Oklahoma meeting some farmers!
The differences between the two and some of the similarities among them were really striking. After the tours, I sat down with Anthony & Charlie Coblentz and Logan Courtney, a neighbor whose dairy is just 15 minutes or so away. Touring first helped me see some of the differences and similarities and you can watch the video… you will hear and see both farms.
An AI generated transcript is available.
This post is sponsored by Midwest Dairy. I was compensated for my time, but all wording and opinions are mine or the farmers.
Meet the Dairy Farmers
We went to visit the Coblentz and the Courtney families.
The Coblentz family has had a dairy farm since 1972 when Charles & Ellen Coblentz decided to start the dairy. The family had farmed for quite some time and Mr. Coblentz says that his uncle had a dairy farm down the road. And while most people in the area back then may have had a cow, he wanted a barn full! He has three sons who are part of the farming operation. Charles & sons Charlie & Anthony spent the day with us.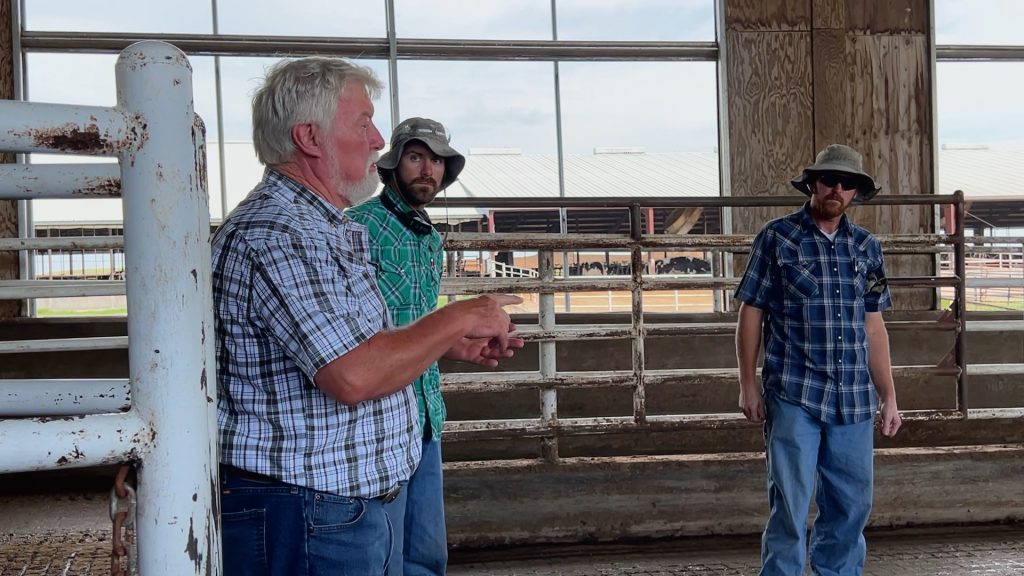 Logan Courtney is a Gen Z farmer. There was always something about cows for him. While the family raised beef cattle, Logan had a chance to learn about dairy as a teen and decided that was for him. After college he started a dairy with his family's support, especially his sister Autumn, who works on the farm as well as in town as a librarian. (I have lots of love for librarians!)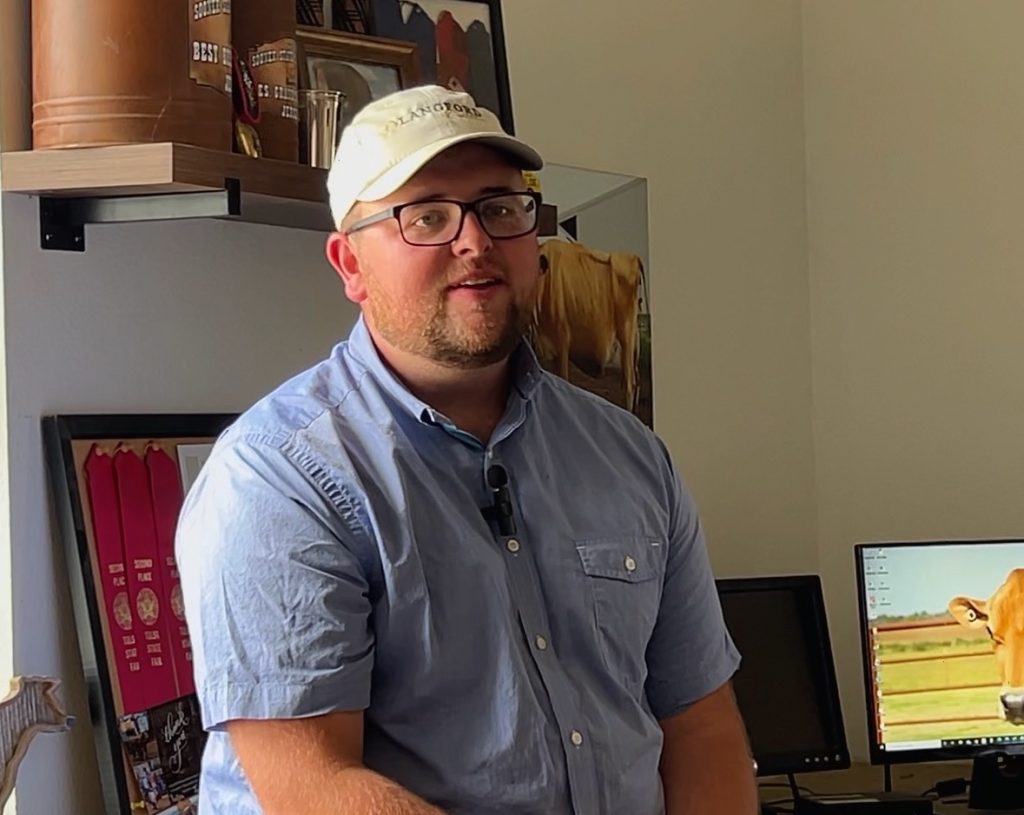 How To Compare or Contrast Two Dairy Farms
I'm glad I didn't have to figure this out until I got there! But I think like everything, when you are presented with two things, you undoubtedly will see similarities and differences. The physical pieces are easy to catch and various topics were highlighted at each farm as questions were asked.
One of the most obvious differences is scale — the Coblentz dairy has 400 or so cows they are milking whereas Logan has 70. But some of the differences you may attribute to scale also go to the differences in the breed of cows they have. The black and white Holstein that most Americans equate to dairy is found on the Coblentz farm. They are larger, produce more gallons of milk and prefer to get in the shade and relax on a hot day so the Coblentz's have a big barn with lots of fans as well as a large area for the cows to be covered as they come in for milking. Logan's herd are pedigree jersey cows who put lots of protein and fat into milk (so good for cheese!) and they like being outdoors most of the year. Of course the Holsteins have access to pasture and Logan has some windbreaks and covered areas, but the cows seem to stick with what they like at both places!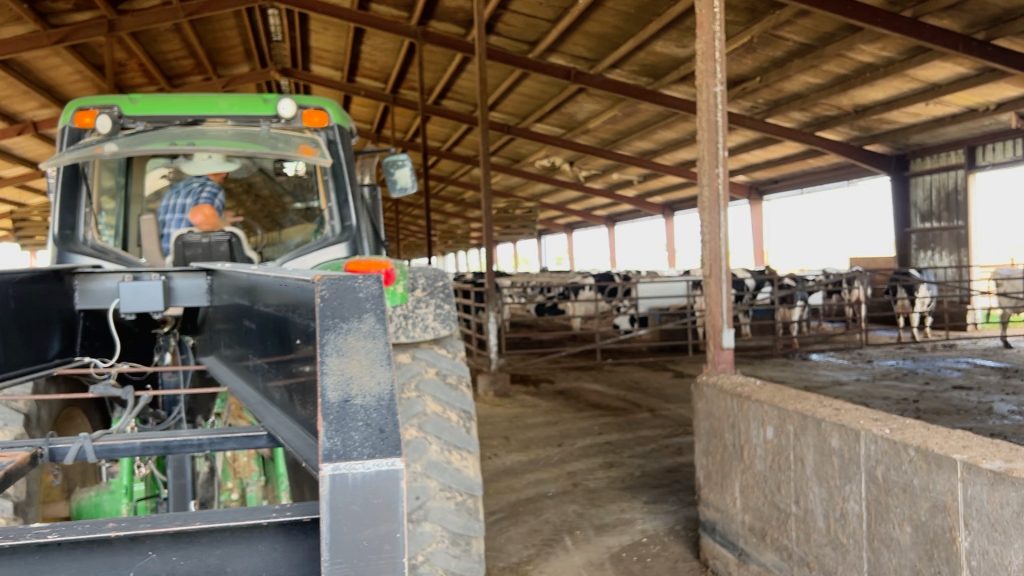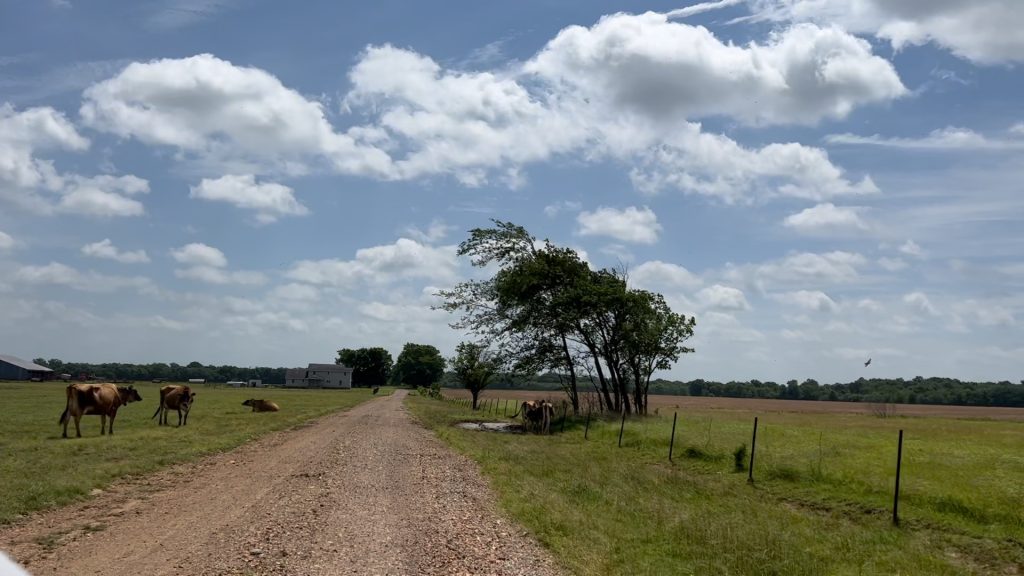 Another piece that captures the eye? The differences in the way the two farms milk their cows. For the Coblentz family, it is scheduled to start at 5 am and 5 pm daily. A couple members of the family or maybe a hired hand work in the milking parlor together, getting 30 cows set on one side of the parlor before working on the other side with another 30 cows. Since I was there mid-day, we didn't get to see the parlor operating, but I have video from another farm that's got a similar set up. You may even remember an earlier blog post about some of the sustainability practices on that dairy.
View this post on Instagram

That's the more typical type of milking system but there are several other styles that work similarly. The robotic milker that the Courtneys purchased is a bit different and Logan says, with a bit of pride, that his farm was the first to have a robot milking cows in Oklahoma. Since then, there have been a couple more added to the state. I first saw robotic milkers at a friend's dairy farm in Michigan a decade ago. It's more common place in Europe with smaller farms. And Logan says it really helps on workload as the robot milks around the clock, whenever cows want to be milked. They come and go as they like. Logan said the average is 2.5 milkings per day and that the robot collects all kinds of data on each cow. Sorry, it doesn't look like anything from the Jetsons or Star Wars…. In fact, it reminded me as much of a 3D printer as anything! I'll drop a photo here, but rest assured we saw it working AND you get Logan's narration on the video from his farm later in this post.
Which dairy farm is better?
At the end of the day, I felt really comfortable with the way both farms were managing things. They both have specific reasons for making the decisions they do, all of them are focused on delivering animal care and comfort, a favorable environmental impact AND healthy, nutritious food they are proud to serve at home. The only real controversy came when we started talking about favorite dairy products! Charlie and Anthony were solidly team ice cream while Logan is a cheese guy (if you are then you really should hear this interview with a cheesemonger!). I have to say I like both of those options a lot! I think you need to see both to see for yourself how I could arrive at such an answer, so here are videos from the two farms.
Touring the Coblentz Farm
Touring the Courtney Dairy
Please Look For Us Wherever You Follow Content Creators
Every two weeks we put out a new episode. Learning more about how foods are produced and the people doing that. If you are new here, you can probably find a favorite food in our previous episodes or maybe you'd just like to wander around the map to see something close by. You can subscribe to get emails on future episodes from the website, listen to the podcast in your favorite app and connect with us on social media. In fact, if you find a platform we aren't on, please let us know so we can add it!
Our Website
Learning More About Dairy
In our next episode, we talk to a cheesemonger! But you don't have to wait to then as there is a lot of info from dairy farmers on the web too. Here are a few resources if you are Undeniably Dairy: