There are titles that go almost unnoticed, but being a cheesemonger definitely stands out! It took a long time but eventually, I met a cheesemonger. That cheesemonger, Jessica Keahey (founder of Sweet Freedom Cheese in Bentonville, Arkansas), led a virtual meetup and cheese tasting.
We toured two dairy farms together recently and I was pumped when Midwest Dairy agreed to sponsor my trip down to cheese central! We certainly weren't short of topics to discuss and Jessica kept coming up with cheese puns to keep it light!
So what are some of the things you can learn from a cheesemonger? Sit back cause this episode is a doozy! We hit so many different areas of discussion!
An AI generated transcript is available.
This post is sponsored by Midwest Dairy. Ashley Anderson who also in part of the episode, is the wellness director there. I was compensated for my time, but all wording and opinions are mine or the people sharing them.
Blessed Are the Cheesemongers
Jessica has had a passion for cheese for years. She's traveled learning about it, took classes in Vermont, Pennsylvania, Arkansas and with various cheesemakers around the country. She ultimately started Sweet Freedom in 2013.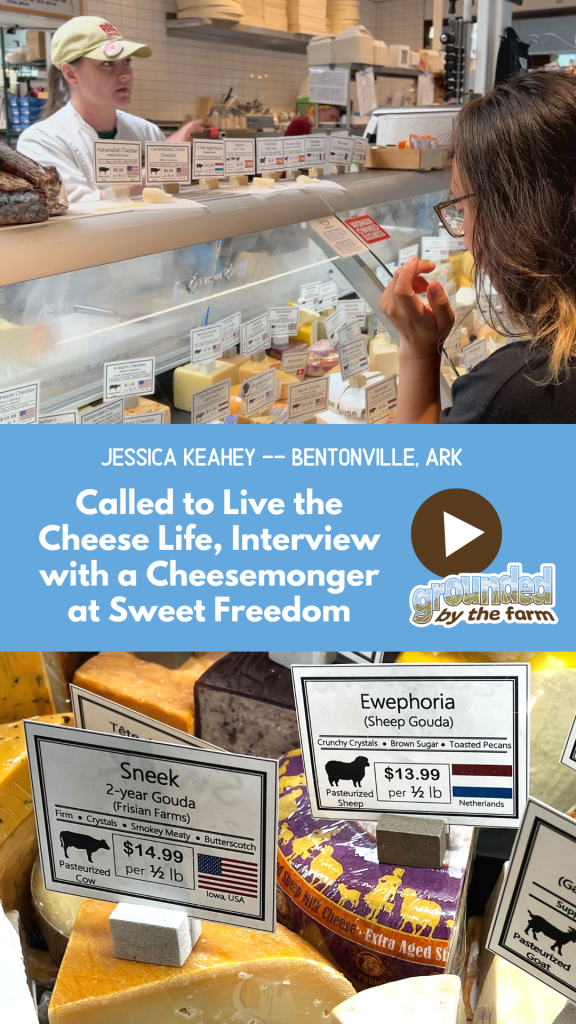 The shop is Arkansas' first cut-to-order cheese shop and is located in the 8th Street Market which offers lots of options for people to enjoy food, from permanent shops like Sweet Freedom to food trucks.
The entire team at Sweet Freedom seems to have a love for cheese and helping people really enjoy it, whether that is finding new cheese experiences for you to serve up at home, a gift for the cheese lover in your life or a quick lunch before you head back to the office.
Enjoying All the Cheeses
When Jessica said we could taste whatever cheeses we wanted, I was worried I would overdo. I could have kept Jessica and the team busy with all the things for hours. Luckily, a local chef (Jaye Parker, co-owner of 52 Kilo and Prelude Breakfast Bar) was in working up a cheese board offering and that gave a lot of cover for trying all the cheeses!
There were a lot of ways to be a bit more adventurous or to be REALLY adventurous. Something as simple as a cheddar made with caramelized onions (we have a podcast episode on onions) or horseradish takes you a step away from the cheese that comes pre-wrapped in the grocery case (I buy lots of that too!). And I've liked gouda a long time but having one that was aged for five years brought new textures and all… I will say I was sold on all three of the ones I mentioned! All were from cheesemakers in the Midwest too! And I went there absolutely planning to get tubs of Edgewood Creamery's Milk & Honey…. sadly they have since closed.
Sweet Freedom makes it easy for visual thinkers like me with the signs they put on each cheese displaying what type of animal the milk is from, country of origin flag along with some of the other information it's good to have on hand as you consider what you may want to try.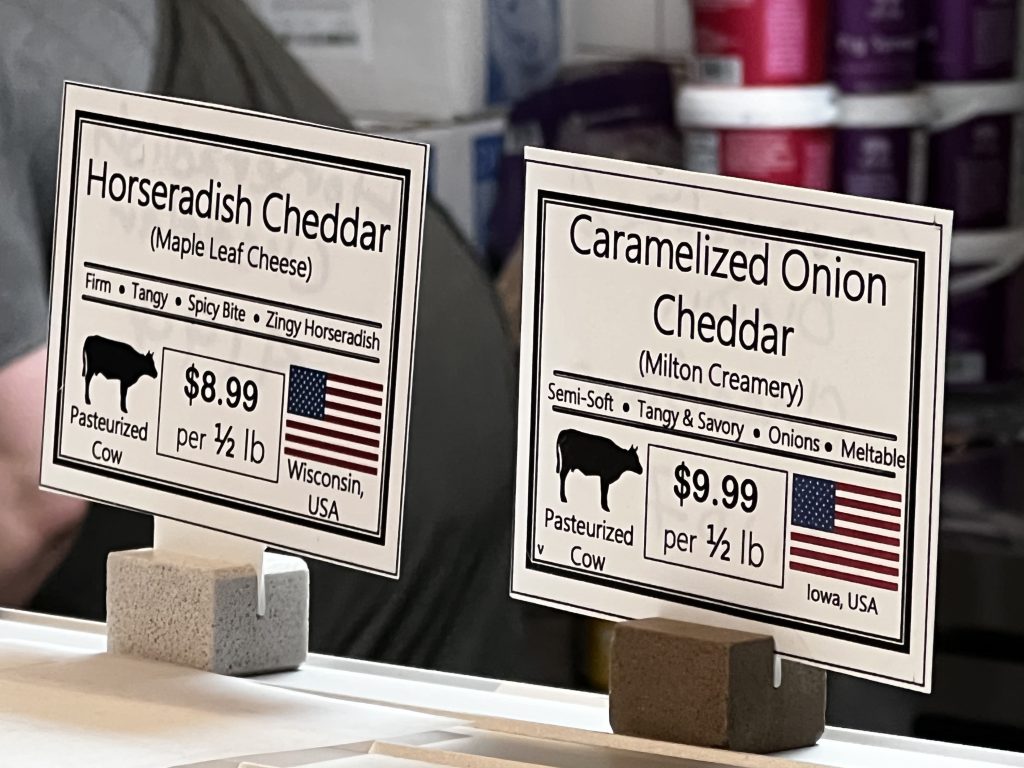 While I joked I was eating all the cheeses, it's amazing how fast those tasting slivers or chunks add up! I had to tap out after a while! And being able to buy a quarter pound of several to bring home meant some unique grilled cheese sandwiches for a bit.
Getting a Look Around Sweet Freedom Cheese
Since Sweet Freedom is in the midst of a market, we started with the podcast and enjoyed tastings & browsing the shop as the lunch crowd came in. We captured some of all of it for the video too! Jessica even walks through some of the cheese tools she thinks no home should be without.
Everyone Loves a Good Cheese Board or Charcuterie Board!
Cheese & charcuterie boards have more than gone mainstream in the last several years and I had to confess, sometimes it can get intimidating. So I asked Jessica to give some tips.
How much cheese do you need?
How much cheese is usually the first question to ask/answer. If you want to eat cheese once or twice or you really like cheese or you know it's for after dinner, a good cheesemonger can help you with quantity. Typically Jessica says an ounce of cheese per cheese per person as a serving.
How many cheeses?
Sweet Freedom recommends anywhere from three to five cheeses. Beyond five and it can get confusing to figure out what each cheese is, what else to pair with it, etc. And, if you're eating one ounce per cheese, that's five ounces of cheese, which is plenty.
How do you pick the mixture of cheeses?
Going to a shop or grocery store that cuts to order is a way to taste test and I will say it allowed me to be more adventurous with the cheeses I was willing to put on the next board I made! Start with what you like — afterall you want to go home with something you love. Typically you want a variety — maybe a soft cheese, a hard cheese or something in between, Sweet Freedom might do you know, a planer style cheese, some flavored cheeses, and then just kind of work from there. It's nice to have a variety of textures and colors. Some cheeses have external mold and internal mold.
How do you pick all the other stuff to go on the board?
Jessica says they have a magic formula. Charcuterie is a French word that actually does mean kind of charred or cooked meat. And so technically, if you have a charcuterie board, it's a meat board. And they do also have a cured meat section — salami, chorizo, thinly sliced country ham, etc. Depending on the size of the group, one or two meats. Since cured meats are more concentrated and saltier, people tend to enjoy just a bit. Use plenty of fresh fruit and vegetables, as much as you want because whatever color it brings kind of rounds it out. Sweet Freedom also uses pickled items — pickled Brussel sprouts, olives, pickled okra, whatever — because the acid tends to cut through the fattiness of the cheese, to help the palate. Nuts offer other textures, as do crackers or breads. Potato chips are fun and jams and jellies are sometimes the right addition too, Jessica adds. She walks us through a great way of thinking through complimentary and contrasting options (which is sort of the take home from the dairy farm tours we did a couple of weeks ago as benefits to both!)
Let's Connect on Other Channels Too!
Every two weeks we put out a new episode. Learning more about how foods are produced and the people doing that. If you are new here, you can probably find a favorite food in our previous episodes or maybe you'd just like to wander around the map to see something close by. You can subscribe to get emails on future episodes from the website, listen to the podcast in your favorite app and connect with us on social media. In fact, if you find a platform we aren't on, please let us know so we can add it!
Sweet Freedom Cheese
Obviously, you can find the shop in Bentonville, Arkansas! It's close to a favorite museum of mine (Crystal Bridges). Go with a cooler in hand cause you'll want to take some home! Their website is SweetFreedomCheese.com and they can be found on Instagram (such great cheese photos) and Facebook.
Learning More About Dairy
We have one more episode to do in this series to talk about the environmental sustainability piece! There is an episode & post about dairy farmers and lots more resources on the web too. Here are a few resources if you are "Undeniably Dairy:"