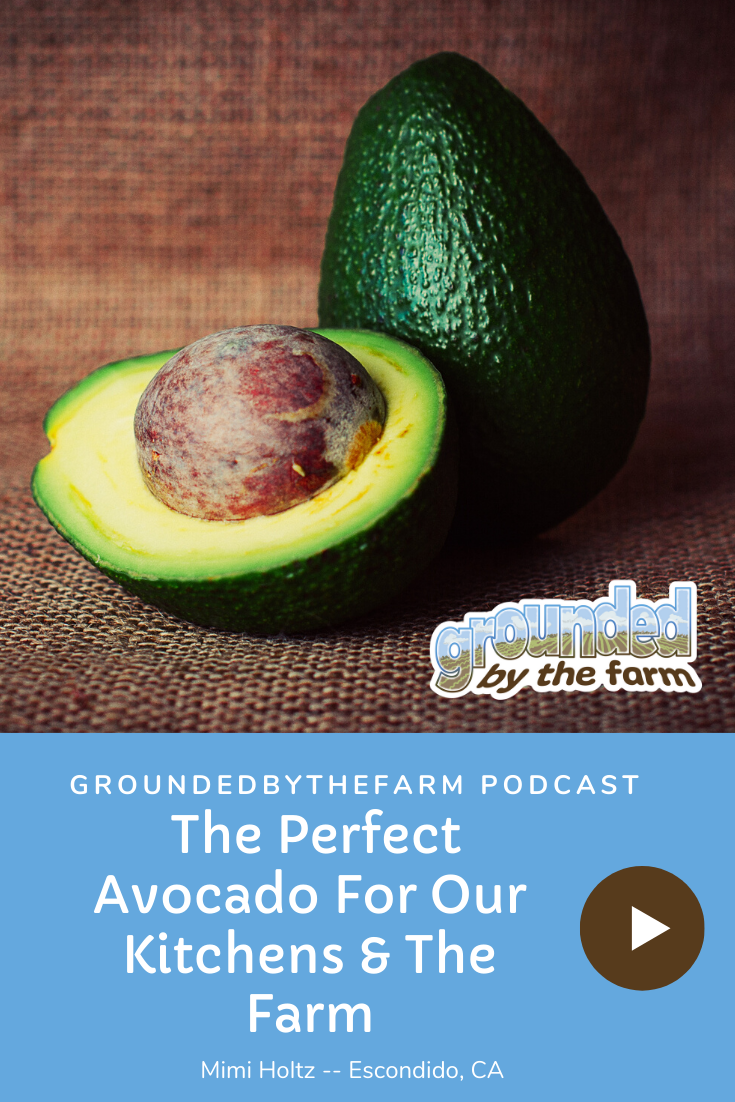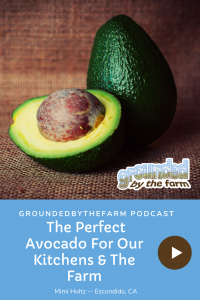 The search for the perfect avocado is a search many of us have been on. But avocado farmers like Mimi Holtz, who is known simply as Mimi Avocado online, know what to look for and what impacts the tasty goodness we all crave. Listen as she shares favorite recipes, some of the everyday ways the Holtz family enjoys avocados, insight on how the crop is grown and tips for delighting kids.
Selling Produce Direct

The family started a business called California Avocados Direct several years ago and it has found a real niche for itself — her son Ben keeps this building and daughter Maryanne is working with customer service. I've ordered several times over the years and recording and editing this episode certainly made me crave the perfect avocado so I have a box on my table now! Because they have so many different varieties, and different varieties are ready at different times of year, they have subscribers who get boxes monthly. I hadn't realized the fit avocados have for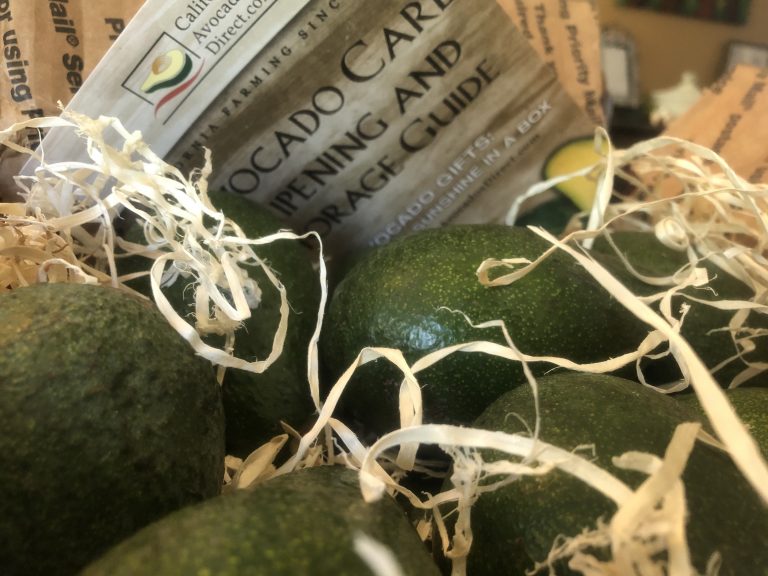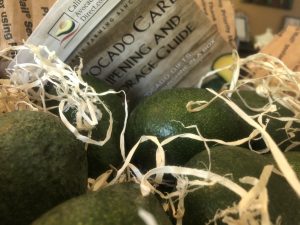 people with celiac disease or vegans/vegetarians using them as a staple in diets. But those groups alongside avocado enthusiasts like me love getting the best flavor possible. And really…. the farm employees picked & boxed avocados for me on Monday and they made it from Southern California to my front porch in St. Louis Wednesday by lunchtime!
The farm also grows tangerines and sells them by the box. And Mimi pointed out that with the process so well established for years on those crops & so many people staying home, they are now packing produce from other farmers too. They quickly adapted to source and pack potatoes, onion, celery, various fruits, nuts and more that was available. The boxes have been getting rave reviews on Facebook and how cool to know it could be could potentially be reducing some of the waste some farmers are suffering.
Varieties of Avocados They Grow
One of the reasons the Holtz family can do year-round direct avocado business, is Ed Holtz has kept tending and planting different varieties of the fruit throughout the decades he's been in Escondido.
Mimi points out that most Americans are familiar with the Haas avocado — one with a bumpy, thick skin that ships well. The variety did such a good job with production and throughout the supply chain, that the US market moved largely to Haas variety decades ago. And that success has led to more Haas avocados being planted in Mexico and other countries who supply US consumers with fruit.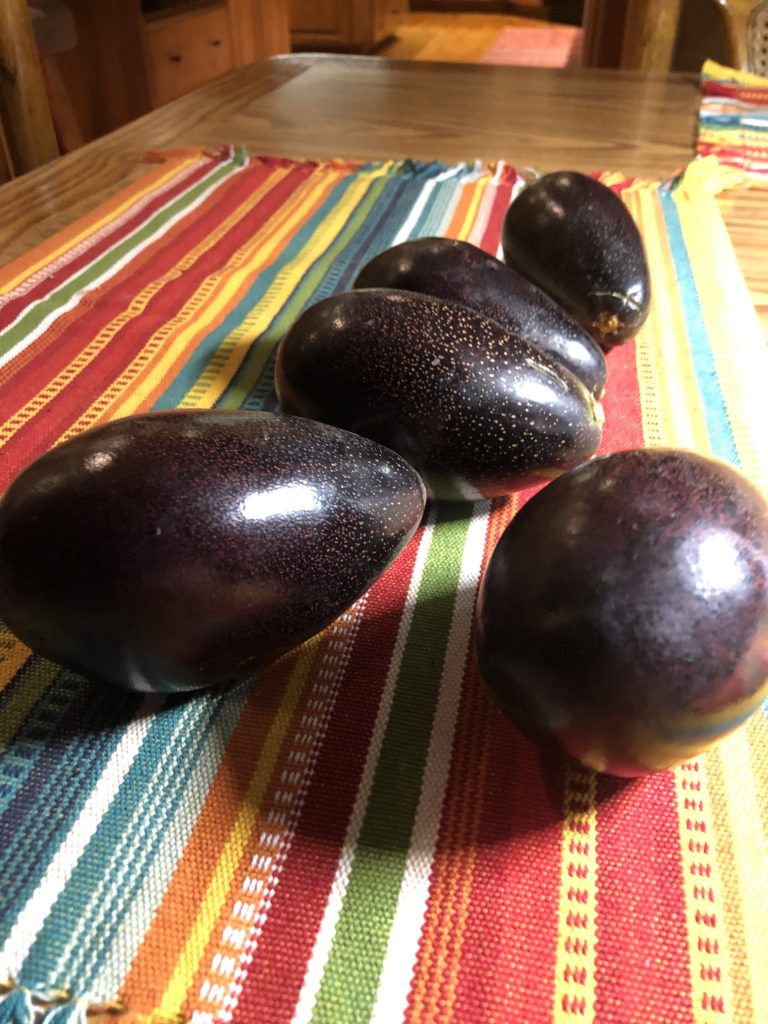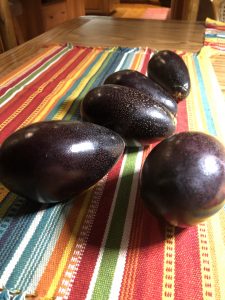 But the family has always enjoyed the different flavors and textures of various varieties. And different varieties ripen at different times of year too. Mimi explains that April is peak season for the fuerte variety and I have to agree with her… the flavor of fuertes is so much richer than what I've gotten from grocery stores. The box above is of fuerte avocados and you can see the skin is smooth, it's also really thin. They also grow Bacon avocados (they don't taste like bacon but everything goes well with bacon!), Reed avocados which are big & round like cannonballs, Nabal, Gwens and more. In fact, when I was there in October, Ed gave me a few Mexicola avocados that were new to the farm. They had a really deep purple skin (you can see they sort of look like eggplants) and the skin was really thin which was notable once I cut the avocado. I did a short video at the time if you would like to see.
Favorite Ways to Enjoy the Perfect Avocado
While I tend to eat out several times a week and travel a lot, I have been home and cooking. I told Mimi about making lots of avocado toast and slicing some up for chicken tortilla soup recently. She has a million ways to use them!
"Well, we sliced them on top of scrambled eggs or with an omelet. You know we buy those bacon bits at Costco and put them into the scrambled eggs with a little onion maybe. And then slice avocados on top with a little cheese." Mimi explains. "We always have tortillas in the refrigerator so that we could make a burrito or a taco or quesadilla and then, you know put slices of avocado on top or we mash the avocado and do different kinds of guacamole. You don't have to have, you know, the traditional guacamole. You could just grate onion into mashed avocado and try that or add a little crab meat if you happen to have a can of crab in the pantry or some in your refrigerator."
I love that she also cuts shapes out in avocados! It certainly brings a smile to your face to have a heart sitting atop a bowl of soup or salad and she sends a clear stay home message with an avocado house.
View this post on Instagram
More on Avocados in the Podcast
Listen to the episode to learn more about avocados including:
How to store avocados at home

Understanding avocado trees growth & care

How long do trees produce?

Food safety


Pruning and picking
Links Mentioned in this Episode