We're off the farm in this episode as we ask listeners and friends to share their favorite holiday foods and traditions. As we hear from five people tell us about the foods that must be a part of their festive season, it is impossible not to reflect more on our own traditions. It's also impossible to finish this show without wanting to try at least one dish!
When we published our update on growing cranberries, we asked listeners to share their holiday food stories. Knowing some can be cautious about stepping forward, I also messaged a few people. Our episode includes a lot of different foods and holidays/festivals. Hopefully you recognize pieces of your family's celebrations in here while also learning something new.
Lots of Celebrations in Mexico
Ari Mateos is first up. He lives just across the border in Mexicali. The holiday season in Mexico starts with Dia de los Muertos on November 2 (the day of the dead where ancestors are honored) and goes until February 2 with Día de la Candelaria when candles are taken to church to be blessed.
One food that is central to the holiday is pozole, a pork and hominy stew that is common in Mexico. Ari mentions that while it is common throughout the year, making pozole at home is important in the holiday season. He says is ia a real comfort food for winter and it also has some magical properties that can aid in recovery Ari says. My friend Adriana Martin has a green pork pozole recipe that is cooked in the instant pot.
The food that is the focus of Christmas Eve dinner for the Mateos family is Bacalao a la Vizcaina. It's more labor intensive than pozole and with that in mind, it's a special dish for the holidays. Love that he helps us understand how his family likes to make it. Starting with dried cod fish there is a process of soaking in cold water to remove the salt before frying and adding in the various onions, tomatoes, capers, olives, etc. I love the tip about the best part of the dish at the end with the broth! Again Adriana's got a recipe for her bacalao a la vizcaina if you want more detail.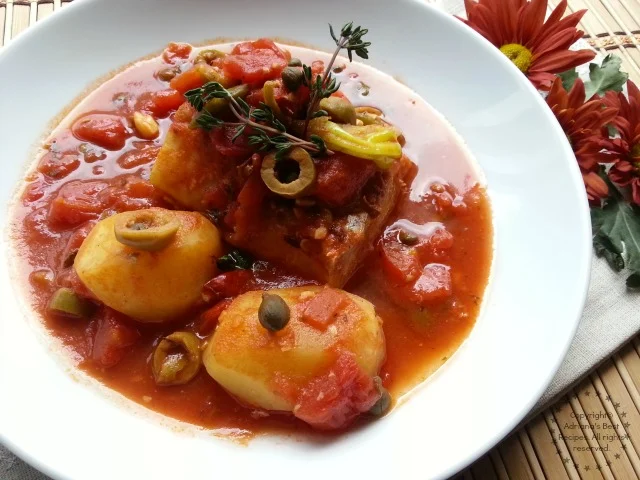 Focus on Family & Traditions
Josie Gordon shares some of the holiday foods her family enjoys. Like many American families, the Gordons have a combinations of cultures — her husband's general Southern background as well as her Cuban and Puerto Rican roots.
She says she learned to cook a traditional Thanksgiving the way her in-laws would celebrate. The family cooks together often and each of her kids have favorite dishes in the turkey, dressing & sweet potato mix that only come with holidays.
Cuban foods and traditions take the lead when it comes to Christmas and church, family and food all come together on Christmas Eve as is tradition for many Latin families. The much loved pernil (roasted pork), rice, black beans, a salad of some sort and tostones / fried plantains. And a night of Christmas pjs, stories and laughter… it's perfect!
What Holiday Foods Make or Break the Meal
In central North Carolina, Nikki Miller Ka started cooking holiday meals for her working parents as her grandmother needed a hand. Cooking for people is a central piece of the holidays for Nikki, but she admits now and then there may have been problems with the main course… a turkey that was dry or under-cooked, or whatever.
By the age of 14, she had created a macaroni and cheese recipe that makes her family happy at a range of holidays and recently has made the internet go wild. As a freelance writer, Nikki pitched her recipe and it published it last year as a Thanksgiving prep piece & it made the list of Food and Wine's top recipes of 2021. As a Southerner who loves mac and cheese, hearing about her big break, I HAD TO get her this shirt from a friend's shop.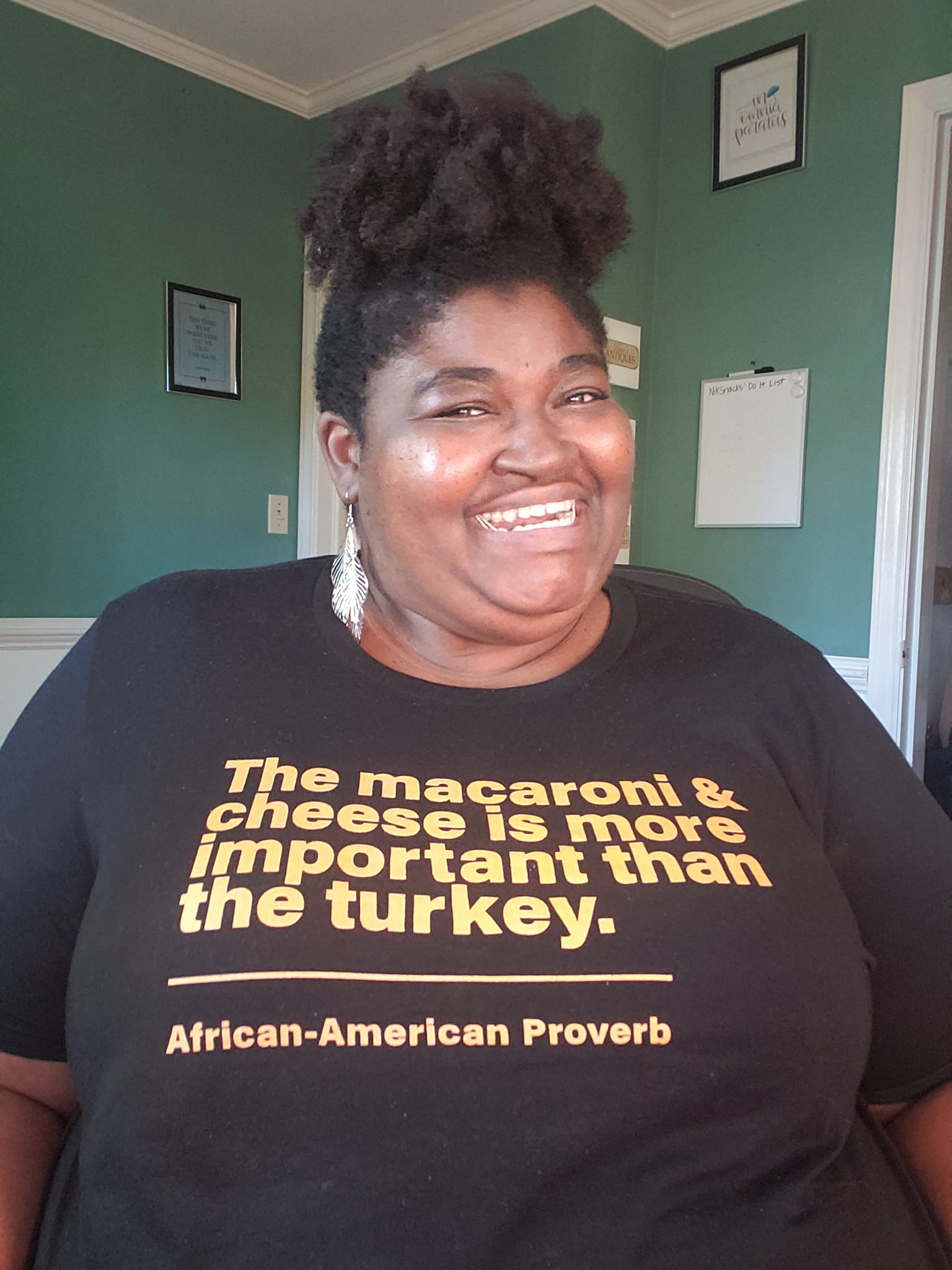 The Foods and Depth of Meaning of Hanukkah
Not participating in Hanukkah myself, I have only picked up tidbits here and there. Thankfully I knew Dana Zucker (remember the farm stay at Sugar Water Manor?) could get us the big picture as well as help us really understand the roles of foods. The 8-day festival of lights is about the dedication to keep going despite destruction, the perseverance of the oil-based candles. With that, foods that are fried in olive oil are central to celebrating Hanukkah.
Dana tells us about latkes and went through some tips to help make the potato pancakes hold together better. Her family has cooked so many so often that they set up to cook them outside! She says sour cream and apple sauce are the traditional go to but her family prefers Greek yogurt in place of the sour cream. They'll also do some with spinach, an egg, or even make latkes out of sweet potatoes.
Another food that is part of the celebration is sufganiyot (jelly-filled donuts). The sweetness of the jelly provides reason to celebrate. She's put some of her Hanukkah recipes up on one of her websites if you are looking for more on her favorite holiday foods.

Celebrating Multiple Cultures with Holiday Foods
Rosemary Mark develops recipes in the Bay Area. The holidays are a chance to look at the family's immigration stories and share those with others. Like others she has elements that are deep in tradition with some little tweaks here and there.
Her parent's immigration from Germany comes together with a big holiday meal with spätzle, a unique type of egg noodle. I love the way Rosemary talks about how the noodles are made because I immediately thought of making pasta and this is done very differently. It sounds like a perfect comfort food.
She also talks about lebkuchen — a spiced cookie similar to gingerbread that I had the chance to see in full force while visiting Christmas markets in Germany a couple of years ago. Some are really ornate, sold at markets, others packaged in tins, but Rosemary's lebkuchen recipe has a few tweaks we discuss. In the photos she sent below you can see the wafer foundation on the cookie too and check out how festive those tins are!
Her husband's family immigrated from China and the tradition for his mom was making wontons with the perfect filling. She always made them on Christmas day because she would have lot of hands around to help with the time intensive work of rolling, folding, stuffing and sealing lots of wontons! The family now welcomes in friends for the group project and Rosemary says not only does the group enjoy the fruits of their labor but they make enough so people can take some home. Check out these photos she sent — both in process and as they are being served!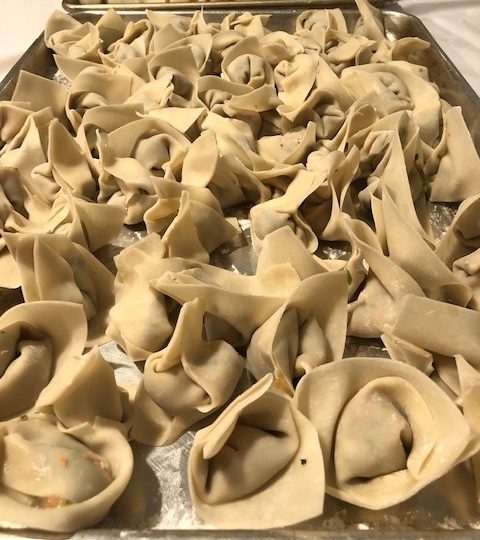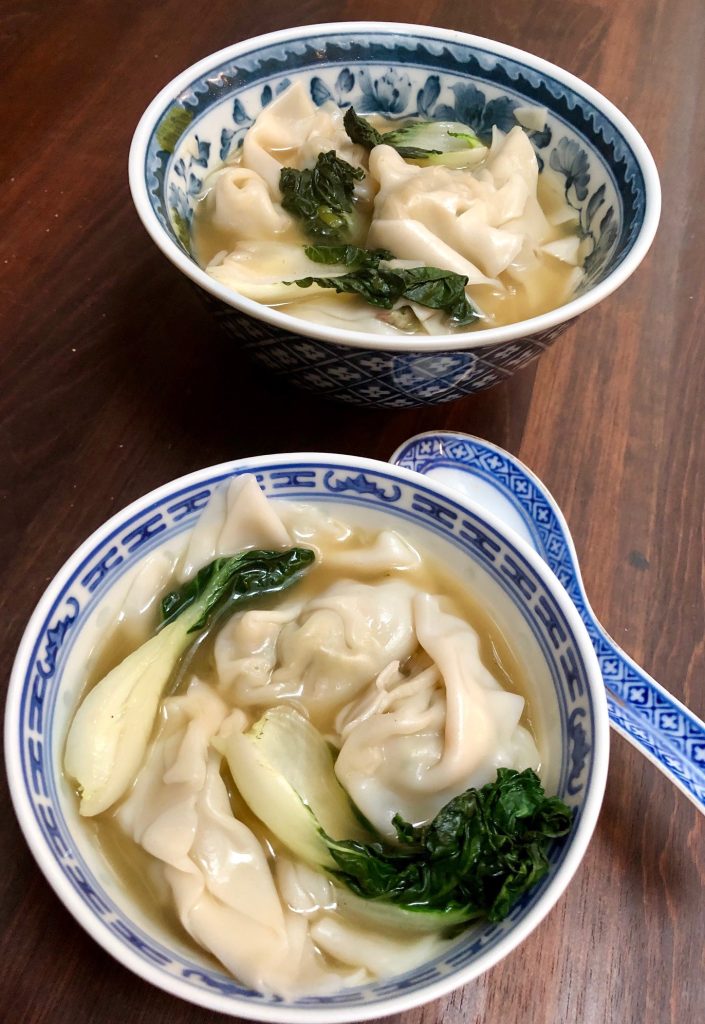 Next Up? Hopefully My Family
Listening to all these stories makes me want to share the food traditions and evolutions for my family. I'm asking a few family members to help. Cross your fingers for me, I'll need the good vibes!