Farm stays on Maryland's Easter Shore may not be the first thing to come to mind when you think of Maryland or a vacation, but maybe they should. There is a lot of curiosity to be tapped there and I certainly enjoyed my visit!
(AI transcript of the episode available Agritourism & Farm Stays on Maryland's Eastern Shore (Episode 302 Grounded by the Farm Podcast Transcript)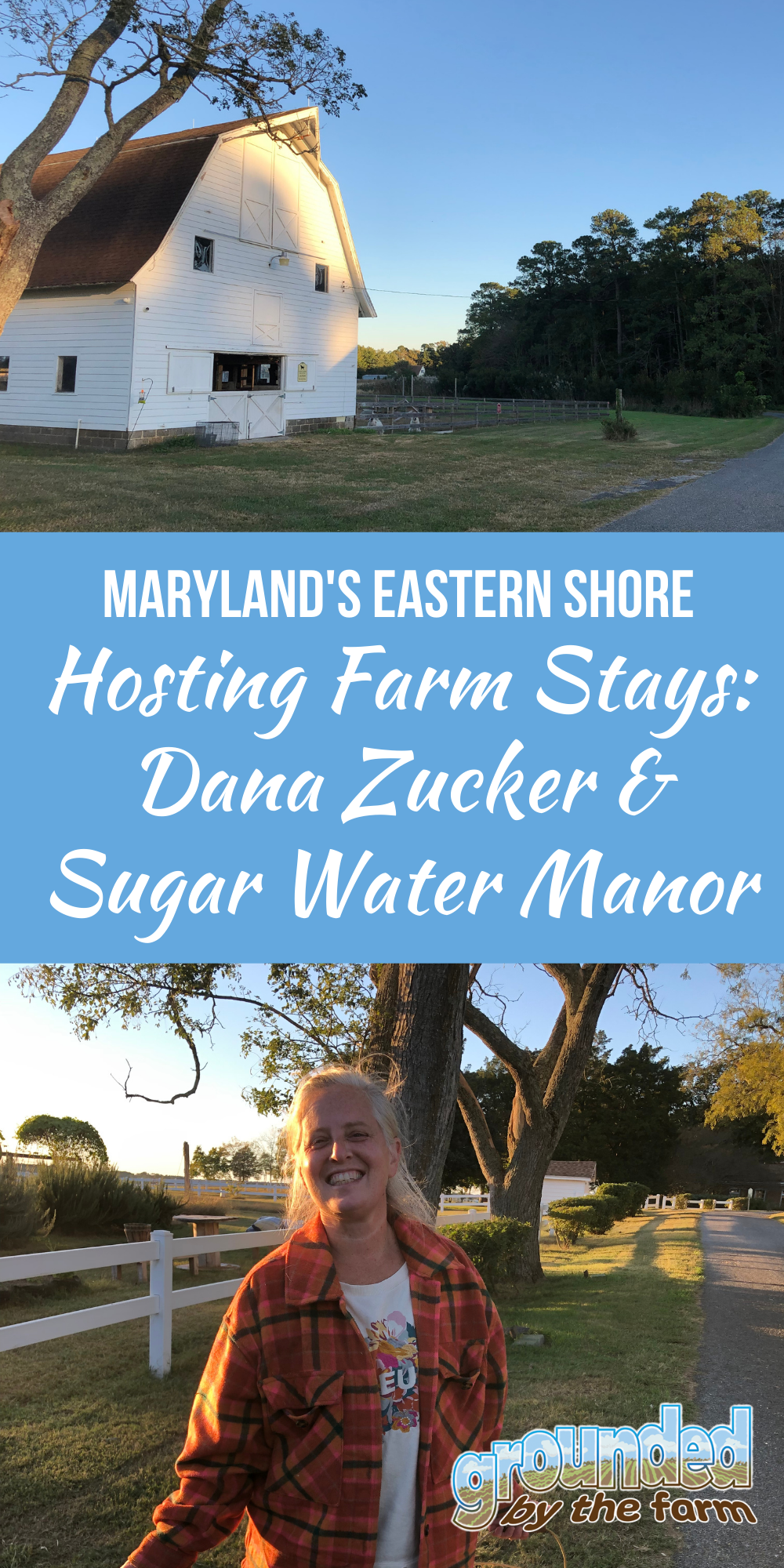 For decades, Dana Zucker says she was absolutely out of touch with how our food is grown, but curiosity and a passion for food kept getting her to ask questions. Now she and her husband David have entered the world of agritourism by purchasing Sugar Water Manor on the Minokin River on the Eastern Shore.
The farm of 70 acres struck Dana at first sight and she felt drawn to it and the idea of sharing what she's learned over the years.
Learning About Agriculture
Dana has immersed herself in food and has found a range of experiences as she traveled to far away lands like China, Iceland and Spain learning about tea, sheep and wine. And found herself living in Omaha with the chance to really explore agriculture in Kansas where she learned about farmers and ranchers growing corn, soybeans, beef and pork too.
Looking around the Eastern Shore, Dana sees farmers growing those animals and feed crops as well as farmers growing pumpkins, fruits and vegetables. Her farming is small scale — the type of operation many of my friends dream of getting. Room for numerous raised beds, fruit trees, an apiary and lots of room for various animals. Dana is leveraging her curiosity to learn and share simultaneously — she laughs saying she can't help but ask all the questions, continue digging into knowledge but understands she's a rare breed. But she's happy to share what she has learned or can do more work to better understand a topic is someone is interested.
Farm Stays & More
With two houses and a loft to offer guests, Dana and David have been sharing Sugar Water with a lot of visitors. As she tells us in the podcast, she's helped children harvest their first fresh carrots and explained meat goats, ducks, and more as people greeted the combination of animals living in the farm's barn & barnyard.
Dana says it is a great way to go beyond the casual conversation with a vendor at a farmers market, for people interested in knowing more. And more farmers are beginning to offer properties like this on Air BnB and other sites.
The farm stay at Sugar Manor comes with incredible breakfast service too! As well as access to paddleboards and kayaks. There are such amazing sunsets to be enjoyed with s'mores to be enjoyed! The video below gives you a feel for the place, as well as a bit of insight into the visit Dana and I made to the University of Maryland Eastern Shore and the research farm nearby.
Finding More Information
Learn more about Sugar Water Manor at:
Find Grounded by the Farm on social media at: