Holidays bring together an amazing combination of foods & traditions, but how often do we step back and talk about how our families celebrated the holidays 25, 50, even 75 years ago? And how do our individual family holiday food traditions change?
That's exactly the conversation we have with my mom (Ada Person) in this latest episode. She shares her memories of holiday celebrations in the 1940s explaining what was on the table for meals, the gifts & decorations all. And we talk about some of the factors that have driven changes in the seventies as she raised kids and much more recently as her grandchildren and great grands are a bigger part of the equation.
Remembering Thanksgiving in the 1940s & 50s
At various times over the years, I've asked mom this and that about the holidays when she was growing up. But for this, I gave her a heads up what I was thinking and she said she would take some time to get memories refreshed.
I love hearing that some of our favorite dishes trace their origins to mom's childhood! Since her dad was a butcher, they always had meat for the holidays — he was a meat and potatoes guy — so mashed potatoes or candied sweet potatoes were usually on the table.
It was usually turkey or ham, and wherever turkey appears, we must have dressing! Mom remembers that on the table from her earliest holiday memories. The family's dressing recipe has stood the test of time, beating out any contenders new spouses may have offered up. We put a few of those family holiday recipes up on the site too.
The reality that the holidays push us to go above and beyond is clear with the way my grandmom would make granddad his favorite cake. This photo of my grandparents was taken as they celebrated at my parents' wedding.

Holidays Get Big in the 60s & 70s
My parents had four children and mom's big brother and his wife had a bigger family. My Uncle Larry & Aunt Martha had six kids and they moved to Texas in the late sixties or early 70s. That meant big family gatherings as they returned to celebrate the holidays! This photo from an early birthday party for me shows we really had the bases covered!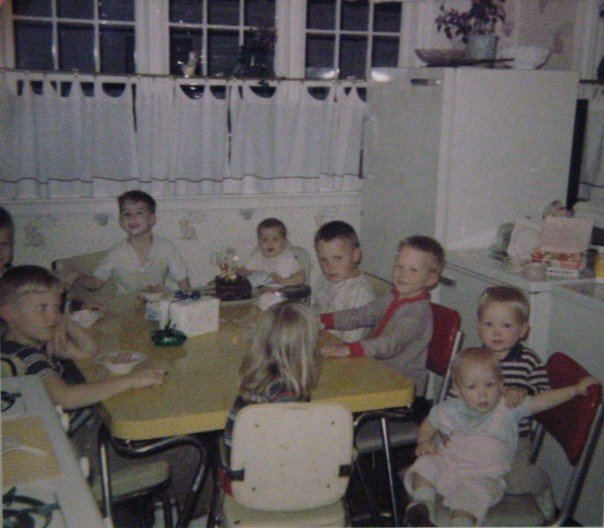 My dad also had brothers who moved far away or who had older children, so we didn't see a lot of them. With ten kids just across the two households, we would have a lot of foods and started adding some things. I remember mom & grandmom making pies, the cranberry salad I have raved about before, ambrosia (a fruit salad I still crave) and more.
Once my granddad died, our house tended to be the gathering spot and mom took more of the cooking on. As we went from kids to teens, we added more foods and soon we had enough food to cover our pingpong table!
Lots of Change in the 80s & 90s
As big hair came & went, we were going to high school & college, moving for jobs, starting families. The cousins were all busy with their households and inlaws too. We had more opportunities to see how everyone else did things.
Some holidays were really low key but we looked for some way to celebrate together with our favorite foods and new ones too. There was a jello salad we lovingly call pink stuff my nieces liked that their other grandmom made. The beloved macaroni and cheese entered the picture too.
Cheryl & her family moved to North Carolina after school and the distance and three young girls made back-to-back long trips too much. I lived in New York part of the time and there was the Macy's Parade to catch — that day our holiday food came from the Hard Rock Cafe. We started splitting holidays with them traveling some and Memphis family traveling some.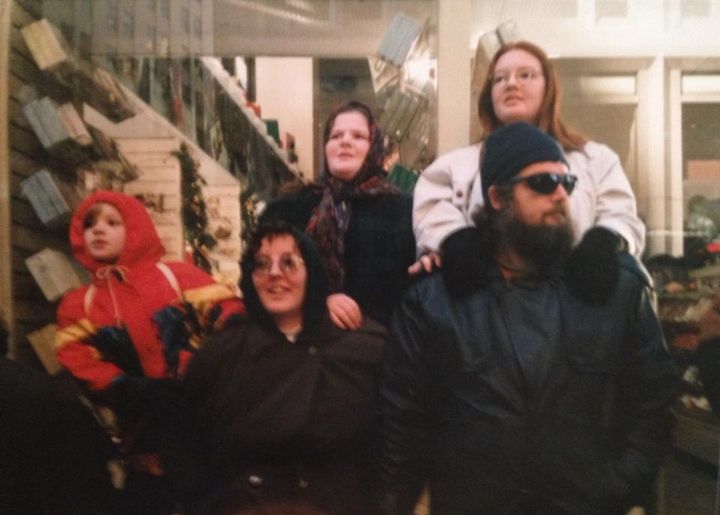 Setting New Family Holiday Food Traditions
With generations of us spread around the country, by the early 2000s, we looked for ways to gather that allowed us to use a commercial sized kitchen and provide places for all of us to sleep without being on sofas and air mattresses. With 30 or more of us and the reality that we have dear friends we want to share the holidays with we really stepped it up and have rented a much loved campground.
We do this on a schedule rather than every year so everyone really prioritizes it. (That flexibility has let me travel lots of other places to celebrate the holidays too!) And while the has gotten AMAZINGLY deep! We still have the family must haves but we also have plenty of cooks to bring in things from the houses they were raised in too! One favorite recently added is the banana pudding a niece's partner brings!
Another niece sent me this photo as I asked about who had pics of various dishes on the table.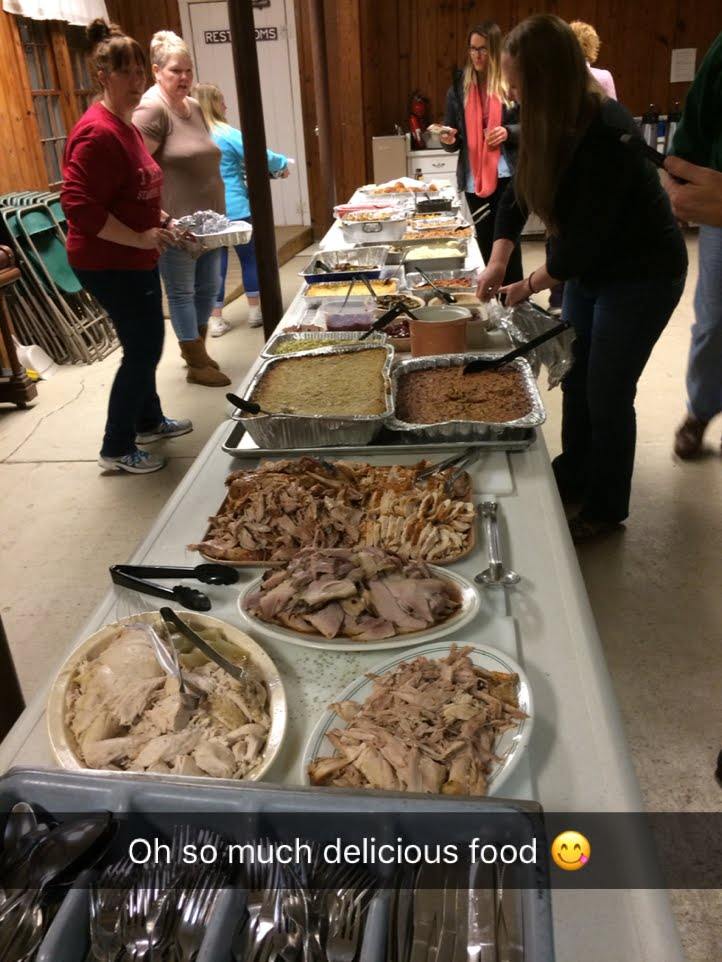 With so many households we have experts in all sorts of dishes. My brother brings eggs from the farm & we have deviled eggs, my sister-in-law makes a great chai in bulk for the cold days, my brother-in-law makes his famous cheesecake… we need one six-foot table just for the desserts!
View this post on Instagram
And everyone, except infants & toddlers, makes it to the kitchen to help during the weekend.
We've done various work projects lifting the campground up a notch. We take hikes, enjoy campfires (and s'mores of course!) And we have all the fun! One of the crazier things I mentioned in the podcast is we play human hungry, hungry hippos (and laugh uncontrollably as you can see in that video)!
What's next?
Who knows but I bet it will be a mixture of traditions and new foods with lots of smiles to be had.