Family holiday recipes are near and dear to our hearts! When we first talked cranberries, I shared my family's much loved
cranberry salad recipe
. And I made it last week as did my sister!
View this post on Instagram
With our latest episode talking about my family's traditions, I thought it may be good to share some of the other recipes our family has enjoyed for decades! My mom credits her mom Louise with all of these recipes, not sure where she found them or came up with them.
Corn Bread Dressing
This is the absolute must-have with turkey. Mom says she remembers having it on the table as a kid in the 40s and 50s and it remains a staple for the holidays in my family. And we like to have enough for leftovers so you may see us double this family holiday recipe! We've found reheating it in the panini maker is perfect cause all of us like a little crisp to the edges!
Ingredients:
1 10′ skillet cornbread
3 cans biscuits ( app. 25-30)
1 1/2 qt. broth
2-3 onions chopped
6 boiled eggs chopped
hot water
3-4 pieces chopped celery
sage
poultry seasoning
salt & pepper
Bake and crumble corn bread and biscuits. Use broth from turkey. Mix all ingredients together, season to taste. If extra liquid is needed, add hot water until mixture is fairly soupy. Bake in greased 9 by 13 inch pan in oven at 350 degrees about 30 minutes or unit it browns.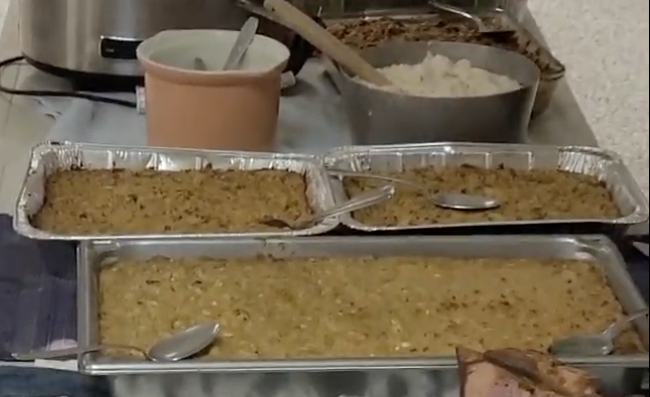 Ambrosia
This is one of the fruit salads that was a constant for us and it goes incredibly well with pound cake the next day for breakfast!
Mom gives the shortest directions which may make you think this is quick and easy but remember you section oranges so it takes time!
Equal amounts of crushed pineapple and sectioned oranges ( I usually start with 2 cans of pineapple and about 7 or 8 oranges for a family dinner)

Add some shredded coconut and a little sugar. Blend together and chill.
We've made it with fresh pineapple too, chopping the fresh pineapple after you've cored it takes some time. It tastes great but not sure the extra effort pays off so much because you definitely want added time to let the pineapple sit in it's juice for a while.
Malcolm's Favorite — Jam Cake
This cake was a mainstay when my mom was growing up and through her early adulthood. It was my granddad's favorite so even though it takes longer than most cakes, grandmom would give in and make it. My brother is probably the biggest fan in the family now and we have it sometimes but not every holiday these days. (If you listened to the episode you will see why I preferred grandmom's pies!) But we all think of it when it comes to family holiday recipes.
4 eggs
1 cup buttermilk
¾ cup shortening
1 tsp soda
1 ½ cups sugar
1 tsp cinnamon
1 ½ cups blackberry jam
1 tsp nutmeg
3 cups plain flour
1 tsp allspice
Cream shortening and sugar until creamy. Add 2 whole eggs and 2 yolks beaten. Cream everything together. Stir the soda into buttermilk and add that to the mixture and stir. Sift the flour & spices into it, add jam and stir well. Bake in three layers at 350 degrees for 30-35 minutes.
Divinity Filling and Frosting
2 cups sugar
2 egg whites
¾ cup water
1 cup ground raisins (it takes a little less than 2 cups raisins to get the cup)
Cook together sugar and water until it threads when dropped from a spoon or forms a soft ball in cold water. Beat egg whites until stiff. Stir syrup into whites and add ground raisins.