There's not a simple single reason I became a cookbook lover and find myself with shelves and stacks of cookbooks. And I have found a vast community of cookbook lovers too.
In fact, a colleague who hosted us for a holiday party a few years ago has an entire vault filled with cookbooks! The amount of time this takes on a tour of the house…. it can singularly derail a tour!
And I have so many friends who have collections of cookbooks that go on and on.
Too many cookbooks? Is that possible?
I mean, I have too many books but the number of cookbooks…. well, I am not sure I've ever thought to myself I need to cull through them. But recently I did have to face it has gotten to be a bit much as I had to get a new refrigerator and in my current house, I have a shelf for cookbooks on top of the fridge. but every inch of the fridge was covered with cookbooks… stacks alongside the shelf, some books tucked under it too.
The shelf is now nice and somewhat organized to the books I'm most likely to want to flip through. There's a bunch more in a box that may never be taken to the basement cause I keep getting back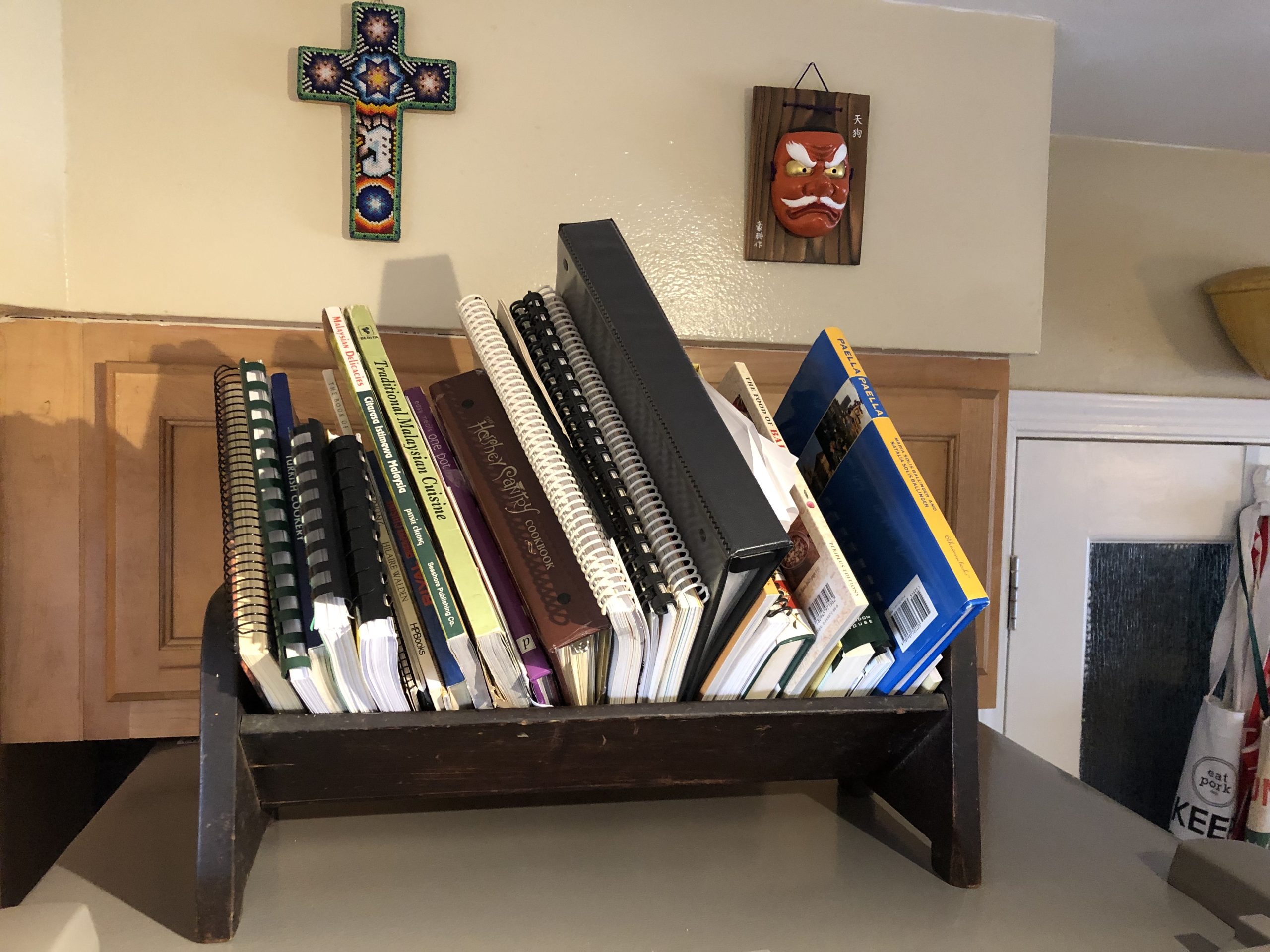 into it. Still others on a bookshelf in another room.
As I talked to a colleague earlier, she mentioned having planned a trip to Spain and my thoughts immediately went to the cookbook that I rely most on when Spanish cooking comes to mind and the family & friends who have shared paella and gazpacho recipes.
But I confess, I use a few cookbooks rather often and some cookbooks I have don't serve as a guide for my cooking much at all. In fact, I'm sure I have a few that I have never cooked something from.
Why do cookbook lovers have such big collections?
I can't speak for everyone, but I have a range of reasons for the ever-growing stash of cookbooks — and to be clear, I added one within a week or two of getting the new fridge!
Touchpoint with Family
So many favorite childhood memories of holiday parties or baby showers are inextricably tied to food. The most used and most loved of my cookbooks are the ones I've gotten that include family recipes. My mom's recipes, her Aunt Ginny's, our cousin Dot's…. There are those cooks in your life who provided for you on a daily basis or at celebrations. When I can't find the recipe I'm looking for a text string starts and I'm guided to the right place.
And mom just typed up a bunch of recipes so she could give all of us copies… As I opened it, I immediately was drawn to the marinade I remember my Aunt Ginny using for a party when her grandkids were home for a visit (they lived overseas a long time). It was a party that stood out for a few reasons, but I also remembered that chicken coming off the grill and loving it. And they have notes about which cake and pie was granddaddy's favorite and the like which makes it beyond special. And our family's favorite lasagna that we had for Christmas (thanks Leslie!) is there too!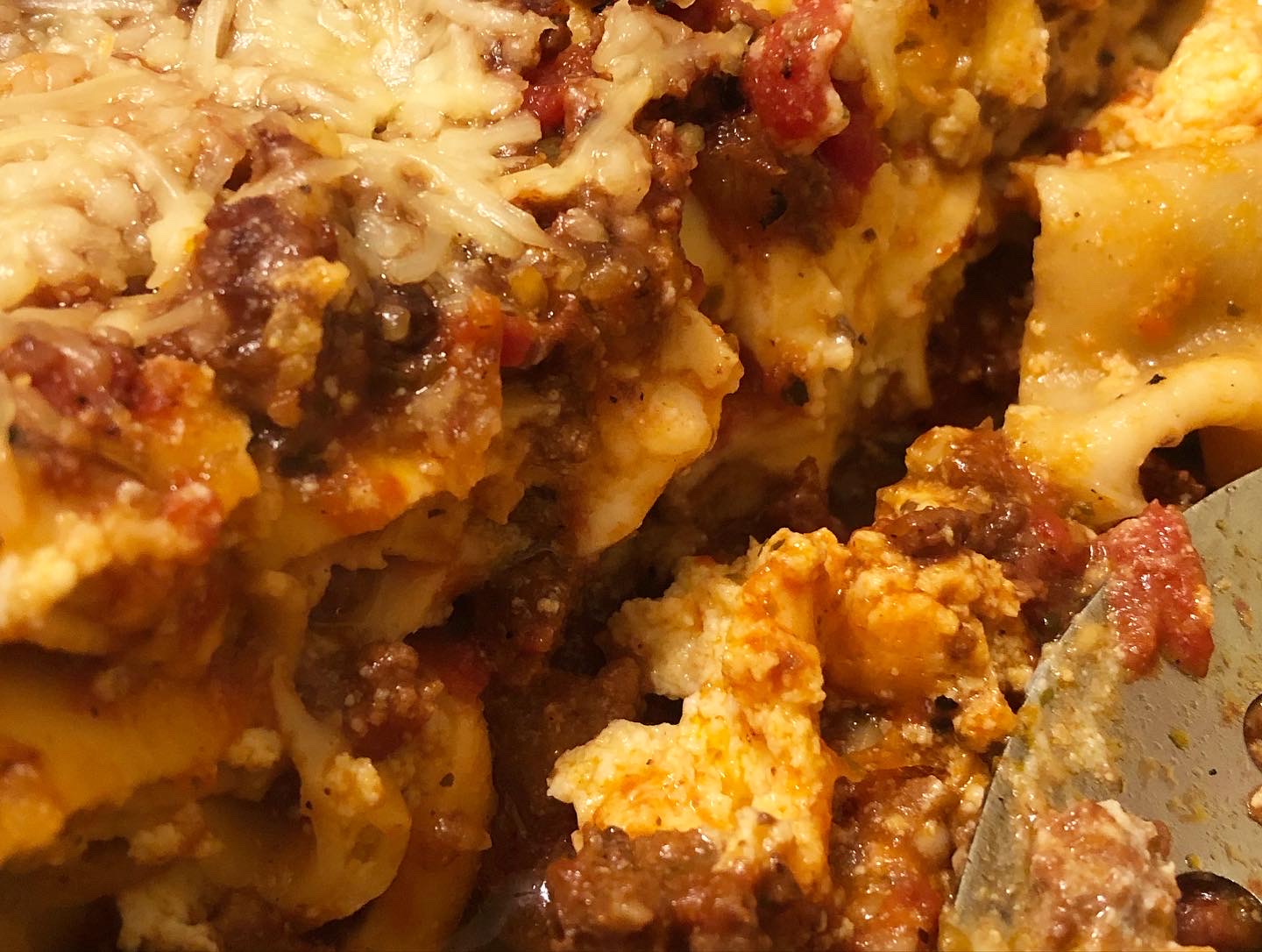 The Church Ladies' Cookbooks
Getting cookbooks from churches is definitely one of those IYKYK (if you know you know) kind of things. And in the south, it has been a thing since I was a kid! I remember mom & the women's group putting one together when I was a kid. It's forever been my favorite. A few years later the second edition was created and I have lost count of the subsequent count.
The thing about these cookbooks is they not only include some of the recipes your family becomes known for in a church congregation but if you are a connoisseur of church potlucks, you know who else's recipes to look for!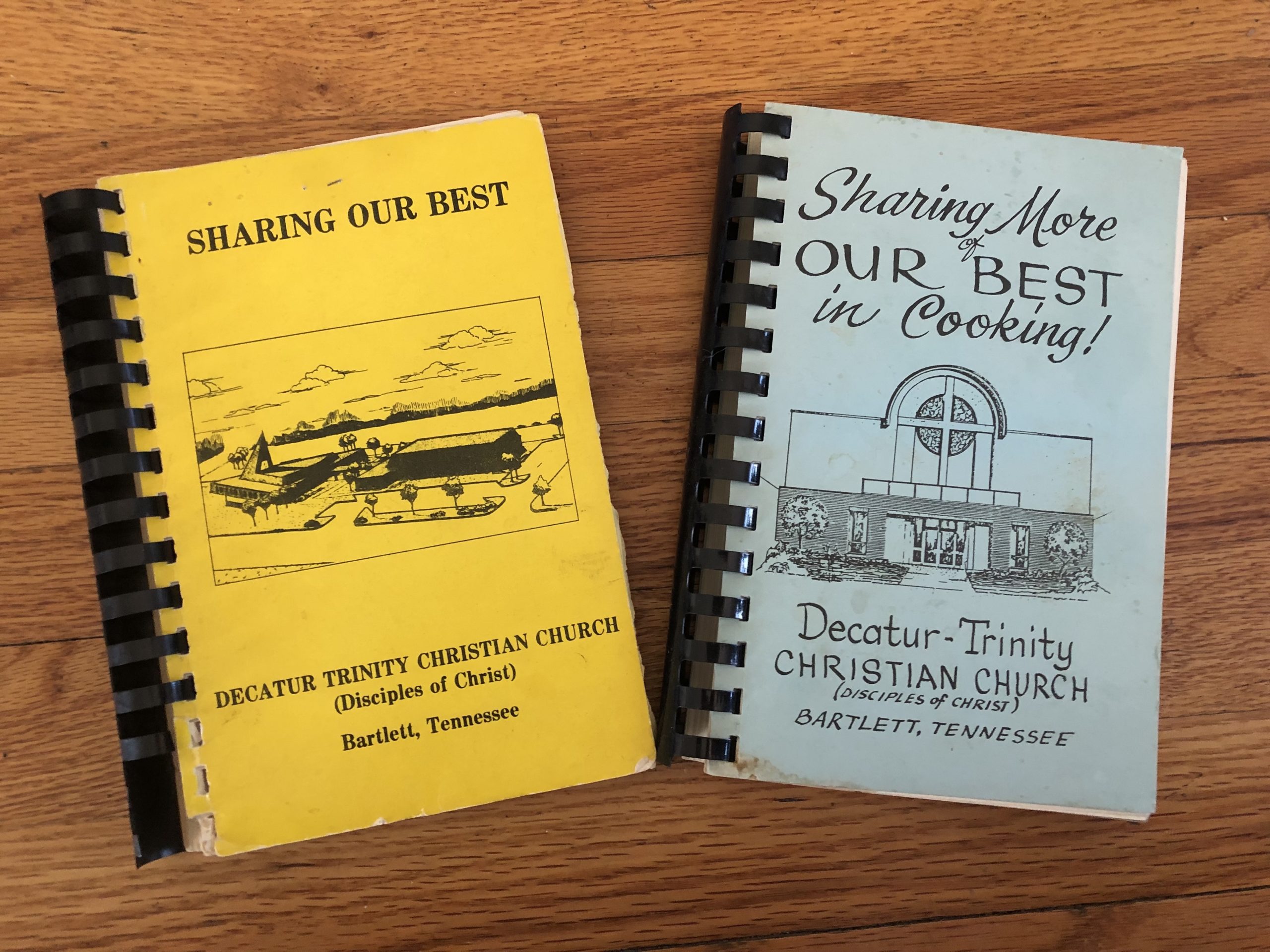 Friends Know SO MUCH About Cooking
The reason my mind went straight to my cookbooks when a friend mentioned Spain is I have friends who wrote a book on paellas! The geographic differences, the spices, when you use seafood versus pork — all things paella. And I think I've probably bought dozens of copies. In fact as we talked I searched for another as it is out of print.
I have lots of friends and acquaintances who have written cookbooks. So many that now I wonder if I should write a series of posts on them all! (I've already shared about a friend's book on foods in different regions of Mexico!)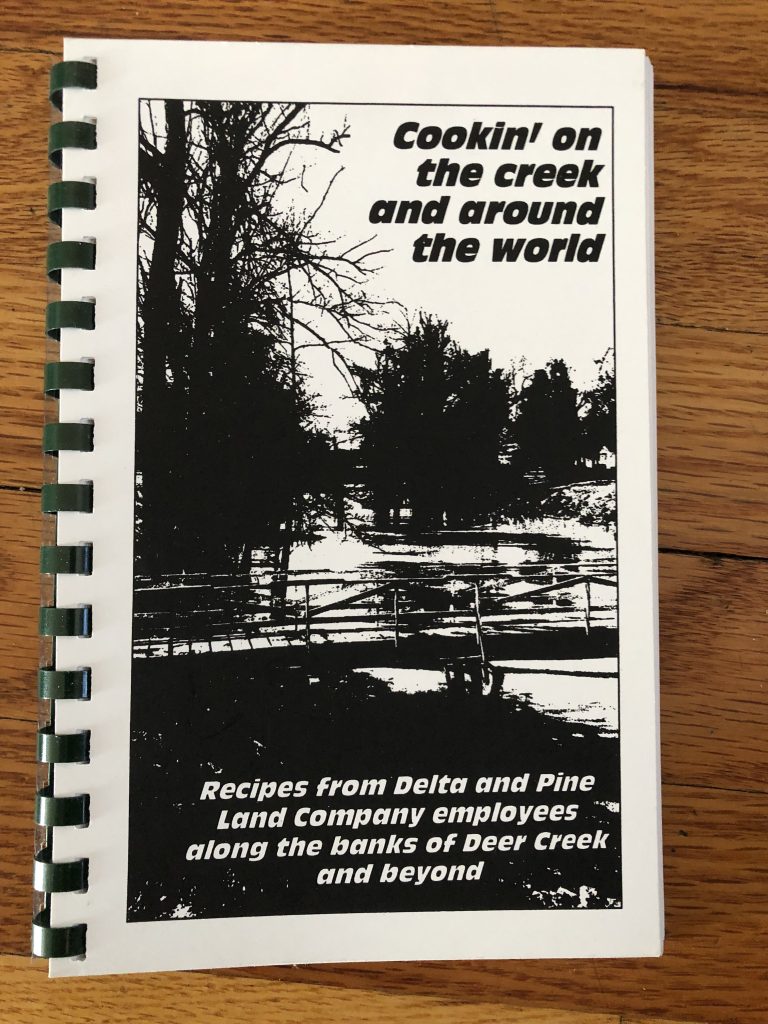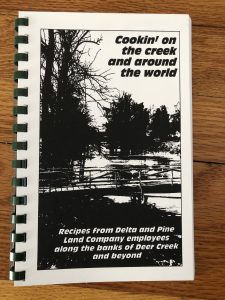 Once upon a time, when I was bored of the food I was eating I launched an effort for an unofficial cookbook that ultimately our office in Scott published! It wasn't sold of course, but the employees enjoyed it and years later as we joined another company, copies were made for others to enjoy.
That book is where I go for an infamous gazpacho recipe that tells not only how one colleague makes it but how his mom and mother-in-law's recipes differ. It always grabs my mind in the depths of summer but there are also a bunch of other dishes that grab me with a "remember when."
And a friend in Malaysia who helped me explore the ins and outs of Southeast Asian foods while in college, I loved learning some of her recipes but after we graduated and headed our separate ways, over some time I lost them since we never wrote anything down. Two decades later I visited her home, as I left she insisted I take some of the cookbooks she used routinely and had made notes in. They are cherished even more so as we recently lost her to cancer. And
Travel & Gathering Memories
Whether it is somewhere close by or somewhere much further afield, there are some cookbooks that when I pick them up, I can be transported to that diner or restaurant where we ate whatever it was. Maybe it was a gift from a friend sharing foods of their home or a book bought because I visited a certain restaurant and now needed more of that type of cuisine in my repertoire. (I especially remember a Turkish friend being so shocked I had a book on Turkish cooking years before we had met. But they have such great flavors and there was this great Middle Eastern market…. Yep, had to get it.)
And some of the smallest cookbooks came from various cooking classes I've taken over the years with friends. I'll never forget one class in the home of Viking ranges where we had such a big group we were broken into two smaller groups, each making the same recipes. Someone missed one tip on how to prepare the pepper that was going in the curry and holy moly the difference was obvious in looks and flavor! I still shudder on that. One more recently gave us a great green goddess recipe that I have referred to over and over again.
Another big set of cookbooks have come because so many work trips took me to food conferences. In some, I met chefs like Kevin Gillespie of Red Beard Restaurants in Atlanta or celebrities like Freddie Prinze, Jr. who were exploring food more & writing a book.
Inspiration Readily Available
I cannot overstate this…. cookbooks can provide inspiration for folks like me! I'm not a great cook, probably not even a good one most days. And I go through periods where cooking feels a lot more of a chore, but when I'm going to a party or having friends over. Have mercy do a range of cookbooks get off the shelf as I consider what may be fun. I also watch YouTube yes.
Great Reads in Some
Now and then, you just There are some books that are part cookbook and part something else. Maybe you read up on nutrition, or cuts of meat, or gardening, or whatever. I really like those books whether they fall into the cookbook category or not!
Series on Cookbooks?
Thinking aloud on whether this is a way to spend some time in the coming weeks and months…. are there other cookbook lovers out there who would want to share?