When it comes time to choose cooking oil, there are lots of choices. Canola oil is the easy choice for Lesley Rae Kelly and lots of other Canadians. See canola is uniquely Canadian as is Lesley! Her family grows canola on their farm and she loves the crop so much she created a blog called High Heels and Canola Fields.
Farming with Family
While her family has been farming wheat and barley for decades prior, The early 1990s provided the opportunity to try something new. Better crop rotation and a number of other factors made canola the perfect choice. They have been growing the oil seed crop ever since. Decades later it is the crop that Lesley connects to most deeply.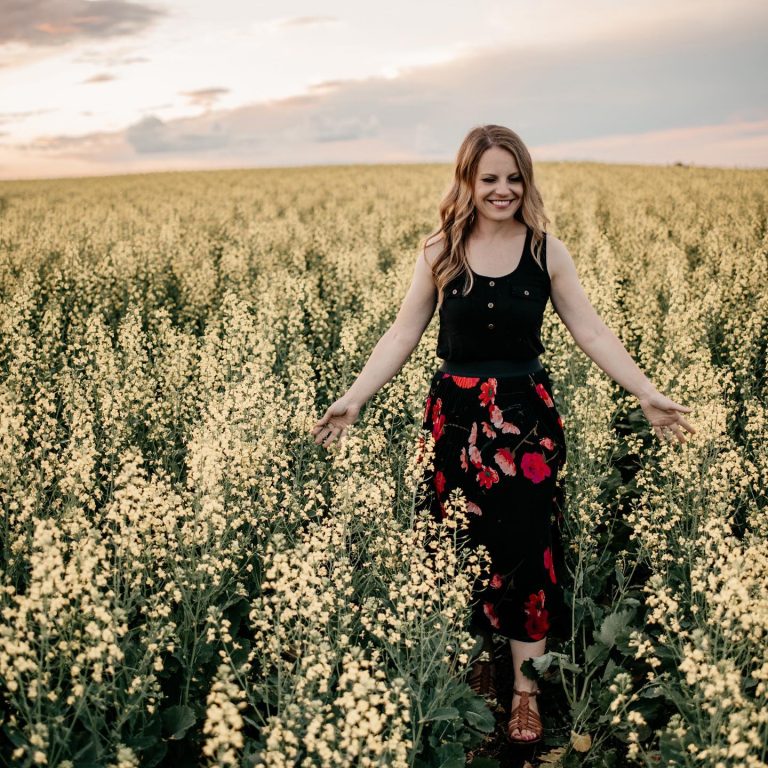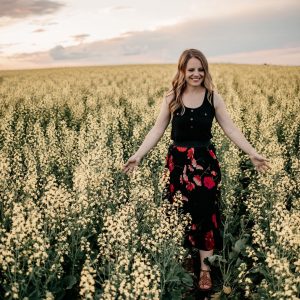 Lesley's story doesn't follow a straight line. She grew up on the farm but left for her education and worked in corporate marketing a while. Then as her mom and dad decided to retire, Lesley and her husband decided to join her brother on the farm. The trio has even acquired their first property as farm owners.
Lesley's marketing and communications background, project management and even experience managing people is really useful on the farm. And her willingness to help wherever needed has meant Lesley ends up driving equipment some times, and she definitely entertained us as she learned some of the ropes.
Working with five grown individuals, who are also family members, has been an amazing opportunity to work outdoors with the people you Lesley loves, but – it's taken a variety of conversations, many direct and sometimes uncomfortable to find the experience that propels the farm today. While Lesley is learning more about the equipment and physical processes on the farm, her focus is currently on the land and farm strategies that help structure the processes on the farm.
Tell Me About Canola
Canola is an oilseed like soybeans, sesame seeds and others. But it is a striking vision with beautiful blooms that are numerous and totally light up the prairies mid-season. Just look at this photo.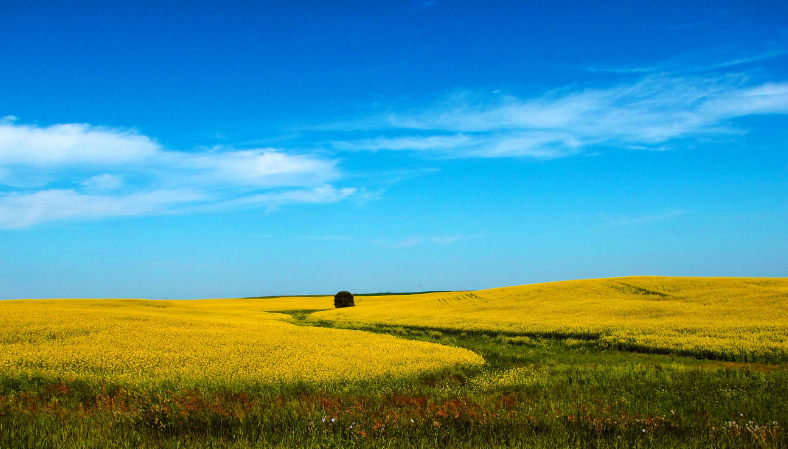 Canola was derived from a common crop in Europe called rapeseed. In fact, Farmer Tom in the UK grows some! Canadian scientists worked with rapeseed in the 1960s and 70s trying to improve it, the resulting product was canola. The changes they made not only improved the health qualities but eliminating some of the less desirable fats. As a result of this, more than 20 million acres of canola fields have been created and are currently being harvested in Canada by approximately 40,000 farmers..
One of the strangest facts about canola is that it's directly related to something few would think would even be in the same family of vegetables — broccoli, kale, and all those others! While the bitter taste has been removed by plant breeding, what remains is what canola looks like as it grows. Are those baby cabbages? Nope! Those are canola plants preparing to bolt (grow tall)!. While the flavor and initial growth stages are remarkable, what is often seen (but never taken as canola plants) is the beautiful yellow fields it generates as it grows. Appearing as waving fields of yellow wonder, the canola fields are truly a sight to behold during the months of July when flying over Western Canada. Have you ever seen them? No problem! Be sure to visit Lesley's Instagram profile to see the beauty of this Canadian staple with your own eyes!
Are you familiar with the growth stages of canola? Find out more now by visiting the Canola Encyclopedia when it's time to "bolt" on over to find the answers!
If you've ever seen plants pressed to extract oil, it's an amazing process. Oil yields, depending on the type of plant vary, but the canola plant can yield up to 40% when being pressed! That's a lot of magic out of a seed so small. Be sure to check out an amazing look at the pressing process to learn more about how processors are currently churning out more than 200 tons of canola oil per day!
https://www.youtube.com/watch?v=UzRiRQzTWd0
Did you know that canola oil has a lighter taste and – has a lower smoke point? This makes it the perfect addition to cooking for the whole family no matter what you're serving up!
Learn more about "smoke point" and why canola oil is a great choice when it's time to chow down!
Tired of the same old salad dressing? Why not try substituting canola oil? It's built for it, has a lighter taste and makes new flavors available inside of any recipe! Lesley swears by it and tells us a bit of lemon gets it done!
Focusing on Mental Health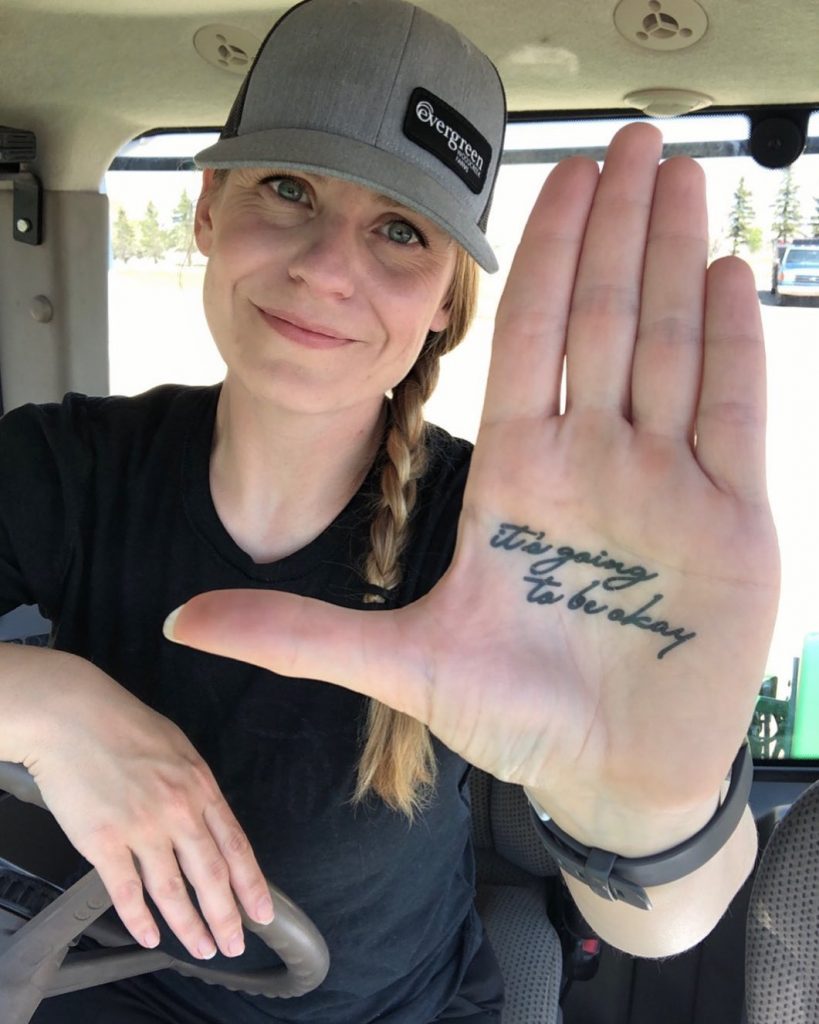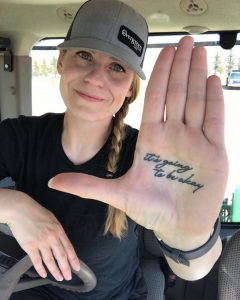 While it's something that's been thought about over the decades, only recently has the focus of mental health and farming been presented as something vital.
Inside this episode, Lesley share a variety of factors that helped her family that continues to propel her effort and the future of being healthy mental in the farming industry. Her on-going efforts to advance awareness when it comes to farmers' mental health is the focus of the Do More Ag Foundation.
When it's all said and done, amplifying a family's ability to communicate is incredibly vital in today's challenging times. The process of having conversations, not unlike the one that we have with Lesley inside this episode of Grounded By The Farm, continues to build a foundation of healthy conversation that fosters hope, love and awareness of what people are feeling around you to better everyone involved.
Lesley talks about a full range of topics in her podcast, the What The Farm Podcast she cohosts with Rob Sharkey of The Shark Farmer. Be sure to tune in and interact regularly with her to learn more about what's going on, and to help foster farming efforts!