The marbling of wagyu beef adds benefits to the tenderness and flavor that makes it stand out according to Jeff Swanson. We visit Jeff & his family in Adams, Tennessee — just an hour or so from Nashville. We delve into the history and flavor profiles of this extraordinary beef in this episode.
(A transcript created by castmagic.io is available here.)
Find out what makes wagyu different — on the plate as well as the pasture — as we hear the history of the cattle and how the Swansons settled on this breed and have been building their family operation from the ground up.
Whether you're a steak aficionado or simply a fan of delicious food, this episode will have you salivating. From chuck eye roll roasts to sirloin tips or ribeyes, Jeff shares their expertise on utilizing different cuts of wagyu to create exceptional steaks.
What You Should Know about Wagyu Beef
Not having a lot of experience with wagyu beef, I had a lot of questions for Jeff in this episode. Here are some of the different cuts of wagyu Jeff offers and and suggestions on how to cook and prepare them:
1. Chuck eye roll roast: This cut comes from the shoulder and has a muscle similar to a ribeye steak, earning it the nickname "baby ribeye." After the first three pieces are cut into steaks, it becomes a great roast.
2. Sirloin tip roast: This cut is taken from the knuckle on the back leg or hip area. It is well-marbled and can be cooked in various ways, such as a pot roast or sandwich meat.
3. Ribeye: Considered one of the most popular and flavorful cuts, the marbling in wagyu allows for exceptional ribeye steaks. SouthwindS has a larger ribeye rather than cutting them down so he recommends it as a shared option. Jeff loves a reverse sear with a low temperature and shared this photo of a recent cut and the photo a customer sent of their steak cooked that way.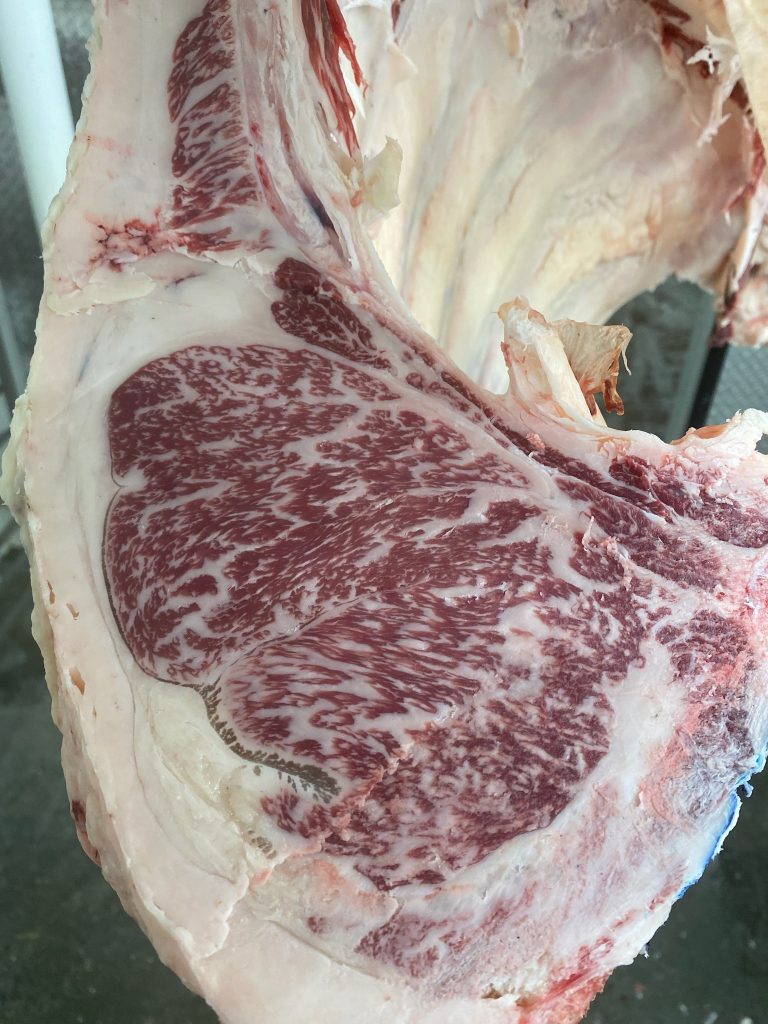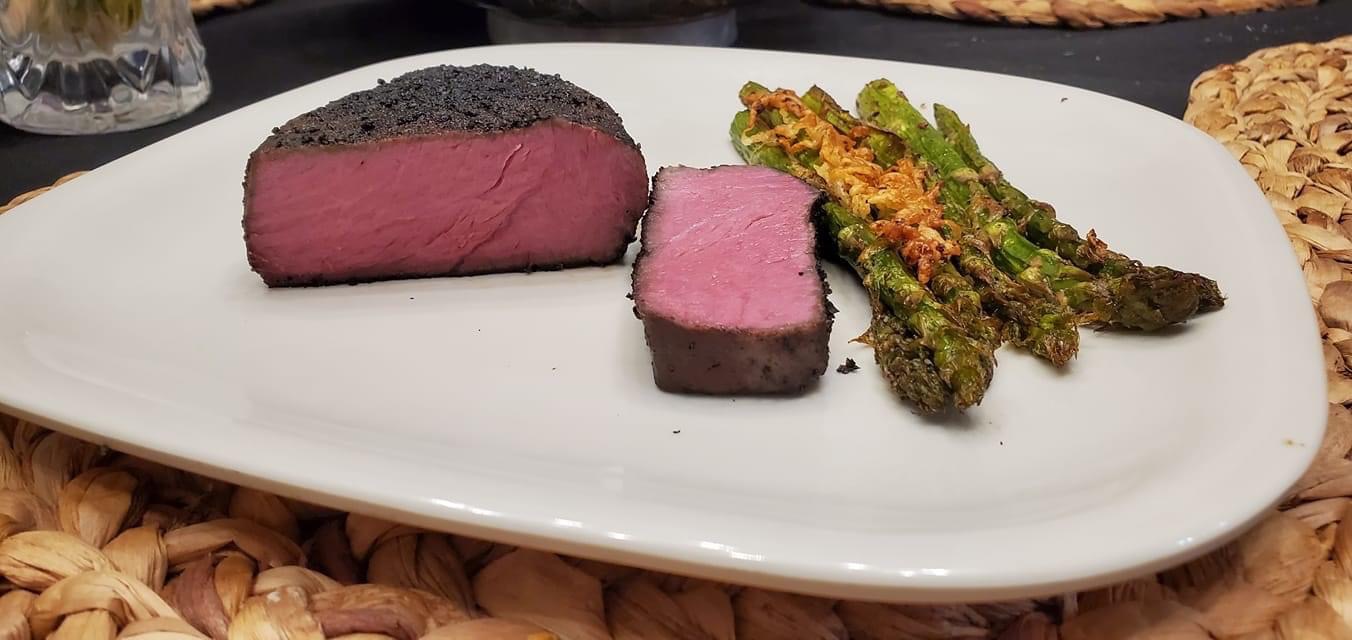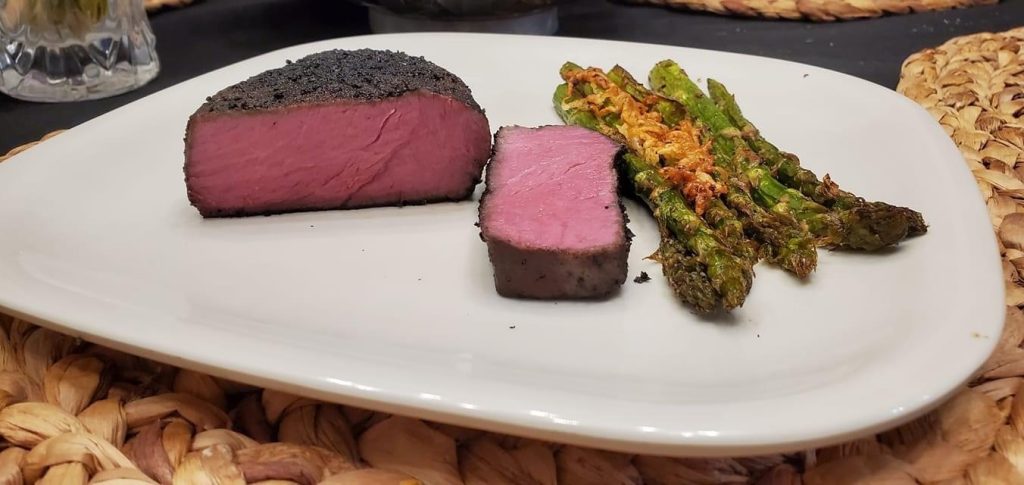 4. New York strip: Another popular cut, the New York strip, or striploin, is known for its tenderness and fine marbling.
5. Filet: The filet, or tenderloin, is the leanest and most tender cut of beef. It is typically cooked to rare or medium-rare to preserve its tenderness and delicate flavor.
6. Sirloin: The sirloin cut is slightly leaner than other cuts but still offers a well-marbled wagyu experience. It is known for its beefy and richer flavor.
7. Flat Iron or Denver Steaks: These cuts are more well-marbled in wagyu than grocery store beef. The flatiron in wagyu has a similar taste to sirloin but offers a beefier and richer flavor. The 8-ounce cut on either of these is marbled and enjoyable, making a satisfying meal on its own.
Jeff says smaller portions are usually preferred with the richness of wagyu so people tend to order smaller cuts or share a larger steak. He adds that keeping seasoning simple and straightforward — salt and pepper is all he uses — helps you enjoy the flavor of the meat.
Selling Wagyu Beef Locally & Direct
The Swanson's operation has been building for seven years and when he talks about the size of the operation it's clear they are in a bit of a quandry. Jeff says they are not big enough to sign major beef contracts but far too much just for family and close friends.
With 40 cows, they usually have 20 calves in the fall and 20 in the spring. And they process one or two steers a month to keep beef on-hand for the sales they make from the farm. Steaks, roasts, ground beef, summer sausage and other specialties provide a full slate of beef for customers.
Although some farmers choose to go to farmers markets, etc. the Swansons decided going to farmers markets was too time intensive based on all the other things they need to juggle. Jeff worked a full-time job shoeing horses until this spring and Christina stays busy with her photography business and sons Braxton and Gunner.
They love having the direct connection with customers that comes with the visits people make to the farm. Add in the practicality that they live so close to Nashville and other thriving areas like Springfield and Clarksville, Tennessee and the reality that selling online leads to the expensive hassle of packing and shipping. And selling direct was the only option that fit the Swansons!

Farm Tour of SouthwindS Cattle
Follow the Swansons & Grounded by the Farm
Find the Swansons on Instagram at https://www.instagram.com/southwindscattleco/ and Facebook at https://www.facebook.com/SouthwindSCattleCo
While in season, every two weeks we put out a new podcast episode. The episodes go live on our website as well as a bunch of different apps on phones and computers of various types simultaneously!
We love learning more about how foods are produced and the people doing that. If you are new here, you can probably find a favorite food in our previous episodes or maybe you'd just like the map of states to find something close to you. You can subscribe to get emails on future episodes from the website, listen to the podcast in your favorite app (links for all on podlink) and connect with us online (links below). In fact, if you find a platform we aren't on, please let us know so we can add it!
We enjoy social media — having more fun with Instagram recently and it probably shows. But we enjoy all the channels really. Where are you? We can be found here:
Castmagic is the AI tool (link to Castmagic & give me a referral fee that doesn't impact your cost) that helps with some of the content shared here and on social channels. It helps me do more faster since I don't stare at a blank screen.