This post includes an affiliate link for the book. Using and purchasing through that link may generate income for this site.
As I prepared for the interview with Matthew Sligar of Rice Farming TV about growing rice, I was pulling together questions I had, questions from friends and then I had a new source of discussion topics — the children's book Matthew recently published. The book, Daddy's Got Dirt: A California Rice Story (available directly from the author & from Amazon) provides a story from the viewpoint of Matthew's daughter. It's presented in rhyming verse with great illustrations that is perfect for children who have an interest in food or farming.
To get a good feel for the book, I not only read it, but had a young friend read it aloud for her family & me last week. As someone who loves to share the story of how our food is grown, I enjoyed it and so did the family I shared it with.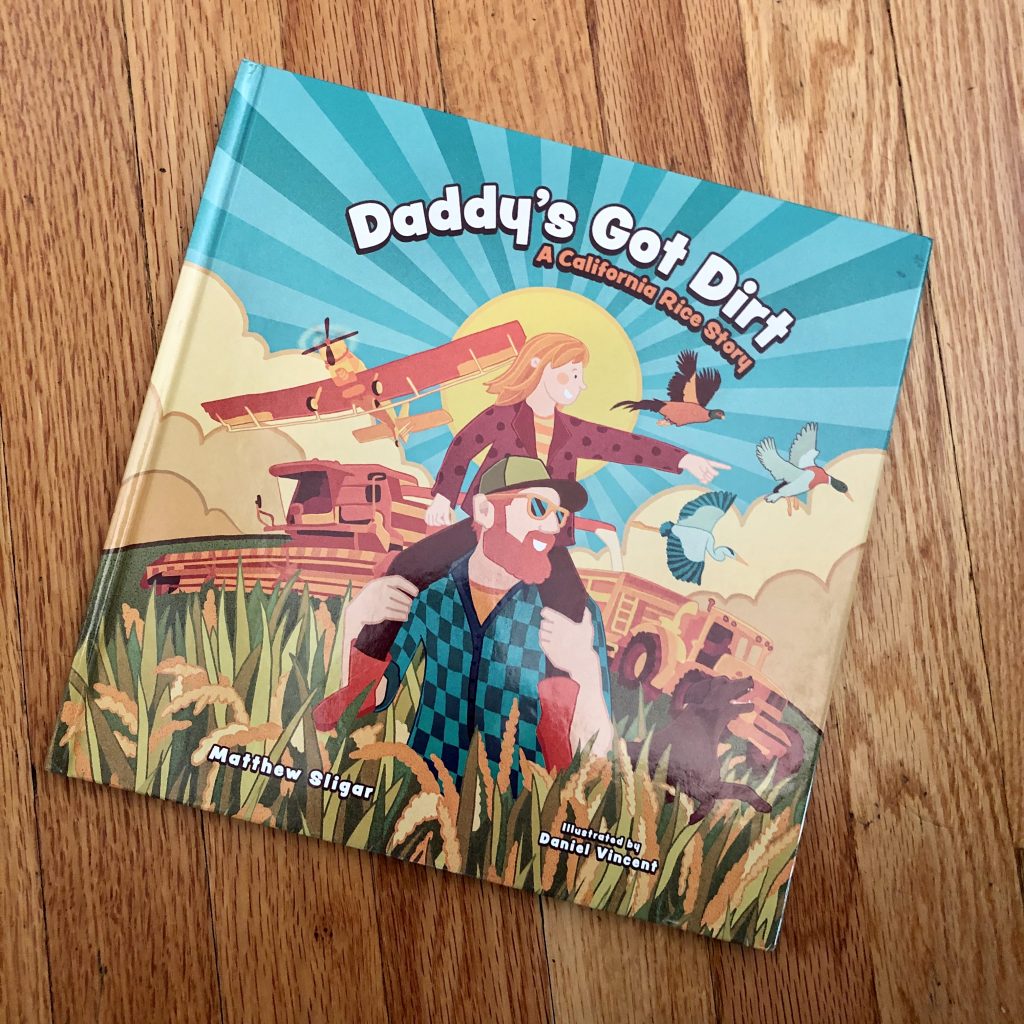 The Basics of Daddy's Got Dirt
Daddy's Got Dirt is a book that brings words and pictures together in a way that lets us have an intimate peek of a rice farm in California. The story is told by a daughter who learns about the soil, seeds and more from her dad and is passing along their story.
Planting and harvest seasons are time when long hours are spent at work growing rice, and the book shows images of what the various tasks are. It provides more of the story than just saying we need to plant as you see what is done to prepare for that I couldn't help but think the story would resonate with a wide range of children and families as you have big tractors moving dirt or harvesting crops one minute and see the connections families have with farm dogs and wildlife the next.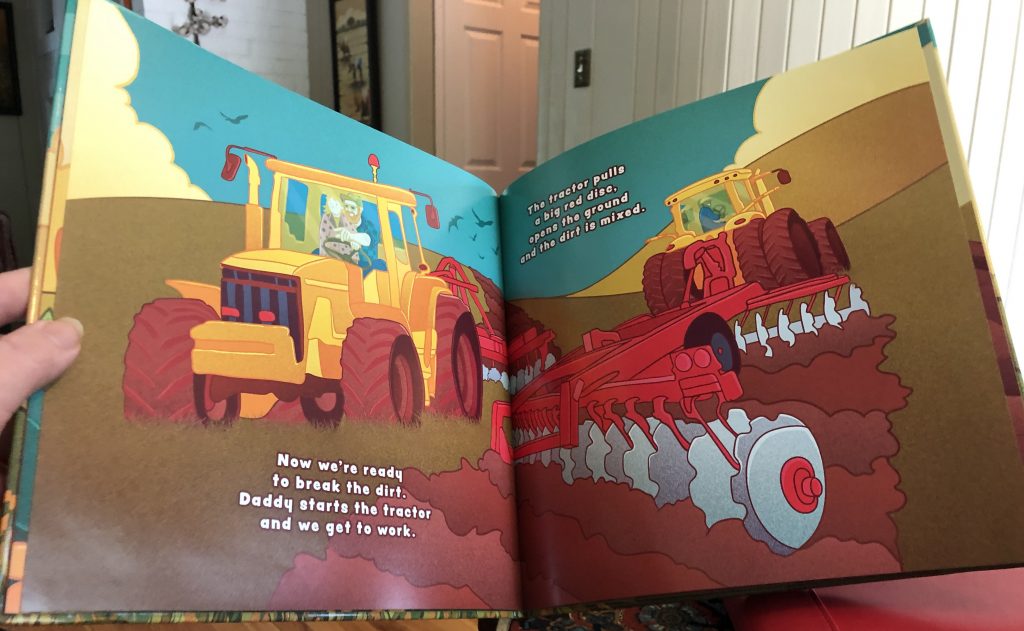 A Bonus I Can Get Behind
Our family loves coloring, drawing, etc. and to see that there is a free downloadable coloring book that comes along with Daddy's Got Dirt gave me a big smile. And yes, I had to download it and break out my box of 64! Fun to take a break but more importantly, I'm sure a lot of people (like me) learn more by interacting with things.
Coloring the pages gives you a chance to slow down and think about even talk about the various components of the image. I wish I'd printed copies before I went to visit friends cause coloring is so much fun with friends. And I can totally see myself printing a page or two when I go read to a classroom in the future.
Growing Rice Is A Unique Job, but Touches So Many
American families eat a good bit of rice. In fact, according to Think Rice, we average eating 26 pounds per person each year although that differs among cultures, geographies, etc. As Matthew and I discussed in the podcast, I think my family helps pull the average up since we are Southern and have Asian family members too.
But rice is only grown in half a dozen states or so, that means a lot of us enjoy the food but probably haven't had much experience in how it is grown. This book is a way to see how it's grown as is Matthew's Rice Farming TV channel on YouTube. (you can watch this year's rice crop from week to week too.)
Details on Daddy's Got Dirt
Here's are a few of the details on the book Daddy's Got Dirt you may want to know:
40 pages
Hardcover
Full color
Beautifully illustrated by Daniel Vincent
$19.95 plus shipping (available directly from the author & from Amazon)
Don't forget to listen to the podcast episode with rice farmer Matthew Sligar too!