Farm-to-counter may not be a thing for most of us, but it is a service that Bolyard's Meats delivers all the time. Bolyard's is a butcher shop that works directly with farmers on the beef, pork, lamb, poultry and more. And in a really unique spin, you not only buy fresh from the farm meats at the meat counter, but you can get a great meal too. And you can eat that while watching the butchers at work in the cutting room from a lunch counter!
In this episode, we talk with chef and butcher Chris Bolyard who shares his passion for whole-animal butchery, sustainable practices, and providing high-quality meats to his customers.
A transcript made via Castmagic's AI is available.
A Unique Butcher Shop & Restaurant
Bolyard's is the only whole animal butcher shop in the St. Louis area and that makes it unique in and of itself but you really have to dig into the place to understand its uniqueness, because that's what draws a person in!
Chris opened Bolyard's at a nearby location some time back and eventually was able to move to this larger shop. As they looked at the new space, he knew he wanted to be even more transparent with the services they offered and do more to connect people with the foods they buy. They even offer classes on butchering, making sausage and more.
Chris emphasizes the importance of understanding where your food comes from and quality and taste. Knowing how animals are fed, treated, etc impacts the meat, he's forged strong relationships with local farmers. There are farms on point for beef, pork, lamb and poultry. And the team at Bolyard's spend time visiting their farms to learn about the animals' upbringing, diet, and living conditions.
With that push for responsible sourcing, minimizing waste and utilizing all parts of the animal is central to the services Bolyard's offers. The team creates some incredible value-added items like charcuterie, deli meats, sausages, and more. I was so drawn into the process of making one of the dried meats that I went from having lunch with a friend at the counter to tasting one in the case to begging them to be on the podcast.
View this post on Instagram
Different Cuts & Flavors too
One of the pieces of the butcher shop that is striking is what is meant when they say they are whole animal butchery. There are some cuts of meat that take more work to get and so sometimes people see things in the case or on the menu board they aren't familiar with or in my case, watching work and asking questions.
The team here are all happy to offer tips for preparing cuts you may be less familiar with and you'll be surprised how much you can learn just by looking at the display case and asking a few questions. Since so much of the staff has restaurant backgrounds — Chris went to the Culinary Institute of America — they have great tips on trying something new if you like. If you have a specific cut in mind and they happen to sell out of it before you ask, they are experts at helping you find something else that will be perfect! I've got a few cuts on my list to try now.
And if you can listen to Chris talking about making different sausages and cured meats and not want to make a run on the place, you are more disciplined than me by far!
And I'll admit to sometime taking the easy way out and picking up a few things that will be a fast fix for hunger. Not only do they have amazing sandwiches and brunch to eat, they have provisions in the case too. Stock, broth, some prepared foods, and on the counters they have a range of spices, sauces, etc. I'm not sure what drove me to buy a pound of pimento cheese on one visit, because I'm so picky I usually just make my own, but it's amazing. And look at this marinated chicken I brought home!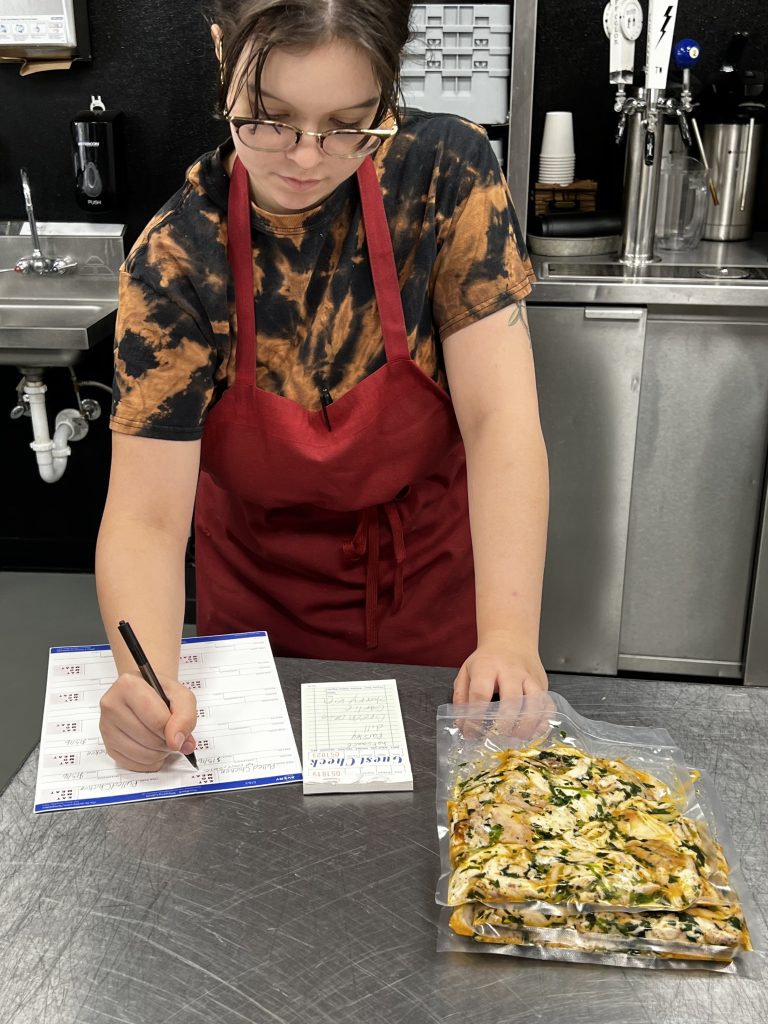 Learning how to Break Down Beef
Even though I used to watch butchers work at the grocery store I worked out throughout high school and college, I hadn't had a chance to really have someone walk me through whole-animal butchery. Bob Komenetsky manages the cutting room and leads some of the classes at Bolyard's, he did a great walkthrough!
They practice seam butchery, which means they find seams that naturally come between muscle to separate cuts. As I watched, it was clear it was a job that requires a lot of strength as well as finesse. Bob points out various cuts as well as the techniques he uses, like letting the weight of the quarter he's working on help him separate cuts. But he kept saying it's whatever works for you as others in the shop have some other techniques and preferences but they all end up with the same end cuts which is what matters.
Farmer Deliveries every Week
Chris and Bob both spoke to some of the ways they can insure the meat is fresh. It starts with regular deliveries from each of the farms they work with and I was there on beef day so I met David Price of Price Family Farms. I was able to get him to sit down for a minute to talk to me about the farm and producing beef.
The Holidays are Coming!
As we discuss in the episode, Chris and the team are getting ready for the holidays. His mind and culinary skills were focusing on some of the things they will be offering along with turkeys for Thanksgiving. He was testing various stuffing recipes as I waited for my lunch after we wrapped up the podcast in fact!


But the charcuterie meats they make and age, definitely will be making appearances on some of the boards I make this year — probably alongside some good aged cheddar from Hemme Bros! The flavor profiles are just so unique that they really are perfect for that special evening (but I'm not gonna lie they work well for girl dinner too).
Check them out online, visit and you will love it.
And if you haven't listened to some of our holiday food episodes, taken this chance to get caught up!