Almond trees weren't part of my world growing up. The latest episode of Grounded by the Farm, I talk with Dino Giacomazzi about growing almonds and his family's new business with flavored almonds.
When I was a kid, I remember sitting down with a nut cracker to open up so much goodness from the various shells. Pecans and walnuts were something we saw a lot of since we had trees in the family, but almonds… now and then we'd get almonds. They were different, unique. I loved how the almond shell seemed to tell a very different story was and pondered what almond trees looked like.
That was in the times of encyclopedias rather than Google and YouTube, so I had much more creativity than answers and photos. So when I started working in agriculture and found myself in California on farms for work, I'd drive and look at trees and plants. It's amazing how your mind can rush with new images. And with the number of orchard nuts and fruits all in the valleys, I spent a lot of time pulling over on the roadside and using my zoom lens to try and get a view of what I was looking at.
Closeup of almond trees in full bloom courtesy of AlmondGirlJenny.com
Spring — Almond Trees in Full Bloom
I have to confess, being in the San Joaquin Valley (SJV) in spring was disorienting. There are SO MANY blooming trees…. and if you aren't familiar with them you struggle to identify anything. I always felt most confident about plums, peaches/nectarines/apricots and walnuts based on what I saw most often at home. But you suddenly have all the things blooming!
Now I can say with some confidence that almonds are among the prettiest blooms and these days they are likely the most abundant too! An estimated 80 percent of the world's almonds are grown in California's Mediterranean climate. And with all those trees blooming in the spring, and lots of honey bees needed to do the pollination, the SJV is buzzin!
Friends Holly Christine & Trent Bown did a video when they visited a mutual friend one spring…. it shows you how beautiful those blooms are as well as gives you a little feel for an almond farm.
Autumn — Getting Ready for Almond Harvest
Like other nuts, almonds have a husk on the outside that protects them through the season and slowly starts to open up as the almond matures and the temperatures drop for fall. I can remember seeing almonds on the tree at that pre-harvest phase and being a bit confused by what I was looking at. You can see in this photo that various colors start coming into play as harvest nears.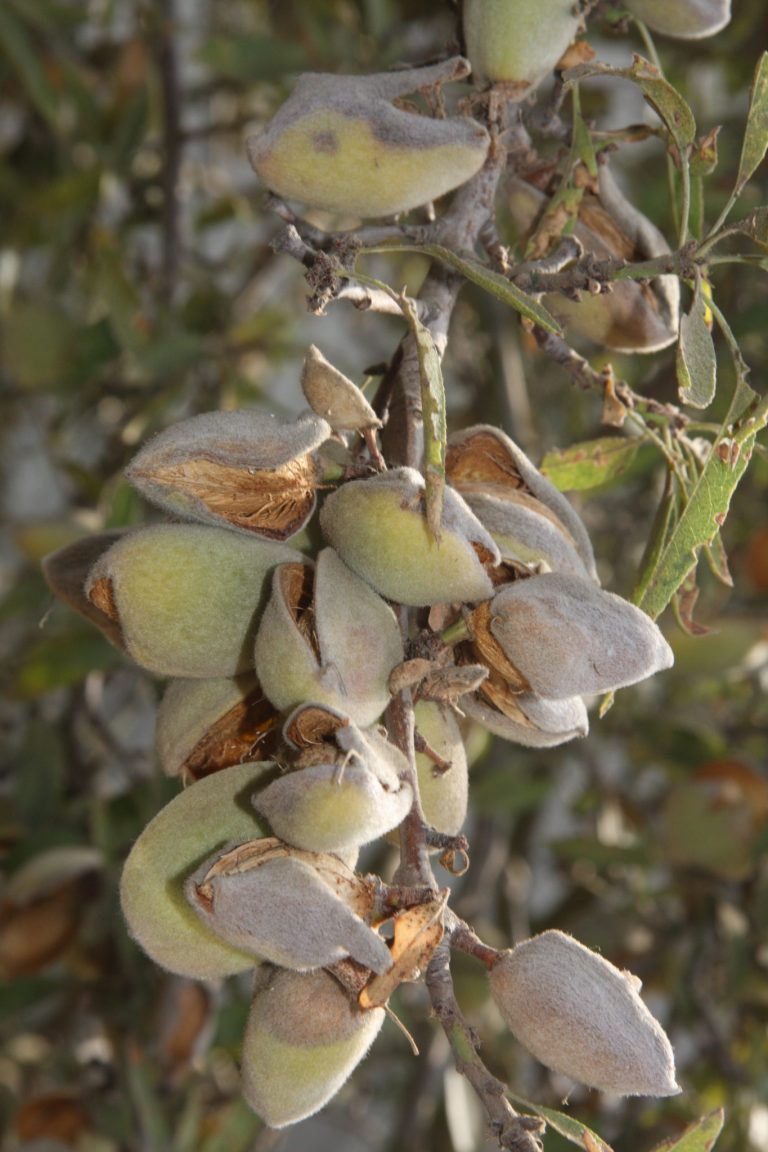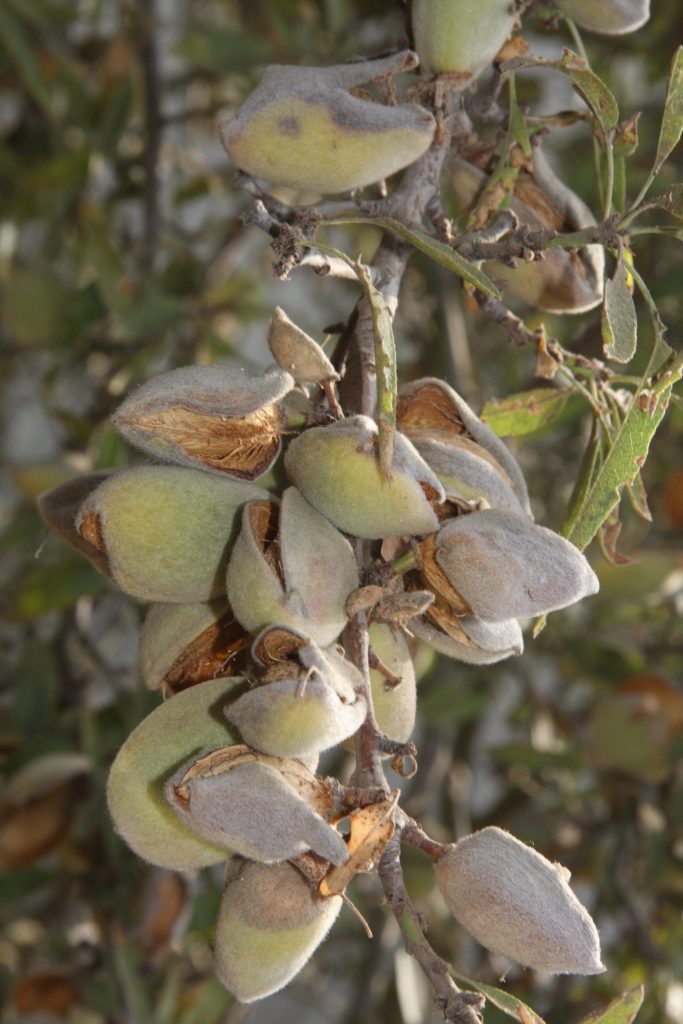 And you can see how the almonds begin peeking out of those husks in this closeup.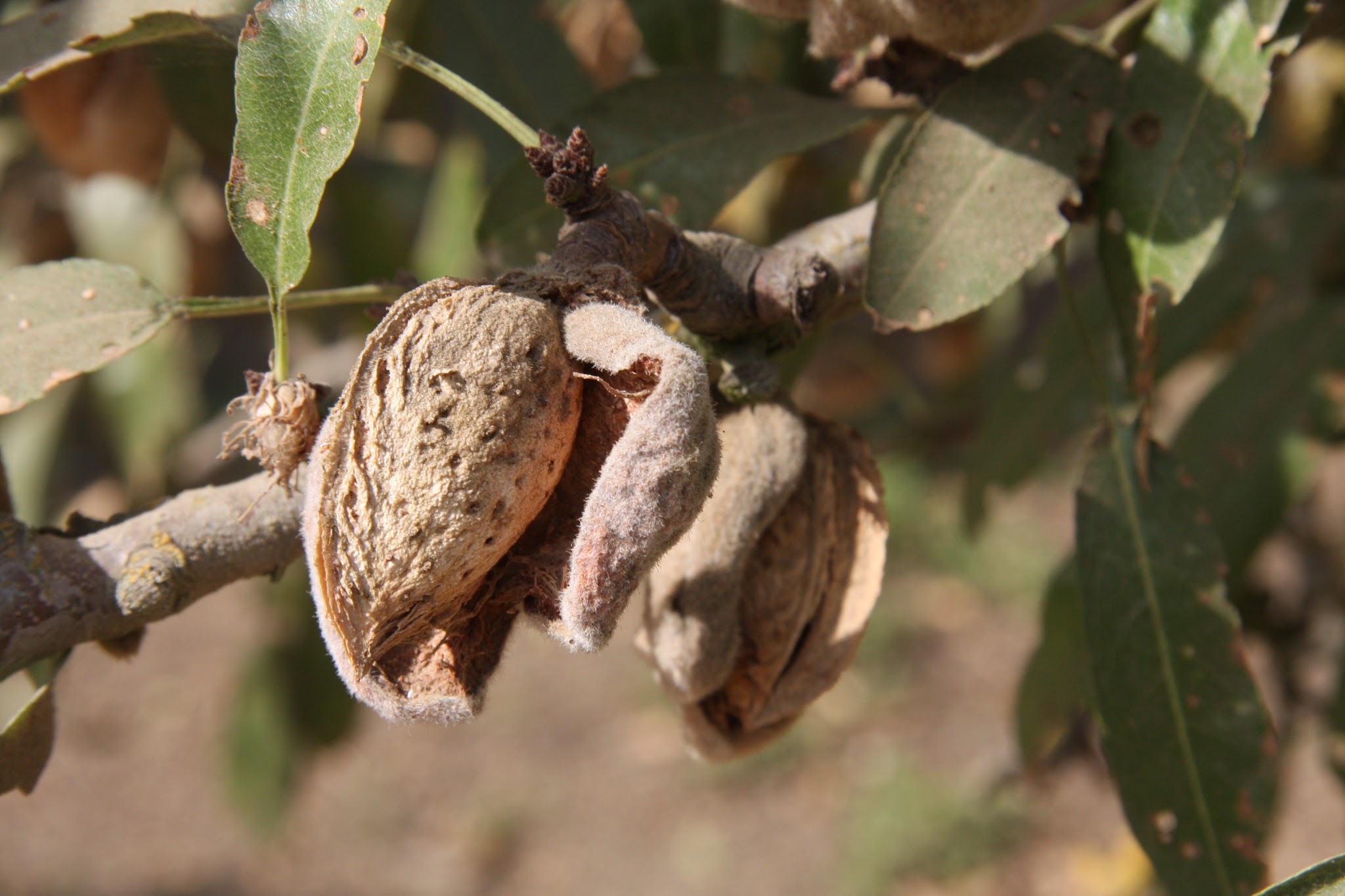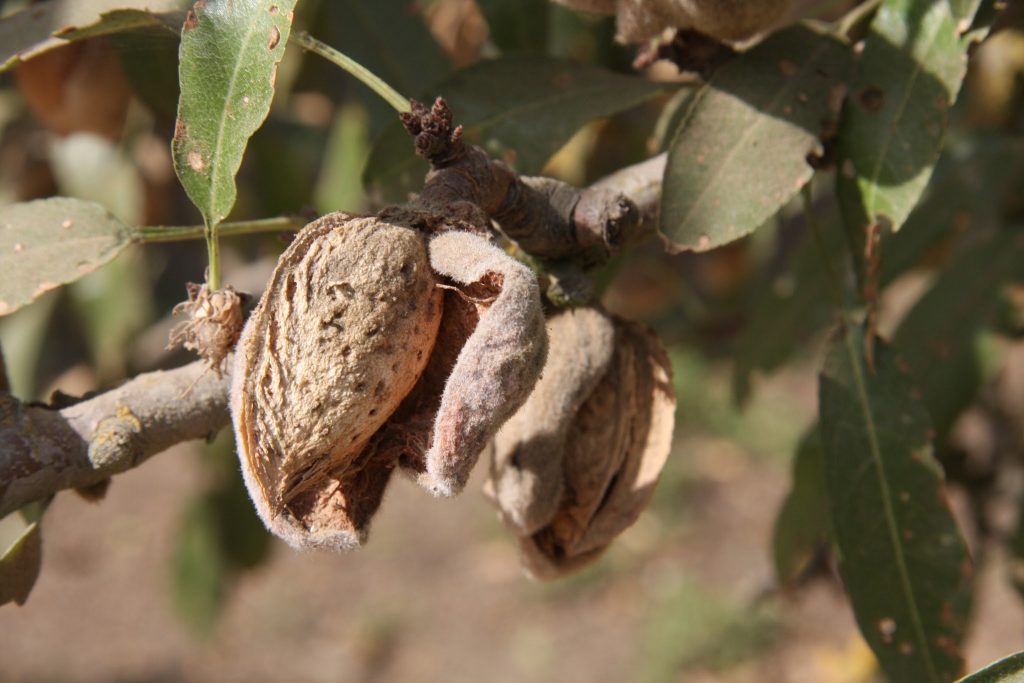 The reason the almond shell always intrigued me is it looks so rough compared to the smooth shell of pecans or walnuts. And seeing how flat it is compared to the rounded or oval nuts…. well, it still catches the eye making me wonder. Of course, most of the almonds I buy now are all shelled, maybe combined with granola for breakfast, coated with a savory flavoring or even dipped in chocolate!
Parts of this article previously appeared on a post on what almonds look like on the tree and as we talked about the Boersma family in the A to Z of farms on my lifestyle site.