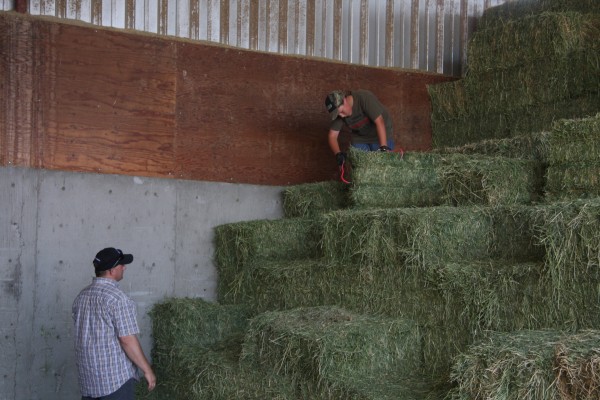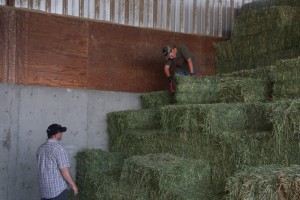 Not going to lie, I have to say that I always thought hay was just tall grass. Not sure when I realized that there were different types of hay but I do remember I was a bit surprised to find out how much I had oversimplified things. There are different types of hay. Oh, and by types of hay, I don't just mean it comes in both round and square bales! And then as I started to learn about what cows eat, I found our the nutritional differences can be significant and that nutritionists and/or vets are a critical component as farmers look at livestock feed. Hay is a big part of what the Feutz's feed their herd!
There is a great post on TheEquinest that speaks to the various types of hay and they include detailed photos! I'm going to use their list of types to make sure I have a relatively thorough list but check out their post if you want to see what they say about the feed and horses.
Alfalfa — I know Californian Jeff Fowle grows some alfalfa each year cause the guy keeps me up on it online all the time about cutting hay, turning it or baling it!
Bermuda — The folks at Gilmer Dairy in Alabama feed Bermuda to their Holsteins.
Clover — The Graff's in Illinois planted a mixture of various types of hay including clover.
Oat — The Graff's mixture also included oats!
Orchardgrass — I don't know much about Orchardgrass but Penn State does!
Tall Fescue — The University of Georgia has some good info on Tall Fescue
Fescue — is a great grass for some of our lawns, but it is also useful on farms.
Cutting Hay
Love that Ryan Goodman of Agriculture Proud put up several posts during hay season. This short video during a mechanical breakdown gives you a feel for some of the things farmers have to consider in harvesting hay.
And I couldn't POSSIBLY post about hay without including one of my all-time favorite MooTube videos from Will Gilmer of Gilmer Dairy Farm as he sings "The Baler Rolls" in a way that has to make Garth Brooks proud! Love that it teaches me about hay while I get to smile at his wit!
Much of this post originally appeared on my lifestyle blog JPlovesLIFE.com