So often when I travel abroad I am mesmerized by ancient history, so I was totally into getting this interview on ancient desert farming practices. Seeing a Smithsonian article on the Gila River Indian Community led to my finding connections in the US who could talk about the way water was used in prehistoric times, as well as well known times in US history. So in this episode, archaeologists Kyle Woodson and Wesley Miles talk to us about the native peoples who have called this land home, water use and other pieces of the community. The following episode is a conversation with farmer Terry Button who's family grows a number of traditional crops on the rez.
The Gila River Indian Community
When I was a teenager, I had a friend who was from the Pima tribe. I've frequently been interested in learning more and have learned a bit here and there during my travels to Arizona. But visiting the Gila River Indian Community took that learning to new levels. It is home to the Akimel O'odham (Pima) and Pee Posh (Maricopa) tribes.
Both of these tribes have a rich cultural heritage that dates back thousands of years and while much of their history wasn't recorded or shared broadly, some is being unearthed as archaeologists look at the pathways of ancient canals built for irrigation. These canals have been a lifeline for the people for thousands of years as the people farmed in this desert.
Kyle & Wes talked with us about some of the challenges the tribes have faced, especially those that impact the food and farming aspects like changes to land management and ownership and industrialization. It's been difficult for individuals to farm, make a living, and like in other parts of the country, farming has shifted to a larger scale.
Fortunately, there is still a strong sense of community within the tribes, which has helped them to weather the changes that have come with time. And more younger members are looking to practice the traditions.
By working together, the Pima and Maricopa tribes continue to preserve their heritage through traditional farming practices, and the creation of the Huhugam Heritage Center, a museum that tells the story of the community and their peoples.
Wes showed me around a bit of the community and you may enjoy the tour:
Water Needed for Desert Farming
The Gila River starts in the mountains of New Mexico, where years ago I toured the Gila Cliff Dwellings (a National Park Service monument). And while there were definitely some migratory movements in the area, Kyle says the Pima had permanent structures on farm and in villages along the Gila in the areas that included the irrigation channels. Researchers have discovered that irrigation farming technology began independently in Arizona, rather than being influenced by Mexico or Peru. This game-changing discovery has led to an increased understanding of how food has been grown for centuries in this part of the Sonoran desert, using simple yet effective systems for moving water to crops.
One fascinating aspect of the discovery is how it shows what can be accomplished when people work together to solve a problem. The communities that grew around these early canal systems shared water and other landscape features, but individual farms were strictly delineated property. This sedentary lifestyle led to the development of rules and policies among the villagers and settlements, an early form of agricultural regulation that ensured fair use of resources and productive farming. Here's the map we reference in the interview.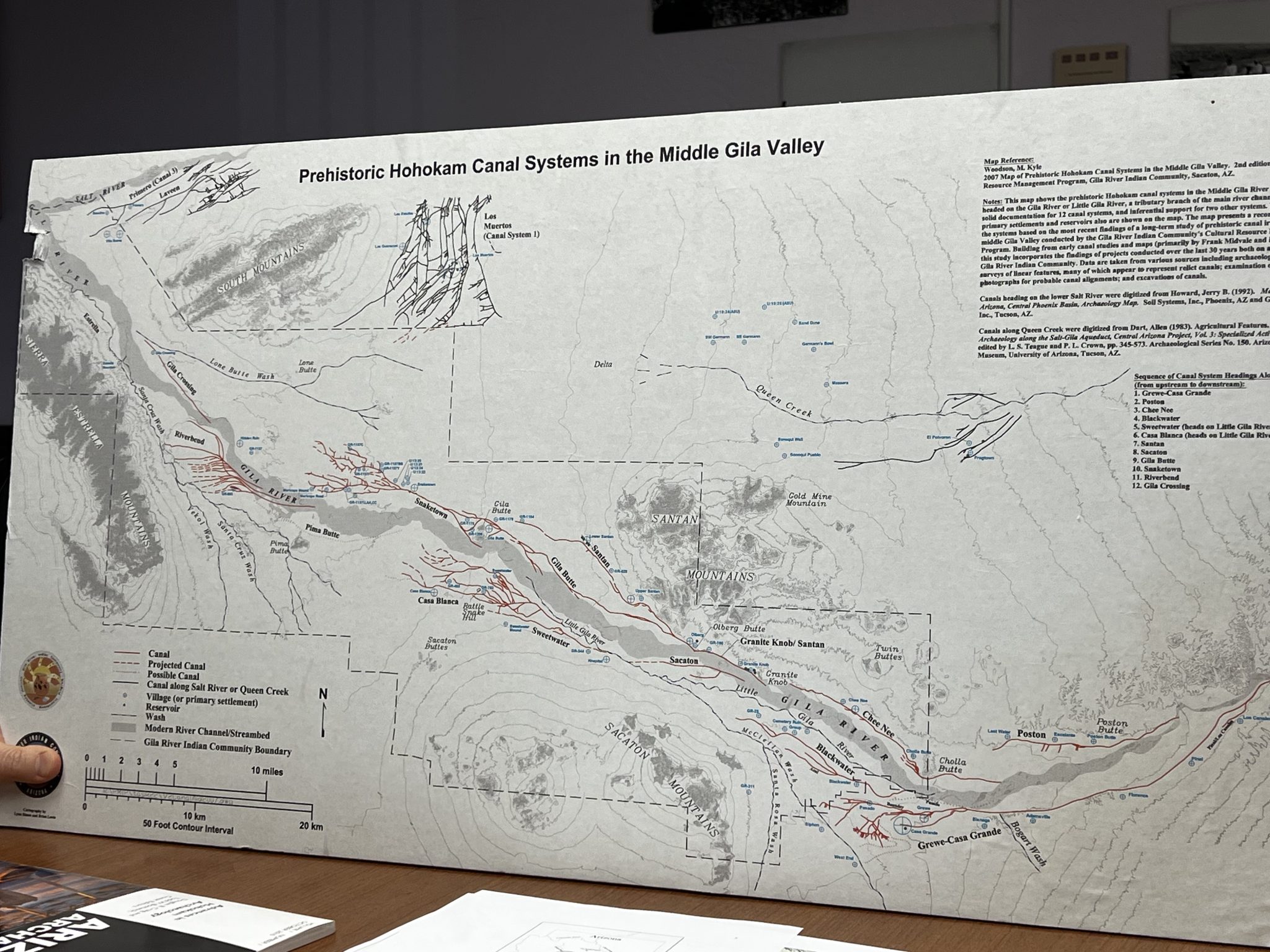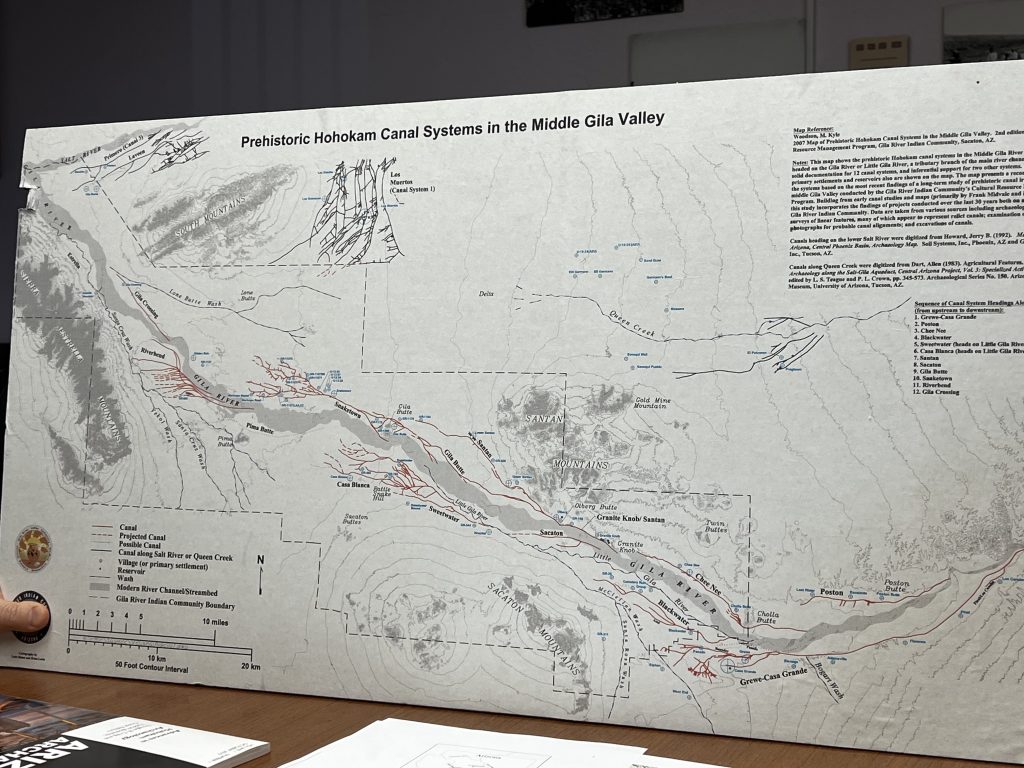 While the technology used by ancient peoples was primitive by current standards, it was also highly effective. Their farms became their livelihood and property, producing enough food to allow people to stay in one place and cultivate the land year after year. Through the work of archaeologists and researchers, including Kyle and Wesley, we are gaining a better understanding of the adaptations that were made to water management practices over time and how they have shaped the way we farm today.
More recently, water rights for the tribes were reinstated after having dams upstream restrict water access for years. The return of the water rights has already had impacts revitalizing an interpretive center Wesley showed me around in the video above. And more is coming with farms.
Learn More
Our next episode will include a conversation with a farmer on the Gila River Indian Community lands. The Button family has a rich history with farming in that area and continues many traditional crops. You can also check out the Gila River Indian Community website at GilaRiver.org.
An AI tool helps me convert the audio into text making my writing go faster. You can read my thoughts on it in this LinkedIn article. If you would like to try it, I'd appreciate your using my castmagic.io affiliate link so I get a small commission from your purchase. It will not change the price you pay.