When most folks think lavender, they imagine soaps, lotions, a few drops of essential oil on a pillow to help them sleep. Of course, I think of all of those things, too. I love lavender, and if something smells like lavender (actual lavender, not just weird and sweet and purple), I'm all for it. But I also like to keep lavender in my spice pantry because what a lot of folks don't realize is how easy and delicious cooking with lavender can be!
Lavender is actually wonderful in a variety of dishes, both sweet and savory, and while I typically cook savory main dishes with it (keep reading for my pork chops recipe!), Janice brought back a couple of baking mixes from her visit to Long Row Lavender farm for me to surprise my family with over the weekend, and they were a hit!
Lavender & Chocolate?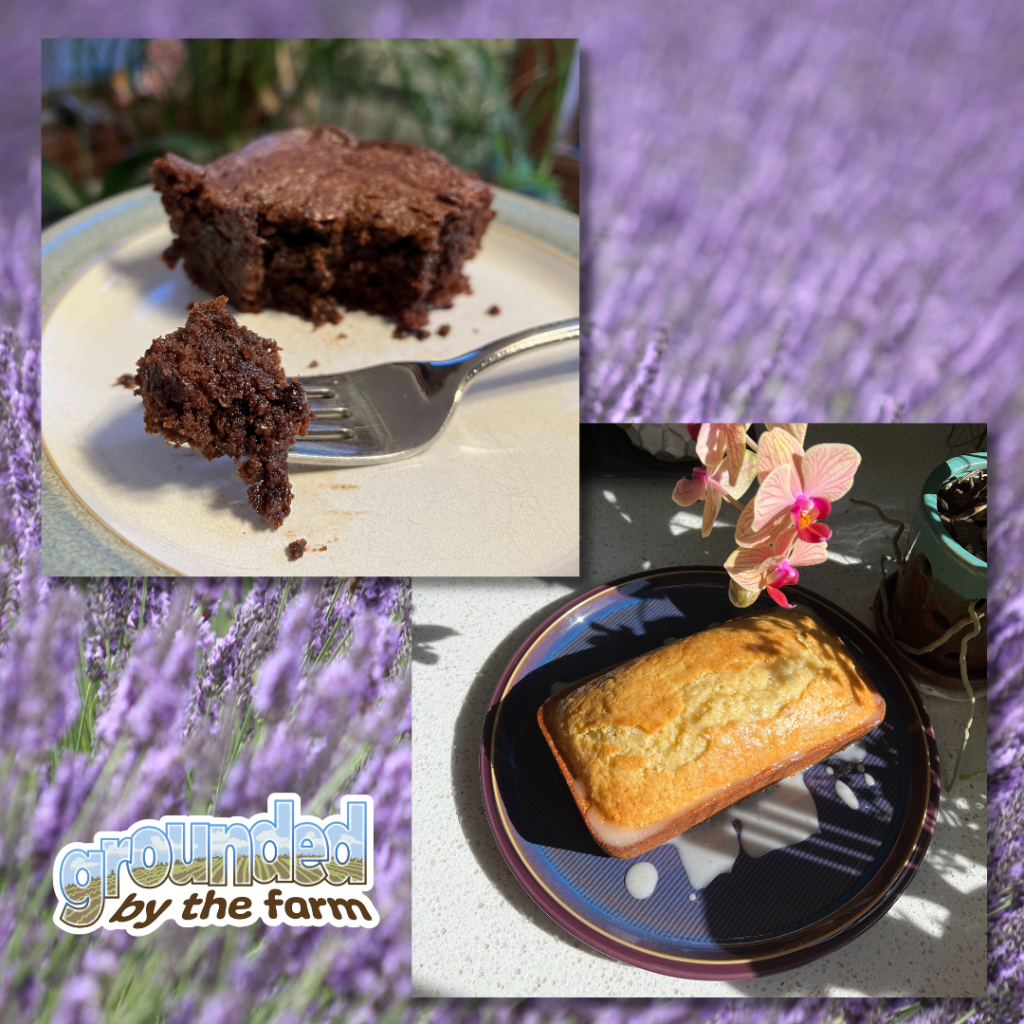 I didn't realize what a perfect match lavender and chocolate are! The Lavender Brownies were phenomenal, with the lavender adding just enough brightness to the flavor to elevate the whole dish from plain after-dinner brownies to something that felt fancy. It turned our dull Tuesday dinner into a special occasion. Then on Saturday, I snuck out the Lemon Lavender Bread. What a bright, fresh breakfast! Topped with a lemon-powdered sugar glaze, it was like lavender lemonade on a hot day! A perfect start to our weekend.
Now here's the thing to remember about cooking with lavender. It compliments sweet dishes, but that is precisely because it isn't sweet. The flavor of lavender is bright and almost astringent, similar to fresh rosemary.
Cooking with Lavender
In fact, if you aren't sure where to start with incorporating lavender into your cooking, look for recipes that include rosemary. Many times, lavender can make a good substitute for the more familiar kitchen herb. If you want to go even easier, grab yourself a jar of herbes de Provence! Herbes de Provence is a simple blend of herbs – usually things like rosemary, thyme, basil, tarragon, and of course lavender – that is great on everything from fish to chicken to pork to salads and pasta sauces. You can make your own, but Long Row Lavender sells a blend that is made with culinary lavender, so you know that one will be delicious and fool-proof. A great, all-purpose spice mix that can make a simple meal feel so elegant.
And that is exactly what I use for my pork chops. These pork chops are one of my go-to recipes for when I need to get dinner on the table in a hurry after coming home from Taekwondo practice and before we head off to a band concert or Girl Scout meeting. It's just as fast as frozen chicken nuggets and so much tastier.
Pork Chops de Provence
(Even the name makes it sound special!)
The keys to this recipe are the cast iron skillet and making sure you've got thick, bone-in pork chops. You can do this with boneless. Heck, you could even do it with chicken breasts. But the bone-in pork chops really taste the best. The other key is the brining. Brining the pork chops ahead of time ensures they are juicy and flavorful all the way through. Yes, it is an optional step, and one I sometimes skip, but the flavor difference is apparent. Brining makes an already good dish into a great dish.
For the brine:

1 cup boiling or very hot water
4 Tablespoons kosher salt
3 cups cold water
Optional aromatics in any combination: a couple of smashed garlic cloves, 1/2 teaspoon black peppercorns, a piece of lemon peel, a sprig of fresh rosemary, a bay leaf, juniper berries, etc – feel free to get creative here, or just follow my standard of garlic, peppercorns, and bay.
4 bone-in, thick cut pork chops

Add the salt and aromatics to the boiling water and stir until the salt is completely dissolved. Add the cold water and cool your brine to room temp. Sometimes the cold water is enough to do this, other times an ice water bath does the trick. Once the brine is cool, pour it over your pork chops (I use a big casserole dish for this) and refridgerate for 30 minutes to a couple of hours.

To cook the pork chops:

Olive oil
Herbes de Provence
Freshly ground black pepper

Place your big cast iron skillet in the oven and preheat to 4oo degrees. A smoking hot cast iron skillet ensures your chops will get that all important sear. Give it at least 20 minutes to heat.

While the oven and skillet heat, pull your chops out of the fridge and dry them thoroughly. If you leave them wet, they won't sear. They'll just steam and get weird. No one likes weird pork chops.

Rub olive oil all over your pork chops. You won't be oiling the skillet, so make sure you get a nice thin layer all over the chops. Season with the herbes de provence and the pepper. Really rub those herbs in, even around that strip of fat at the edge. They are going to taste delicious when they sear. Now you can let your pork chops rest and relax until the skillet is ready.

Once the skillet is blazing hot, carefully pull it out of the oven and place it over high heat on the stovetop. Lay your chops carefully into the skillet in a single layer. Once you put them down, leave them alone. Don't scoot them around or flip them or fiddle with them or peek at the underside. Just let them sizzle and sear. They will smoke a little. You may need to open a window. This is all normal.

Allow the chops to sear for 3-4 minutes. Use tongs to flip them. Not a fork. A fork will let the juices out that we've worked so hard to seal in. The chops should lift effortlessly from the skillet. If they stick, let them cook a little longer until they release.

Immediately after flipping the chops, transfer the whole skillet to the oven. Roast until the chops are cooked through, with an internal temp of 140-145 degrees F. This takes anywhere from 6-10 minutes.

Remove the chops from the oven and allow them to rest for at least 5 minutes. This will allow the juices to distribute through the pork and will allow the temp to come up another 5 degrees. Tent them with foil to keep them from getting cold.

Serve with a wedge of lemon, rice, and a side salad! Simple!
Would you believe I have never taken a picture of these pork chops? Probably because I'm so focused on getting them on the table so we can get the kids fed and off to their evening activities. In fact, I've got this meal on my meal plan for this week. Tomorrow is another one of those crazy days, so we will be having these simple, but elegant-tasting pork chops. Way better than mac and cheese and freezer chicken nuggets!
If you try this recipe, let me know in the comments! Or if you have a favorite way of cooking with lavender please do share! I love new food ideas, and Janice's lavender farm visit got me thinking about all things lavender. What do you think about a roasted chicken with lavender? I usually use rosemary and lemon, but I bet I could sub in the lavender for the rosemary. Or a garlicky lavender foccaccia! My imagination is running wild with all the ideas here. What ideas have you tried?