We didn't realize when I interviewed Paula Hynes that we were about to get so busy on a project it means all hands on deck! We have been working on a curriculum to bring these farm-to-table discussions to teachers, parents and students. There's a lot to get done and we hope subscribers understand the temporary shift on our end.
Maybe you can use this time to catch up on episodes you may have missed! What's a favorite food? Start here as you look for podcasts about your favorite foods.
Added:  We'd love for you to start checking out the educational materials we have created!  The first few are available now on Teachers Pay Teachers and Etsy!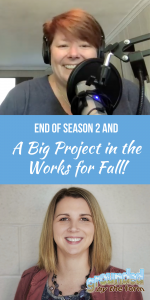 Transcript for this trailer.
Janice Person  00:02
Food is more than just what's on our plate. It's the places where it's grown. It's the people who grow it and so much more. Join me, Janice Person, your host on Grounded by the Farm every other week as we talk about the foods we love.
Alright, everybody, this is Janice. And what I didn't know when we did that last episode was that's the end of season two is our conversation with Paula Hynes about spending time with the Maasai tribe. And making that season come to a halt because we have gotten amazingly busy around here on something else. It's something that it's going to take some focus time for me as another member of our team that I'm going to introduce you to and things, we just need to really parse out.
To give you just a glimpse of where we're going since you listened to the podcast, I wanted to introduce you guys to Whitney, Whitney. Do you mind giving them a little background on who you are and what we've been doing part of this summer and why we're putting heads down and really focusing now?
Whitney Choate  01:07
Oh, my gosh, so much fun. I am a farmer's wife and I am also an educator. I have a passion for students. I've taught all ages. And we have been working on some curriculum for students to kind of bridge that gap from that farm to the table and doing it in a very unique way that teachers and parents are going to be gobsmacked over.
Janice Person  01:37
I love it gobsmacked. Yeah, we've really been having fun with this. And I can't wait to be able to share with you guys all the ins and outs of what we're doing. But for now, I hope that glimpse gives you reason to know, we need to take a break, stop producing episodes, put our heads down on this.
And we'll be back soon with an episode about this project. And then we'll go right back into some projects with other farmers talking about the foods they grow. All those kind of pieces. So thanks, everybody. In the meantime, why don't you pick up some of our back episodes that you may have missed over time. You cannot find those all in your apps for it Grounded by the Farm calm. Thanks so much. Goodbye, Whitney. Tell them bye